Ingersoll Rand (NYSE:IR) reported much improved results with revenues up by 9% and operating income up by 18% (Call Transcript). It also has a high class problem, it pays too much in taxes. Last year's comparable quarter paid approximately $16.3 million in taxes, and in the latest quarter the tax man came away with $47.2 million.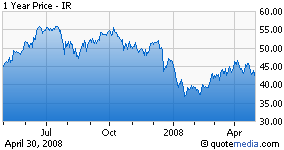 That is roughly triple for a company that calls Bermuda as its head office. The press release acknowledges the change in effective tax rate from 9.4% to a going forward rate of 22%. While some may call 22% modest, the tax rate has gone up faster than revenues and operating income.
Management has chosen to not comment on this item. Most investors do not understand taxes, particularly corporate taxes. The problem is that as the company improves it is handing over too much to the tax man. Executives do not want to talk about any strategies to mitigate that issue.