Headwaters Inc. (NYSE:HW) is a company in the midst of a turnaround of its major business operations. The company has been hit by the double whammy of the housing construction slow down impacting the construction materials division (50% of sales) and the complete phase out of Section 45K alternative energy business (coal to syngas). The syngas business was propped up by the tax credits which are now gone, but a couple of years ago provided about 40% of Headwaters' profits.
To get the business back on a profitable track, management is taking its technology from the syn-gas business into some new areas and working to improve productivity in the construction materials side. At this point it appears the company is at the bottom of the turnaround cycle and the numbers show it. Revenue for the 2nd quarter was $172 million vs. $274 million a year ago and net profits were a minus 22¢ per share for the quarter.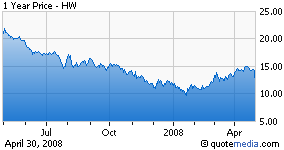 Results towards the turnaround do look promising. The main thrust to increase revenues and profits again is the company's clean coal process. It removes impurities from low value coal, increasing value and reduce NOX emission. The company now has 6 plants completed; 3 producing and 3 in start up, and 4 under construction. From about zero it shipped 190,000 tons of coal in the 2nd quarter. It will ship 600,000 to 700,000 tons in the 2nd half of 2008. Projections for 2009 are 2.5 to 3.5 million tons and up to 5.5 million tons in 2010. Profitability could be $15 per ton if current coal price projections hold up.
Headwaters also sells coal combustion products, i.e. fly ash. Fly ash is an environmentally friendly substitute for portland cement. It produces a better concrete and places like California are mandating higher percentages of fly ash in public works projects. This area should continue to grow.
In the construction materials area Headwaters sells architectural stone, bricks and blocks. The company has repositioned some assets, sold off a stucco business, and is working to make $14 million in productivity improvements. The company is not expecting an improvement in the home building sector anytime soon, but it is setting itself up to profit nicely when it does come about.
Headwaters is also working on a heavy oil processing process and has invested in a Korean hydrogen peroxide plant. These areas are likely to go from cash flow negative to positive in the next several quarters.
I added HW to this site's Growth Portfolio because I believe the company will be successful in it new efforts. Despite yesterday's negative financial news (and hammered stock price) I still think the future will be quite profitable for Headwaters.
Note: I have a long position in HW.