Crude oil, like most asset classes, has experienced relatively high volatility since the financial crisis. In an environment of artificially low interest rates coupled with an uncertain economic growth, volatility is likely to continue in the future. Investors need to avoid trading as it can lead to significant capital erosion. Instead, investors would be better off in identifying good long-term investment themes and accumulate such asset classes.
In this article, I discuss the reasons why crude is an excellent long-term investment option. Also discussed are three exploration companies with high dividend yields and one ETF, which can be considered for long-term investment. I have particularly selected companies with high dividend yields as investors can benefit in the case of sideways markets.
Reasons to Invest in Crude for Long-Term
Significant impending growth and crude consumption upside in emerging countries
The chart below gives the per capita crude consumption in 2011 for some developed and emerging markets.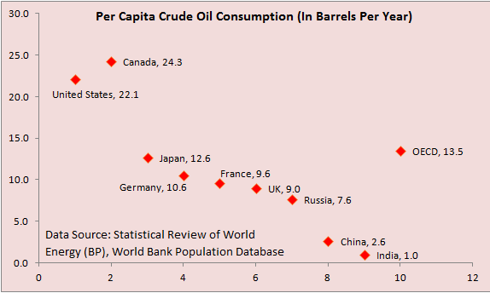 The per capita crude consumption for OECD countries for 2011 was 13.5 barrels. Further, for most of the developed countries, per capita crude consumption has peaked out at over 15 barrels per year before declining or stagnating.
Talking about emerging markets, China, with a population of 1.3 billion people has a per capita crude consumption of 2.5. India, with a population of 1.2 billion people has a per capita crude consumption of 1.0.
I am not suggesting that India and China will have a per capita crude consumption comparable to the OECD average in the next decade. All I am suggesting is that with significant development pending in these countries, even if the per capita crude consumption increases to 4-6 barrels for 2.5 billion people, the demand would be significant.
Geopolitical Tensions
Going forward, geopolitical tensions will play a significant role in crude oil price movement. I am not just referring to the escalating tensions related to Iran. With emerging powers like China and India, there will be a gradual shift of power to emerging economies. However, this will be associated with geopolitical tensions.
The recent China and Russia veto against the Syria resolution is a small example of how emerging economies will have a greater say in global affairs.
It is also important to understand that any growing economy (like China and India) needs oil. Control of sea lanes, relations with oil producing countries and army bases at strategic locations are things of paramount importance for China and India. The United States already has excellent control over these key matters. As China tries to avoid U.S. presence around its strategic partners, tensions will escalate.
To top all this, a war in Iran is still a high probability. Crude oil prices can go ballistic if there is any conflict with Iran, which can be relatively prolonged.
Weakening Currencies
Currently, the dollar seems to be a good currency when compared to the euro. The same will not hold true when we compare the dollar with gold or any other hard asset. The dollar has been trending down compared to hard assets for a long time and this trend is expected to continue - the most important reason being the government leveraging and gigantic unfunded liabilities, which would necessitate more money printing.
We all know that a strong dollar is a symptom of global deflation while a weak dollar is a symptom of global inflation. In my opinion, the dollar will remain weak (except in small periods of time) and this weakness will manifest itself in the form of price increases in hard assets such as crude.
One excellent example of the point I am trying to make comes from gold price appreciation in the dollar and in currencies making up the dollar index. In the last ten years, gold has appreciated 409% against the dollar. During the same period, gold has appreciated by only 301% against the currencies making up the dollar index. With oil priced in dollars, a weakening dollar will have a meaningful impact on prices.
These three important reasons make a strong case for a long-term bullish view on crude oil.
Long-Term Investment Options
BP Plc (NYSE:BP) - The company is an attractive long-term buy due to several reasons: excellent and diversified asset base, presence across the value chain, presence in alternative investment themes and a good dividend yield of 4.6%. Further, the TTM P/E is at an attractive level of 5.45. Overall, BP is well positioned to take advantage of the long-term appreciation in crude oil prices.
Total SA (NYSE:TOT) - The French oil giant is another excellent near-term and long-term investment option. A strong dollar and cost associated with the North Sea natural gas spill has depressed the stock in the near-term and provides a good buy opportunity. Like BP, TOT has integrated operations and is a globally diversified player. TOT also offers a very attractive dividend yield of 5.4% and is trading at a low TTM PE of 6.76.
Eni SpA (NYSE:E) - Eni is another European major, which has an excellent long-term outlook and is trading at attractive valuations. E recently released its 2012-2015 strategic plan, which includes sale of assets to strengthen the balance sheet and also focus on big projects. The production ramp up in existing fields, trending up crude prices in foreseeable future, a stronger balance sheet and partnership with Gazprom for joint developments of projects are some factors which make E an attractive buy. E also offers a dividend yield of 5% and is currently trading at an attractive P/E (TTM) of 7.41.
The Vanguard Energy ETF (NYSEARCA:VDE) is also a good alternative for exposure to oil and gas companies. The fund has a low expense ratio of 0.19 and had 43% exposure to integrated oil and gas companies, 26.4% to oil & gas exploration and production and 16.6% to oil & gas equipment and services.
The ten largest holdings for the fund as of June 2012 were - Exxon Mobil Corp (NYSE:XOM), Chevron Corp (NYSE:CVX), Schlumberger Ltd (NYSE:SLB), Occidental Petroleum Corp (NYSE:OXY), ConocoPhillips (NYSE:COP), Apache Corp (NYSE:APA), Anadarko Petroleum Corp (NYSE:APC), National Oilwell Varco Inc (NYSE:NOV), Halliburton Co (NYSE:HAL) and EOG Resources Inc (NYSE:EOG).
Conclusion
The peak oil theory can still be debated. But one thing is clear; the world is consuming more oil globally than adding to its proved reserves. This factor, coupled with all the factors discussed above, makes a very bullish long-term case for oil.
Therefore, investors need to have exposure to oil in their long-term portfolio. One can expect oil investments to be a catalyst for boosting long-term portfolio returns.
Disclosure: I have no positions in any stocks mentioned, and no plans to initiate any positions within the next 72 hours.