Whiting Petroleum Corporation (NYSE:WLL) released its Q2 2012 results and earnings after the market close Wednesday. Despite raising production 26% from Q2 2011, earnings per common share (diluted and before adjustments) was $1.27 versus $1.71 in the prior year's quarter - down 26%. Primary cause was a substantial decrease in realized prices for oil, NGLs and dry gas.
I won't go through the details of the earnings statement in this article. Instead, some notable facts from the earnings release will be highlighted:
Production averaged 80,700 BOE/day; 86% of those barrels were liquids.
2012 production growth guidance was raised (again this year) to 20-23% from 17-22%
Another 10,500 net acres were added to Whiting's holdings in the Williston Basin bringing the grand total to 712,000 acres (net).
Another 4,000 net acres were added to Whiting's holdings in the Missouri Breaks prospect in eastern Montana, bringing the total position in this play to 61,794 acres (net).
Added another 4,500 net acres to the Redtail prospect in the Niobrara, bringing the total position in this play to 79,256 acres (net).
Sanish Field production averaged 31,530 BOE/day, up 10% from the prior year's quarter.
What really stands out is some of the reported drilling results. Whiting is consistently among the leaders (or THE leader) operating wells in the region. Some examples:
The S-Bar 14-7XH well, a pad style completion in the Sanish, was a 9,658-foot lateral 30 stage frack, which flowed at 1,568 BOE/day.
The Smith 41-12H wing well was a 6,996-foot lateral 22 stage frack, which flowed at 2,974 BOE/day.
The 3J Trust 34-8TFH well, one of the first two pad completion in the Pronghorn Sand formation, flowed at 2,254 BOE/day. It was a 10,568 foot lateral 30 stage frack.
The 3J Turst 24-8PH well, the other Pronghorn pad style completion, came in at 2,157 BOE/day and was a 10,001 foot lateral 30 stage frack.
The company continues to reduce drilling costs and increase efficiencies by using advanced drilling technology and techniques. Quoting from the earnings report:
"Combined with our DWOP (Drill Wells on Paper) training, white sand and sliding sleeve completions, pad drilling is providing efficiencies for drilling and fracture stimulation that lead to an estimated savings of $2 million per well. These factors enable us to drill and complete our Williston Basin wells for approximately $7 million. Each rig now drills approximately 12 wells per year rather than 10 and allows wells to be efficiently fraced and placed on production sequentially thereby minimizing equipment moves and truck traffic. Currently 25% of our rig fleet in the Williston Basin is pad capable. We anticipate that over 50% will be pad capable by year-end 2012."
Despite all these very positive developments, I see the stock is down another $0.38 after hours to $40/share as investors react to the after-the-bell earnings release today. As with ConocoPhillips's (NYSE:COP) stock action today after its earnings release (see my recent SA article on ConocoPhillips here), I believe investors are focusing so much on short-term results that they are missing very bullish long-term opportunities with both companies.
Click to enlarge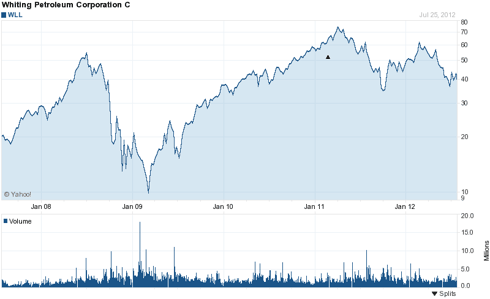 Last year, my primary growth stock and takeover candidate was GeoResources, Inc. (NASDAQ:GEOI). I wrote in an SA article that GeoResources was ripe for a takeover with the stock trading around $18. The stock had been delivering really nice production growth, yet it just seemed to trade lower and lower. It had unconventional assets in the Bakken just like Whiting. Its production was largely in oil (as opposed to natural gas) just like Whiting. It had production growth along the same rates as Whiting. It also had excellent acreage just like Whiting.
I wrote in that article that it was conceivable GeoResources could be bought for $50/share. I was justly criticized for "hyping" the stock as on April 24, 2012, GeoResources agreed to be acquired by Halcon Resources Corporation (NYSE:HK) in a deal worth only about $38/share at that time. I got out of the stock shortly thereafter, but I still think GeoResources was worth $50! Apparently, so did many others as multiple lawsuits were filed in an attempt to stop the transaction. GeoResources is today trading at $33.89 on lower oil prices and some doubt concerning the deal. Apparently, it's an arbitrage play now with people taking bets on the deal closing by the end of the month. I have no idea on that one.
Whiting, at $40 share, reminds me a lot of GeoResources back in October. It seems to get no respect and trades down based on short-term financial results even as production continues to grow at a very healthy rate. Whiting has delineated the majority of its acreage and is now in full production growth mode. Its results clearly show this. They have the assets, technology, and capital to exploit their assets. Why the lack of respect? At $40/share, Whiting's P/E is 8.39. Are you serious? A company growing OIL (not natural gas!) production at a 20% clip is being valued like this? As recently as February, the stock was trading over $60/share. Granted, oil prices were higher then, but does anyone believe oil prices will not continue to march higher over the next few years?
According to Google Finance, Whiting has 117.62 million shares and a market cap of $4.75 billion. Based on the long-term value of Whiting's existing asset base, its technology and its management track record, I could easily see Whiting Petroleum going out for $68-77/share, or roughly $8-9 billion.
Perhaps Whiting has not been gobbled up already because their executives are holding out for more? How much more? We can only guess.
Recently, CNOOC's (NYSE:CEO) offered to buy Canadian energy producer Nexen (NXY) for $15.1 billion. Nexen was producing about 213,000 BOE/day at the time of the offer - about 2.6 times Whiting's current production levels. While its asset profile is quite different than Whiting (Nexen has a larger percentage of conventional assets in addition to its oil sands holding), it is clear that there are large companies on the prowl willing to scoop up oil assets in the oil sands and Bakken shale. After all, we've seen StatOil (NYSE:STO) snap up Brigham Exploration (BEXP) (for a song I might add!) and the recent GeoResources takeover (or at least attempted takeover - time will tell on that one). With oil production in the Bakken jumping up over 500,000 BOE/day and the producers in the region growing production at a very nice clip while lowering well costs and becoming even more efficient, the major Bakken players are obviously being watched very closely by the boys with big pockets. And Whiting Petroleum is a major player. It is a major player currently trading at a wildly discounted price considering its tasty asset base.
So the question in my mind isn't whether or not Whiting be taken over, it's by whom and for what price? Is Chevron ready to jump in? Perhaps one of the major European oil firms would like to get their hands on some safe and secure oil assets in the U.S.? I doubt if StatOil would be approved after the Brigham Exploration buyout, but how about Total (NYSE:TOT) or even Royal Dutch Shell (RDS)? That said, I suppose it is not inconceivable that ExxonMobil (NYSE:XOM) could make a run at Whiting. Remember, ExxonMobil's buyout of XTO was primarily a natural gas deal and they are probably powerful enough in Washington to get U.S. regulators to press the "OK" button. All that said, you just know the Chinese would love to buy Whiting! However, after the Unocal hullabaloo, they probably are a bit gun shy…
Risks with Whiting are substantially lower oil prices. Whiting does not pay a dividend.
If you'd like more information on Whiting Petroleum, you can view this July 12, 2012 presentation or, better yet, tune into to their conference call Thursday morning at 11am EST (July 26, 2012). The live webcast link can be found here.
Good luck with your oil patch investments!