Whole Food Market (WFM), an organic food retailer, has been consistently beating its peers in the grocery/food retail sector. While margins for other food grocery retailers are being squeezed, WFM's are expanding. It released its third quarter earnings yesterday, which beat the Street's estimates, with the stock being up 11% in after-hours trading.
We recommend buying WFM based on its solid performance and future outlook, as the trend towards organic food consumption continues.
Q32012 Financial Performance:
EPS turned out to be $0.63/share, which was 2 cents more than analyst estimates of $0.61/share.
Revenues were $2.7 billion versus analyst estimates of $2.73 billion.
Quarterly same store sales were up 8.2% compared to 8.4% in 3Q2011.
The table from the company's 8K filing, given below, shows the same store sales trend and the numbers for the first three weeks of 4Q2012.

The company paid $26 million as dividends and repurchased $25 million worth of common stock in Q3. Capital expenditure was $113 million for new stores during the quarter. WFM now has $1.07 billion in cash, which has increased over the years.
Future Outlook Guidance:
Q42012 EPS is expected to be between $0.59/share-$0.6/share, compared to analyst estimates of $0.57/share.
Fiscal year 2012 sales growth guidance is 15.6%-15.8%, while same store sales growth for 2012 is 8.6%-8.8%.
EPS for 2012 is expected to be between $2.51-$2.52/share (30%-31% YoY increase), according to the company, up from the previous guidance of $2.44-$2.47/share. Analysts are expecting $2.47/share for FY2012.
Capital expenditure is expected to be between $440 million-$450 million for FY2012. Cash flow from operations was $727 million YTD (22% more YoY).
For FY2013, the EPS guidance is $2.83-$2.87/share. Analysts are expecting $2.84/share.
According to WFM, comparable store sales are expected to be in the range of 6.5%- 8.5% for FY2013.
WFM is set to continue its history of beating analyst estimates and showing growth in profitability in FY2013 as well.
Competition:
The consumer shift towards being more health conscious has worked in favor of WFM. The company's operating margins showcase that fact when compared to other players like Kroger (KR) and Safeway (SWY). While other grocers have been struggling, WFM has been doing quite well. Operating margin for the quarter just reported was 6.9%, showing an increase of 17% from the same quarter last year.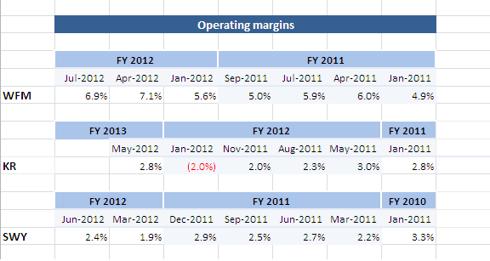 Below is a comparison of WFM with KR and SWY on the basis of comparable store sales. WFM has clearly been faring far better than the other two.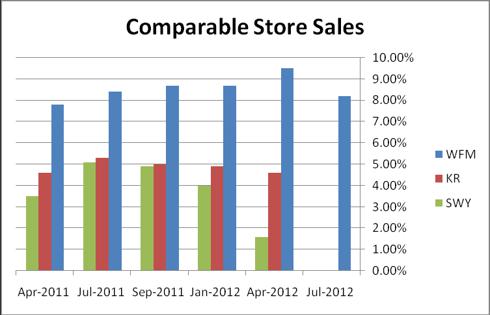 Growth opportunities for WFM can be seen from the fact that the company is planning more stores in the U.S., and thinks that 1,000 stores should be sufficient enough to serve the U.S. market. Currently the company has 329 stores. WFM plans on completing its planned additions of 25 stores this year, and then adding 28-32 next year (which include 4-6 relocations).
Valuation:
WFM's shares are up 21% YTD, compared to The Fresh market (TFM)'s 28%, while SWY and KR have been down 28% and 12% respectively. TFM was up 6% in after-hours trading, when WFM increased by 11% due to its earnings release. Investors can also buy TFM, a specialty grocery business, which has sound financials, because it is benefiting from WFM's earnings release.
WFM is trading at a forward P/E of 30x, compared to KR's 8x, SWY's 7x and TFM's 30x. Below are valuations based on the guidance of $2.51/share for FY2012.

*calculated by using WFM's expected long term earnings growth rate of 18%.
To reiterate, we recommend buying WFM based on its upside potential, as well as the consistently better financial performance as compared to its peers.
Disclosure: I have no positions in any stocks mentioned, and no plans to initiate any positions within the next 72 hours.