Tempur-Pedic (TPX), a manufacturer and distributor/seller of mattresses, reported its Q22012 results on Tuesday, after the market close. EPS and revenues beat analyst estimates, although they were still less than those for the same quarter last year. The stock was up 10.3% in after-hours trading, and closed up 9% in intraday trading, as a result of news that profits had dropped less than 50% as a consequence of stronger sales from international operations (11% increase), despite an 8% drop in U.S. sales. An approximate 50% decline was being expected according to the guidance issued in June. The company's earnings forecast has increased to $2.8 per share as a result of share repurchases (4.9 million shares purchased last quarter).
Industry Scenario:
Earlier this year, peers in the Mattress Industry cut their earnings estimates and year outlooks owing to less demand and tougher competition. TPX reduced its earnings outlook for these very reasons in early June, which resulted in the stock price plummeting 48% on June 6. TPX was not alone, as Mattress Firm (MFRM) and Select Comfort (SCSS) followed suit (21% and 20% down respectively) since investors tend to extrapolate one company's outlook to other players in the industry as well. On July 16, MFRM, a bedding retailer, cut its 2012 sales forecast from $1.03 billion-$1.06 billion to $1.01 billion-$1.03 billion. As a result, the stock was down 14% the following day. The industry is very competitive at the moment. The general trend towards non-inner spring mattresses has caused all companies, including Serta and Simmons (privately held), to come up with foam mattresses, in order to remain competitive. Below is a graph showing the YTD performances of three peers, namely TPX, SCSS and MFRM.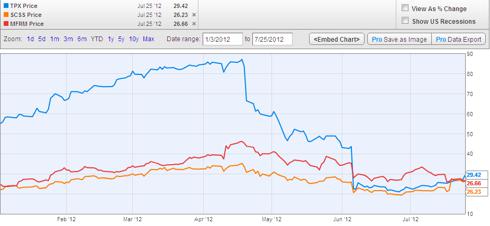 Q2 Results and Company's Past Performance:
EPS was $0.45 per diluted share, as compared to analyst estimates of $0.38 per share. Last year, the EPS was $0.76/share.
Revenue was $329.5 million (4% less YoY) as opposed to the $327 million estimate by analysts.
Earnings forecast for this year was raised from $2.66/share to $2.8/share. This is in comparison to $2.7/share estimated by analysts and the guidance given in early June.
The company also had a share repurchase program, with $100 million remaining out of the authorized funds as of June 30, 2012. This is not exactly good news for investors, because the company has been financing buybacks partly with debt in the past. With pressure on margins, increasing the debt is not a good idea.
The total debt-to-equity ratio is high at 562% ($681 million debt), but the interest coverage ratio is a safe 19%. The operating cash flows were $86 million in Q22012, almost double the first quarter's $45 million. The company has cash of $134 million as of this quarter.
The operating margin, although it has declined from 2Q2011's 24.2%, is higher than those of the company's competitors. For TPX, it was 14.4% in Q2, compared to SCSS's 12.6% and Sealy's (ZZ) 7.7%.
TPX's long term growth rate for earnings is 13%, compared to SCSS's 20% and ZZ's 12%. The PEG ratio (5-year expected) is 0.76, as compared to SCSS's 0.95, showing that TPX is cheap considering its growth potential.
Valuation:
The downside has been priced into the stock, as can be seen by the large drops witnessed earlier this year. At a forward P/E of 9x, TPX seems cheap as compared to forward P/E of 14x for SCSS and 12x for MFRM. Below are the valuations based on the company's earning guidance of $2.8/share for FY2012, as well as its forward P/E and that of SCSS.

*calculated using 13% long term growth rate for earnings.
TPX has a premium brand image and charges a premium for its product. It should do well with housing starts picking up (reaching record highs, in June, since 2008). Furthermore, international sales are also up despite the global economic situation, and the company is working to fix its problems, such as reigning in expenses, and introducing new initiatives that will be unveiled at the industry's Las Vegas trade show. We recommend buying Tempur Pedic.
Disclosure: I have no positions in any stocks mentioned, and no plans to initiate any positions within the next 72 hours.