Price is what you pay, value is what you get. If you are a long term investor then you may want to buy companies that can keep growing and keep returning more value for your buck. You can buy any business you want as long as you have enough money but unless you pay the right price you won't earn what you need to from your investment. Margin of safety is extremely critical to safeguard against unforeseen circumstances and that's why the price you pay for the business becomes so much more important.
The New York headquartered Pfizer (NYSE:PFE) is one of the over 100-years-and-going-strong companies. These companies are rare and the number of years in operation stands as a testimony to a sound business model and good management. But past laurels stand for nothing in today's globalized competitive environment and pharmaceutical majors are facing hard times now more than ever. The headwinds are so strong that almost all major pharma companies are finding it tough.
Pfizer is lead by Ian Read who rose through the ranks to reach the top, after starting as an operational auditor in 1978. The multinational drug major employs more than 100,000 people and operates across the globe. Pfizer has been involved in a series of acquisitions and sell offs, some cheered and some criticized by investors. They recently sold off their nutrition business to Nestle for $11.9 billion.
Let's quickly analyze how the company has performed in the past decade and some possibilities for the future.
Where does the money come from?
Pfizer is a hard core drug manufacturing company. It sells drugs, drugs and more drugs. More than 80% of its revenue comes from drugs alone and US pharma market accounts for closer to 50% of its revenue.
SC&O - Specialty Care and Oncology EP EM - Established Products and Emerging Markets
Undiversified in its business, the kind of units the Pfizer sold in the past ten years is a visible display of their focus on manufacturing and selling drugs rather than getting into related business areas. This can be a good thing or a bad thing depending on the way you look at it. In terms of geographical presence, though there is a good amount of exposure to developed markets, Pfizer is slowly picking up in the emerging markets. Generic drugs and lack of patent protection in emerging markets will continue to slow their growth in this segment but nevertheless they have to be there to increase the profit potential of their drugs.
Product Line
Pfizer has a few billion dollar drugs that will keep its cash flow in the positive for the next few years. The expiry of its blockbuster drug Liptor, which brought more than 9 billion in 2011, seems like a big problem on the horizon. Other billion dollar drugs that will lose exclusivity are Detrol (2012) and Geodon (2012). It already lost exclusivity on Xalaton.
A recent IMS health report (The Use of Medicines in the United States:Review of 2010) says that once a drug loses its exclusivity, generics capture over 80% of a brand's volume within 6 months. Though it's not very clear how much Pfizer will lose due to generic competition, it will be difficult to add more to its revenue stream in the next few years. We can expect the company to sell some of its units and bring in some money. It has already sold its nutrition division and there is a chance the animal care division could also be sold. So if you are expecting the company to grow its revenue at the same rate as it did in the past 10 years then you need to think again.
Pfizer's past 10 years
Not everything was bad with Pfizer. The pharma major doubled its revenue in ten years reaching 67 billion in revenues by 2011 compared to 32 billion in 2002. The return on equity and return on assets swing wildly year over year mainly due to the mergers and sell offs during that period. The debt to equity ratio is manageable at 0.4 and the net margin is 14%, both numbers are closer to the industry average. So there is not much to take away from the numbers as such. The company has been chugging along with decent performance in the past ten years while delivering some blockbuster drugs either from their own labs or from companies that they bought over. On the acquisition front they have had few hits and few misses. Pfizer didn't create the top seller Lipitor; it was created by Warner-Lambert, a drug manufacturing company that Pfizer bought in 2000 for $114 billion. It's estimated that Lipitor added more than 120 billion in revenue to Pfizer in the past ten years. So the amount of shareholder value created by the merger of Warner-Lambert cannot be much.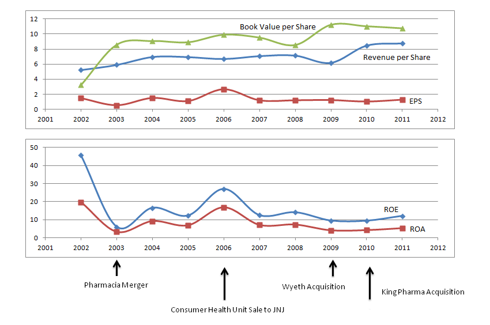 Current Valuation
Pfizer is currently trading at more than 20 times its earnings. The PE ratio is higher than comparable drug majors. I took the Pfizer's per share earnings of $1.28 and estimated the share value using a discounted earnings model. This is just for illustration purpose to see what the market thinks of Pfizer.
| | | | | |
| --- | --- | --- | --- | --- |
| Share Value | 34.68 | 36.86 | 29.41 | 24.43 |
| Earnings Growth Rate (Next 7 Years) | 3% | 4% | 4% | 4% |
| Terminal Growth (Earnings) | 2% | 2% | 2% | 2% |
| Discount Rate | 6% | 6% | 7% | 8% |
The model values the share price at $24.43 for 4% earnings growth rate discounted at 8%. So you know what will happen if you increase the discount rate or if you decrease the growth rate. It leaves very little margin for error considering the headwinds faced by the company.
So is Pfizer a good buy now? I think I will wait for the P/E to drop closer to the 15 times earnings range or lower before moving in.
It's far better to buy a wonderful company at a fair price than a fair company at a wonderful price - Warren Buffett.
Disclosure: I have no positions in any stocks mentioned, and no plans to initiate any positions within the next 72 hours.