The last time I discussed Alcatel-Lucent (ALU), the recommendation was to short the $1.40 stock with a target of $1.00 per share. With today's announcement of its 2012 second-quarter results, it is very apparent that this is a company with no clue how to turn around its prospects. However, that is not entirely true as the quarterly presentation did include one idea with the potential to help the company's prospects.
In the second quarter of 2012, Alcatel-Lucent was hit by the slowing global economy and European financial woes. That added more trouble to the company's ongoing inability to generate growth. For the quarter, Alcatel-Lucent reported a loss of €254 million compared to a profit of €43 million in Q2 2011. If my math is correct, and I picked the right data from the presentation, the loss works out to a negative 13 cents per share. The Wall Street consensus was a break-even quarter.
Slowing sales resulted in a year-over-year 7% decline in revenue (all figures in euros) and a 15% drop in gross profit. Alcatel-Lucent's push to reduce expense did not produce comparable results, with SG&A spending down just 4% and R&D spending 2% lower than in the 2011 second quarter. The company's management has been working toward cost savings, but the progress has been too slow.
I noted a few positive items from the earnings release presentation:
A plan of "exiting or restructuring unprofitable Managed Services contracts with associated headcount reduction." What a novel idea to get out of unprofitable contracts.
Another good idea: "Exiting or restructuring of unprofitable markets."
The best idea listed: "Managing our patent portfolio as an independent profit center." The 30,000 patents owned by Alcatel-Lucent currently generate revenue of just €140 million per year.
The ongoing plans to restructure, adapt, and transform seem to have little impact on profitability -- or lack thereof -- under current management. The stated expectations of a better second half of 2012 have a low probability of materializing. In my opinion, Alcatel-Lucent will eventually end up in bankruptcy unless the company makes radical changes to its business model. A possible direction would be to follow the lead of ARM Holdings (NASDAQ:ARMH) and focus on developing product ideas from its library of patents and licensing out those ideas. Also, reduce the workforce by 75% instead of the planned 5%, and generate some low-cost revenue streams out of the R&D spending.
Investment Conclusion
With Alcatel-Lucent at or below the $1 level, those who have profited nicely from shorting the stock may want to cover and lock in those profits. If the shares stay below $1 Alcatel-Lucent will be forced into a reverse split, and after the share price is pumped up from the reverse split it will again be a good time to short the shares. In the media, articles will again flow concerning the upside potential for the company, producing buyers for short sale orders. Don't count on any positive results from this company unless there is a change of top management and a complete restructuring of the business model.
Click to enlarge image.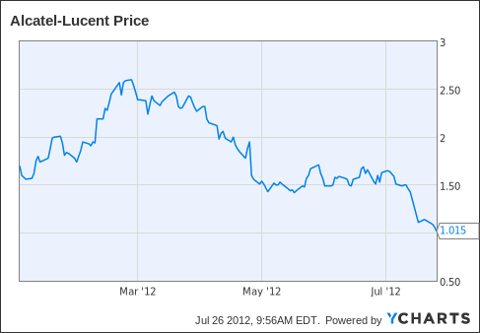 Disclosure: I have no positions in any stocks mentioned, and no plans to initiate any positions within the next 72 hours.