Allied Waste Industries, Inc. (AW), the nation's second largest waste services company, today reported financial results for its first quarter ended March 31, 2008. For the quarter, income from continuing operations was $72.6 million, or $0.17 per diluted share, inclusive of net charges of $0.03 per share, primarily associated with an asset impairment charge for an expanded closure plan at a Midwest landfill.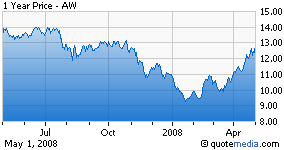 Four short weeks ago I said Allied looks much cheaper than its peers, trading at 1.15 times book value compared with 2.9 times for Waste Management and 4.2 times for Republic. Allied stock has challenged the $14 mark several times over the last five years. I believe it is due for another run at that level; that would require nothing more than meeting estimates and a modest increase in the price/book ratio to about 1.3 times. A free cash flow yield of 7% (the average of its peers) would also support a $14.50 share price.
Since that time, the stock has risen 14.6%, compared with a 1.6% rise in the S&P 500. At that rate, it should be challenging the $14.00 price target in no time.
Disclosure: At time of publication, William Trent holds no financial position in the companies mentioned in this article.