Now that the market has had time to digest the second-quarter earnings report from Bank of America (NYSE:BAC), it is time to look closely at the report and dig into some of the worrisome details.
If one looks at the earnings release, Bank of America beat guidance with net income of $0.19 per share vs. estimates of $0.15 per share. However, loan loss reserve releases totaled $1.9 billion, more than 50% of pretax income and $0.11 of earnings; if backed out, that leaves us with just $0.08 per share.
Looking at page 16 of the earnings presentation, outstanding claims by counterparty soared to $22.7 billion from $16 billion in the first quarter of 2012. Note that in the second quarter of 2011, Bank of America took a $14 billion provision against future losses. Since then, the balance has trickled down as charge-offs declined quarter over quarter in dollar value from $2.48 billion to $205 million.
On the other side of the page, the outstanding claims by counterparty chart has soared from $9.915 billion in the second quarter of 2011 to $22.7 billion in the second quarter of 2012. The rise was due to a doubling of claims by GSEs from $5.1 billion to $10.9 billion and private claims rising by 383% from $1.78 billion to $8.6 billion in the past year.
Click to enlarge image.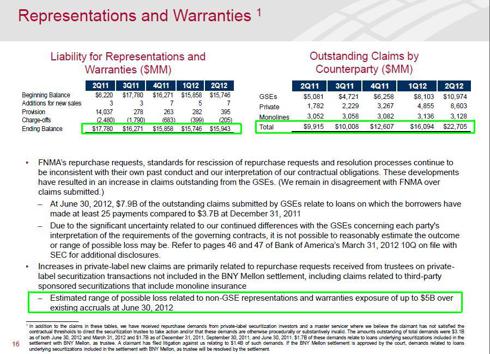 A year ago, Bank of America was over-reserved by $7.8 billion, but that has fallen back to to a deficiency of $6.8 billion. The final box at the bottom in the image above states that exposure to possible losses could reach $5 billion. If half the accruals are realized, that would wipe out first-half profits applicable to common shareholders.
It would have been more appropriate to transfer the loan loss reserve to cover the spike in claims rather than release the reserves to earnings and beat estimates. While there are questions about the legality and viability of the claims, management admitted that claims will continue to rise over the coming quarters. If the claims keep rising, loan loss reserves will be upped significantly in coming quarters.
Another worrisome trend is the European exposure, which totaled $491 million to Greece, $4.754 billion to Italy (of which $1.79 billion is to financial institutions), and $1.73 billion to Spain. Greece is headed for a default and exit from the euro, while Spain will need a debt restructuring.
The recent earnings beat was nothing more than borrowing from Peter to pay back Paul. If the problems in Europe continue to get worse, Bank of America may be forced to take additional charges to reserve against its European exposure in addition to reserving against representations and warranties, which continue to rise. Currently, Bank of America is underrepresented and the loan loss reserve release, which allowed it to beat on earnings, may end up being a significant mistake in the coming months if things get worse. Reserves will rise and profits for the year will end up being wiped out, and the stock will fall back to support at $5.
Disclosure: I have no positions in any stocks mentioned, and no plans to initiate any positions within the next 72 hours.