Tyson Foods Inc. (TSN) has been substantially beaten down since late June. I believe the downward slide is just about concluded and Tyson Foods is forming a base. In the last month it has declined approximately twenty five percent. Since Tyson Foods is a low beta (0.43) stock this is a rather extreme move in a very short time.
This morning's advance in the indices has been attributed to Europe finally getting its fiscal house in order. What could be more ridiculous than that? Nothing has changed except for the fact that the euro (along with the dollar) will be debased even further. Implementing the "more debt than money" fiscal policy is not a solution, it is a problem. Ultimately, it will lead to financial ruin and it is analogous to rearranging the deck chairs on the Titanic. Yet the public buys this garbage because the "talking heads" bring in "highly competent authorities" to pontificate the agenda. I am amazed at some of their titles. They know that if a lie is repeated enough it becomes more credible, albeit no more truthful. I find their lack of conscience most disturbing.
That said, this is what I suspect is being set up: today's 250 point intra-day advance is the last push to get everyone on board before moving prices lower. It will be the final act in the continuing saga of "What Do You Mean This Is Pyrite". That just happens to be the longest running play on Wall Street. I believe Bernanke will "disappoint the market" by holding off quantitative easing for the short term. BTW -- Quantitative easing is such a euphemism. Nevertheless, this will provide the impetus to move the market much lower. Bernanke will come back in September to "rescue the market" just in time. Meanwhile investors will be left resembling Lott itemizing his calamities.
In the meantime if you focus your attention on what matters most in the market, you will be best able to sidestep the land mines in the pathway. For instance, the blocks in the matrix I have provided are very revealing as to the true intentions of the Designated Market Maker in this issue. I suspect the block which traded on July 16th is an accumulation. Additionally, the subsequent decline in price is a shakeout to dissuade the general investing public from whatever interest such block activity might provoke. Investors must realize and recognize that insiders do not accumulate at the top; they distribute and short at the top. Of course the opposite is true as well; they cover and accumulate at the bottom.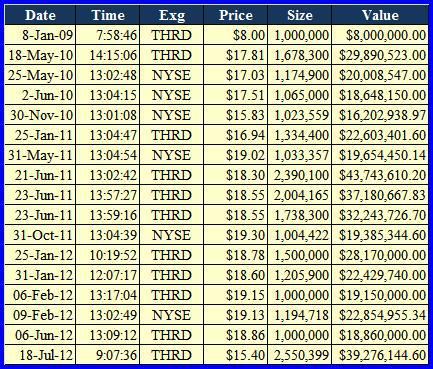 So rather than having me do your thinking for you, which has all of the elements of a disservice; instead please review the chart I have provided which indexes with points of reference all of the blocks in the matrix. Then ask yourself what is the Designated Market Maker's short, intermediate and long term intentions for this issue.
On the Basis of the foregoing these are my views and observations:
The Trade:
I recommend establishing a long position in Tyson Foods Inc. Open your position with only 1/4 of whatever capital you intend to commit to Tyson Foods Inc. at $14.46. Purchase the remaining 3/4 of the position at $13.30 and stop out at $12.76. Do not post your stop out. I have said it before but it is so important that at the risk of being redundant and in an abundance of caution I will say it again. It is too easy for the Designated Market Maker to cash investors out by moving the price above or below your stop out and move the price right back down or up again. In addition, when a stop out is triggered it converts into a market order and that could be disastrous if the Designated Market Maker decides to really take advantage. Remember the "Flash Crash"? I would be looking to exit the trade at an upside price target of $16.23. Do not allow this position to exceed 5% of your overall portfolio. There is always the possibility that the trade may not work out.
There Is Never A Sure Thing (particularly on a short)
Investors must realize and recognize that there is never a sure thing. Sometimes events that have a low probability of occurring bring forth very serious consequences should they come into being. Investors must judiciously consider what the inherent practical limits are and how much they stand to gain, in relation to the risks involved, in establishing any position.
In addition, persistence can become desperate folly by allowing a losing position to become a viable argument for deciding on a new position. Rather, such decisions should be based on the current and soon-to-be circumstances.
Any position in which one unexpected factor has a significant impact on your portfolio is the result of poor planning. It is a fault most commonly associated with people who want to explain away their losses. SUN TZU-Art of War "Use an attack to exploit a victory, never use an attack to rescue a defeat."
If you follow the process recommended and the trade does not work, the overall loss in this model is $3,000.00. That amounts to 0.3 of the overall portfolio (theoretically valued at $1,000,000).
Finally, never be a brave and brainless investor because a fool and his money are soon parted.
A portfolio of $1,000,000 should position size in the following manner.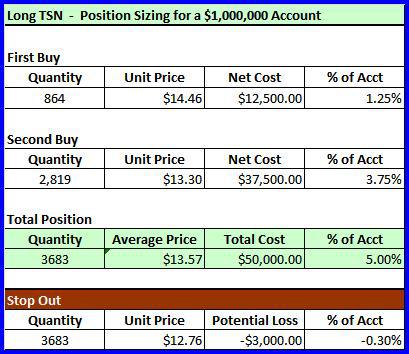 This is a trade, not an investment. Be ever vigilant.
That's it for now. Have a great day.
Disclosure: I have no positions in any stocks mentioned, but may initiate a long position in TSN over the next 72 hours.