Google (GOOG) reported solid earnings on Thursday with revenues increasing 35% year over year and 15% from the first quarter ended March 31st. These numbers also included for the first time Google's $12.5B acquisition of Motorola Mobility which was purchased primarily for its intellectual property. From the earnings call transcript, one very notable quote about the current state of the mobile business was made by Nikesh Arora - Senior Vice President and Chief Business Officer: On Mobile Ads: It's 'Where Search Was In 1999′. For those who missed the opportunity to harvest historic returns during that technology revolution, just remember that mobile is the new black. Those like Mary Meeker and others continue to weigh in with predictions of mobile's growth dwarfing that of both the pc and internet.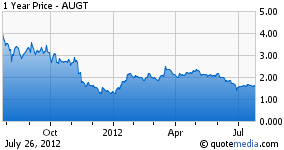 Another company that also reported earnings in early July is Augme Technologies (AUGT.OB). Despite its currently low share price, the company ranks high in industry accolades. Mobile Marketer named them "Mobile Service Provider of the Year" while Frost & Sullivan termed them an industry powerhouse. AdAge stated "Think of Augme as an aQuantive of mobile, part agency services and many parts ad technology". The company's Hipcricket arm was named one of three "Mobile Marketing & Advertising Agency of the Year" finalists in the GSMA's Annual Global Mobile Awards, out of pool of 600 entrants. The winner Amobee, while doing $30 million in revenues and yet to reach profitability, was subsequently acquired by SingTel for $321 million at an impressive 10.7x revenue. Current analyst consensus for Augme's revenues average better than $30 million.
Other notable mobile advertising M&A transactions include Google's acquisition of AdMob in November 2009 for $750mm (18.8 times revenue), Apple's (AAPL) acquisition of Quattro Wireless in January 2010 for $275mm (13.1 times revenue), Opera's acquisition of AdMarvel in January 2010 for $8mm-$23mm, Motricity's (MOTR) acquisition of Adenyo in February 2011 for $100-$150mm and Valueclick's (VCLK) acquisition of Greystripe for $70mm in April 2011.
Augme's AdLife platform is quickly becoming recognized as the Cadillac of all mobile marketing platforms. Recently the company unveiled the newest version of AD SERVE® ("AD SERVE"), their patented mobile ad server. Now fully integrated with the AD LIFE®("AD LIFE") platform, AD SERVE is a self-service tool that empowers marketers to create, manage and optimize their mobile advertising campaigns throughout the customer engagement lifecycle--both pre-and post-click--across all mobile media, including mobile ads, SMS, QR codes, mobile sites, and applications. Augme is now the only company to deliver the full lifecycle solution within a single platform.
The company's rapidly expanding client list tells the tale. Their customer base now encompasses almost 100 of the Fortune 500 companies and they now service over 600 brands. You can't miss the company's technology at work whether buying certain boxes of Kellog's (K) cereals, Miller Coors products, or any new 2012 Ford (F) vehicle.
Current customers include:
1. Nine of the world's top twenty pharmaceutical companies
2. Eight of the largest media companies in the world
3. The three largest advertising agencies in the world
4. Four of the leading quick service restaurant groups in the world
5. The two largest food companies in the world
6. One of the largest auto manufactures in the world
Importantly, they have a 95% customer retention rate and recently guided towards 10-20% sequential quarterly growth, absent any licenses or settlements stemming from the infringement of their foundational patent portfolio.
This brings us to another unique value proposition of the company, its patent portfolio. Augme's patent portfolio currently covers technology inventions from 1999 to 2033 and protects technology that enables the following:
Customized content delivery to any Internet enabled device
Device, browser, software, and profile detection with content targeting
Content targeting based on profiles and ambient conditions
Content targeting based on profiles within virtual environments
Donald Stout of NTP Holdings, renowned patent attorney responsible for his victory over Rimm Blackberry for $612 million, was so impressed with Augme's patent portfolio that not only has he invested his own funds in the company, but he officially joined the company's board of directors. He clearly has both the background and experience to make an informed decision about the quality and ability to monetize of Augme's extensive patent portfolio. Stout has also recently been tied to the shares of Vringo (VRNG) as their shares have seen a meteoric rise of late after filing infringement suits over its patents.
It was recently granted an additional patent specifically in the Ad Targeting space. As everyone knows, relevance of ads is the key to monetization of mobile. U.S. Patent No. 8,219,642 entitled "System and Method for Adding Targeted Content in a Web Page" adds foundational claims, and includes a priority date of October 28, 1999 and coverage through 2019 that broadens Augme's already strong patent coverage involving the delivery of targeted, localized, and interactive content to mobile and Internet consumers.
Risks
Inherent with any new company is the need to have cash and reach a cash flow positive state in order to sustain their growth. Unlike many of the recent mobile companies that have just raised money through their initial IPOs Augme has raised money through small offerings and warrants. As they have noted in their recent quarterly release they will need to raise additional funds and prefer to do this in a non-dilutive way to current shareholders.
"In addition, we ended the first quarter with our largest-ever pipeline of qualified sales opportunities, clearly the result of the heavy investments that we've made in sales, client support and other revenue generating functions. These quick returns have convinced us of the potential to scale our business more rapidly through increased spending levels. To fund this increased investment, we are evaluating several options to secure additional funding, with a preference for non-dilutive financing. Nevertheless, the timetable to cash flow breakeven is unchanged and we continue to expect to reach this point by fiscal year end," concluded Arena.
While not without the risk inherent to any small company leading the evolution of a completely new generation of technology and space like mobile marketing, Augme represents one of the only true pure plays on the mobile marketing space. With its shares at just a mere $1.62, far off prior highs in the $4 plus range, making them a possible takeover target, investors are provided with a risk mitigated early stage investment opportunity in both a space and company now on the verge of exploding. While investors remain slow to acknowledge the companies coming of age, the opportunity has not been lost on the analysts that currently maintain coverage. Northland Capital has a current price target of $5.75, Brean Murray a $5 price target, Think Equities a $3 price target and Dawson James a $6 price target.
In the case of mobile and Augme Technologies, they both may be getting ready to party like its 1999.
Disclosure: I am long AUGT.OB.