The market currently offers high yield dividend stocks. Some have high risks and others have ample upside for capital gains and income. One has to dig a little deeper, but the opportunities are plenty. The Treasury Bond has forced conservative investors to dive into the crowded telecom and utility sectors. These two sectors are a proxy for the former Treasury Bond market. I will address 3 dividend stocks to buy and 2 to avoid.
1. Eaton Vance Risk Managed Divers (NYSE:ETJ)
Eaton Vance Risk Managed Divers is a closed end fund. The fund trades at a 13.54% discount to net asset value (NAV). The yield is 10.86%. The business model focuses upon owning dividend stocks, selling covered calls, and implementing option strategies to create income.
An investor is buying $1.00 worth of assets for 86.46 cents. This is considered a bargain if the discount to net asset value can decrease. Bulldog Investors, an activist managed fund, has taken a 6.24% position in the closed end fund. The activist group explains their concerns:

An investor can follow Bulldog Investor's lead and buy Eaton Vance Risk Managed Divers shares. If the discount can narrow, then that is capital share appreciation. I respect investors who are opportunistic and actively seek to create value.
I believe the shares are a compelling valuation at current prices. In the meantime, one will collect a 10.86% annual dividend yield.
2. The Gabelli Global Gold, Natural Resources & Income Trust (NYSEMKT:GGN)
The Gabelli Global Gold is a closed end fund selling at a 4% premium to net asset value. The fund pays a monthly 14 cent dividend. This amounts to a 12.7% dividend yield.
The fund does own natural resource stocks too. One can create their own gold centric covered call strategy. If that is not practical, then 12.7% clearly is appreciated by income investors. The catalyst for Gabelli Global Gold succeeding is the global economy's decision to print money for every problem. The net result has always been inflation. Printing money is not a viable long term solution. The last SEC filing shows the fund has 48.5% invested in "metals and mining" stocks.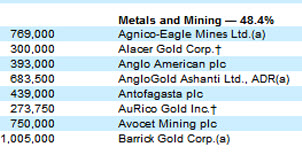 Gold stocks represent a diverse asset which benefits by countries with spending budgets exceeding incoming revenues. The U.S. national debt is currently $15.9 trillion. Selling covered calls against the gold and natural resource stocks creates the cash flow to pay out a 12.7% annual dividend.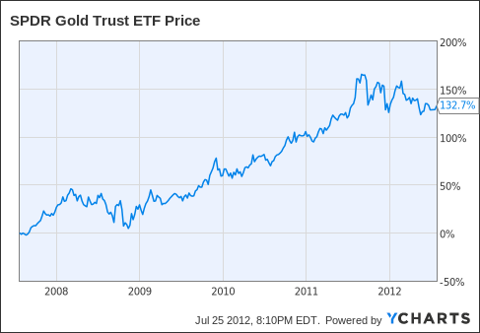 The dividend includes return of capital. This is due to, per management, covered call income treated as return of capital per Internal Revenue Service (IRS) requirements.
3. Main Street Capital Corporation (NYSE:MAIN)
Main Street is a business development corporation. The company focuses upon providing financing to small and mid sized companies. Main Street focuses upon first lien securities. Per the below table, Main Street had 80.1% of investments in first lien debt. First lien debt is the highest priority debt in the case of creditor default.

The company pays a 7.1% annual dividend. This is paid monthly. The company recently had a successful secondary offering to generate new funds for additional financing opportunities.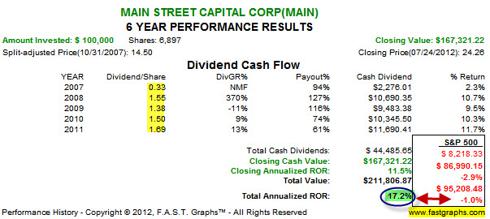 The monthly dividend is currently 14.5 cents. This was raised from 14 cents per month in May 2012. As many private companies scramble to find financing, Main Street offers access to capital at competitive terms.
4. Southern Company (NYSE:SO)
By any measure, Southern Company is overvalued by historic data. Per the below table, the investor can note the price to earnings expansion that is increasing out of historic norms. Southern Company is not a growth story, but is a fairly conservative, regulated utility business. They are not selling iPads or some hot tech product of the day. Money is flowing into the stock due to the perceived risk free nature of utility dividends. That may be the case, but if the share price drops then the net result is a loss. A $1.96 annual dividend and a $4 share capital loss is not noteworthy.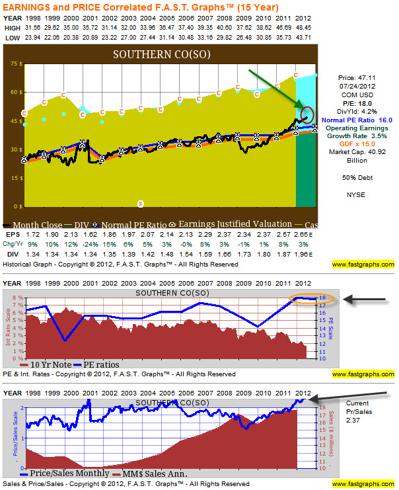 The utility currently pays 4.1%. Many investment grade bonds and preferred stock have a higher yield than 4.1%. Investors should focus upon owning the high in the capital structure bonds, unsecured debt obligations, or preferred shares. This provides less risk and a higher income.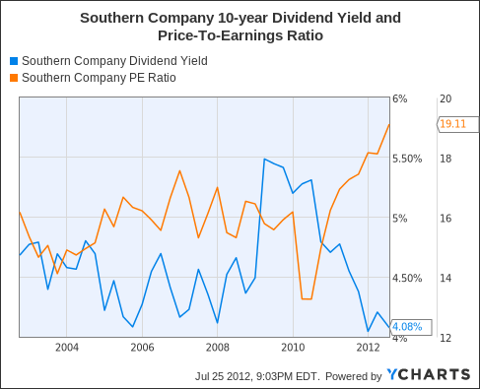 SO Dividend Yield data by YCharts
5. DNP Select Income Fund Inc. (NYSE:DNP)
DNP Select Income is a $2.79 billion closed end fund selling at a 34.07% premium to net asset value. The fund employs 32.36% leverage and yields a 6.76% annual yield.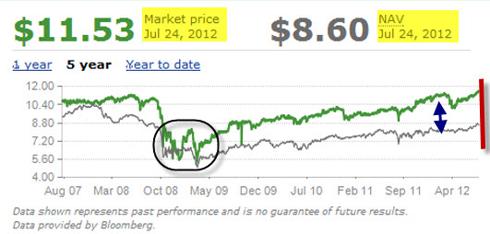 Per DNP Select Income's latest SEC N-Q filing, the holdings include telecom stocks, utility stocks, preferred shares, and blue chip bonds. All valuations are documented at Level 1 or Level 2 (bonds) valuations. In this case, an investor is paying $1.34 for $1.00 in net asset value. This is a losing strategy from the word go. Gleefully, the fund does offer a dividend reinvestment plan so investors can receive more of their money back in additional shares.
Action
I recommend investors avoid the crowded telecom, preferred stocks, and utility sectors or niches. Too much money is chasing too few perceived risk free stocks. I always focus upon risk management. I can't fathom how being in a crowded trade will end on a positive note. Buy stocks with a positive catalyst or the wind at its back.