Green thumb envy
On my way to work, through a second story window of a lovely old rowhouse, I have glimpsed disembodied hands gently tending overflowing herbs sprouting from a futuristic black planter with a bright grow lamp.
I've tried to sow vegetables from seed indoors. Right now, in fact, I'm working on peppers. After about nine weeks, I've resigned myself to the fact that the single remaining scraggly one-inch-high plant will never make it to the potting stage.
Why? Apparently because I don't have what my fellow city dweller has… an AeroGarden, made by AeroGrow International, Inc. (OTCQB:AERO).
A rainforest in your kitchen
The technology behind the space-age design involves no soil. Instead, the seed pods, which one also purchases from the company, take root in a chamber with fertilized water and nutrients programmed to wash over them under a lamp that automatically adjusts the light for optimum growth.
You can harvest herbs, salad greens, vegetables, and flowers – and all are said to grow approximately twice as fast as seeds planted in the usual dirt.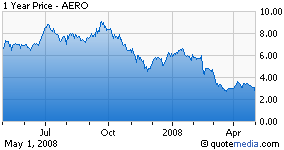 The company has clearly done all it can to make AeroGarden idiot-proof. As John Thompson, AeroGrow's marketing director explains it, "We kept building the best system we could, watched how people would kill their plants, and changed it so they couldn't kill their plants that way any more."
And looking over AeroGarden reviews, the majority of customers are clearly happy with this product – heck, look long enough and it resembles a cult. There are dedicated forums where owners delightfully recount their most productive herbs or their cherry tomato plant output. If you search AeroGarden on YouTube, you'll see tons of video postings from people filming the progress of their plants.
Organic marketing
Launched in March 2006 and catering to those weary of food dowsed with pesticides and chemicals, AeroGrow made the most of the hunger for organically-grown veggies and herbs (pun intended).
Just run a search for AeroGarden – you can purchase it at Amazon.com, Macy's, Williams-Sonoma, Linens 'n Things, Sears, QVC, Target, and tons of home and garden websites.
The cost? About $150. The seed packets run you about $20.
Even the few listings on resale sites aren't cheap and they go FAST.
In June of last year, AeroGrow issued their first catalog, resulting in record sales – much of it repeat as customers order their next batch of seeds or new parts for their systems.
Stability and growth
As popular as this product is, this Boulder, Colorado-based company has just announced an expanded product line focusing on newly designed gardens – with price points from $99 to $229.
Hoping to tap into the home and office décor market, they have created sleeker models that will feature flowers.
Another new product is smaller design of the traditional garden for those with tiny kitchens (like me!).
This should broaden their profit base considerably.
Globally, AeroGrow broke into the Japanese and European markets last year and announced expansion into South Korea this past February.
Insiders have faith
Founded by an experienced entrepreneur, AeroGrow became publicly traded in February of 2006 and debuted on the Nasdaq in June of 2007.
In the forth quarter of 2007, revenues came in at over 14 million – 201% over the same quarter the year prior.
Most compelling for those interested in bargain stocks are the actions of AeroGrow insiders: Since 2006, each transaction made has been a buy.
That's right… not one sale of shares is recorded.
Right now, the stock price is rebounding from a 52 week low hit on March 20.
I recommend you buy shares of AeroGrow International, Inc. (NASDAQ) at or under the bargain price of $5.00.
Disclosure: None