The USD Index looks like it may breach the 75 level. If this level is reached, I expect gold to trade under $800. A move by the USD Index nearing 80 levels would signal a major breakthrough for the USD. If we near 80 levels, I expect gold to trade between $600-$750.
A move by gold under $800 would likely mean seeing Yamana Gold (AUY: 12.90 +0.62%, vol: 14,116,012) shares under $10. Yamana is the primary gold stock I am watching at the moment. With the heavy volatility in gold equities, I'm going to set a limit order to purchase AUY at $10 good for the entire month of May. If the order executes, I plan to set additional orders at $1 increments with major purchasing if AUY drops to the $6-$7 range.
Readers of Raw Greed know that I favor heavy volatility for companies with strong earnings and fundamental prospects. I've been able to purchase Yamana Gold for the past two years at prices under $10 simply by standing on the sidelines and setting limit orders at large discounts. I simply wait for the weak longs to liquidate as they enter other sectors.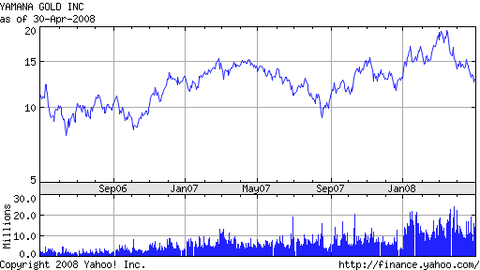 With Gold at $800, I expect to see silver at low $15 levels. If gold were to trade in the $600-$750 range, I expect to see silver between $10-$12 levels. My top three silver picks are:
-Coeur d'Alene (CDE: 3.03 -1.30%, vol: 9,200,286) with a staring entry price of $2.50 and heavy buying at any price under $1.75
-Silver Wheaton (SLW: 12.98 -2.19%, vol: 6,026,062) with a starting entry price of $10 and heavy buying at $7
-Hecla Mining (HL: 10.12 -1.36%, vol: 3,539,490) with a starting entry price at $7 and heavy buying at $5
As a hedge against falling gold, I would invest in a basket of financial stocks. Companies like Citigroup Inc. (C: 25.99 +4.17%, vol: 84,514,688), UBS AG (UBS: 34.69 +3.27%, vol: 3,414,470) and Washington Mutual (WM: 12.52 +1.87%, vol: 41,481,552) are at the top of my list. All three of the stocks are still off over 50% from their 52-week highs. Gold is dropping due to a dollar rally and the prospects of a stabilizing economy. Financial stocks should move in the opposite direction to gold stocks in the short-term, this is a stark contrast to the period simply a year ago with high prices for both financial and precious metal stocks.
I would pick up shares of C and WM at current prices. If the dollar rally lasts until the third quarter of 2008 and we see no major news of new writedowns, I expect to see C rally in the 20-25% range and WM to rally 100% or more. Washington Mutual has a large amount in bonds coming due in September. The bonds traded as much as 30-40 dollars under par when I last looked about two months ago, this denoted a lack of investor confidence in Washington Mutual. Spreads on the bonds have dramatically narrowed showing a partial return of investor confidence in the bank. WM shares are lagging in comparison to the positive performance of the banks bond issues. Bonds are considered the more conservative investment in comparison to stocks, so I expect WM shares to recover quickly as bond principals are paid.
By separating yourself evenly between precious metals and financial stocks I believe you will safely lock in tremendous gains from one or the other by the end of the year. People cycle in and out of sectors with blazing speed, primarily due to greed and oversold conditions. I suspect if my limit orders execute for the above precious metals stocks I would be buying into extremely oversold conditions and at a severe discount to recent 52-week highs. Any bounce in gold or silver prices would then have the momentum to cause any of the above picks to jump 10% or more in a matter of days.
My earliest purchase of Yamana Gold for instance was in 2006. I posted the article Selling Yamana Gold   in which I earned 46.52% in roughly 30 days. Since then I've recommended to buy in and out of Yamana on the heavy volatility surrounding the stock. In 2007, I purchased shares of Hecla Mining and Silver Wheaton at close to my target prices above. I don't believe this time will be any different.
I am by no means a day trader and I simply sit on the sidelines waiting for opportunity to present itself. At the moment I am concentrating on companies I consider a fundamentally good value in sectors that have been oversold. When everything gets sold down, plenty of opportunities will present themselves. When sectors get oversold there is also a higher probability a rally will occur on any positive news.