This is part 3 of a multi-part series on the European periphery stock markets (part 1; part 2). The logic is that, as Baron Rothschild once said, "The time to buy is when there's blood in the streets." The series of articles seeks to look at the major quoted stocks in Portuguese, Spanish, Italian and eventually Greek and Irish stock exchanges to see if the spilt blood has already produced any incredibly obvious investment opportunities.
In looking at the stocks, I'll try to gauge the sensitivity to internal demand, some factors important to their industries, the multiples they trade at and how the local stocks compare to U.S. listed alternatives in the same sectors. Obviously to trade some of these markets investors, would need an account with a full-service broker.
I started with the Portuguese PSI20 Index. This index has the following 20 constituents (well, actually 19 until September) and in this article I'll cover those bolded:
Altri
Banco Comercial Português
Banco Espírito Santo
Banco BPI
Brisa
Espírito Santo Financial Group
EDP
EDP Renováveis
Galp Energia
Jerónimo Martins
Mota Engil (OTC:MTELF)
Portugal Telecom (NYSE:PT)
Portucel (OTC:POELF)
REN
Semapa
Sonae SGPS
Sonae Indústria
SonaeCom
Zon Multimedia

Mota Engil
Mota Engil is present in three segments:
Construction (80% of revenues, 67% of EBITDA), including infrastructure and real estate;
Environment and services, including waste collection, concession of parking lots and water distribution;
Operation of toll motorways (through a 40% interest in Ascendi group).
53% of Mota's revenues (and 55% of its EBITDA) is now obtained outside Portugal, which is important, given that construction was hit by the austerity measures the Portuguese State had to take, namely, those that impacted public investment in infrastructure. Mota continues to press forward with its internationalization strategy to offset the current internal weakness in Portugal's economy. It expects to drive 60% of its 2012 revenues from abroad.
Taking into account its earnings report for 2011, these are the multiples that Mota Engil trades at today (all values are in Euros):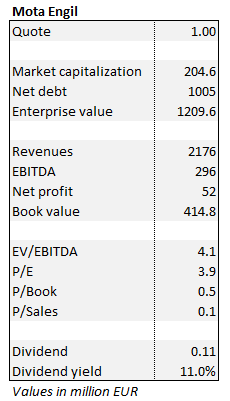 Mota Engil is a hard company to gauge. Multiple-wise it can be said to be cheap, but it's mostly a construction company, and that's not very appealing. Also, it carries a significant amount of debt, which in Portugal's present condition, means higher financial costs and an increased difficulty to refinance the amounts that come due. On the other hand, Mota Engil has some more stable income sources, such as those based in concessions (waste disposal, water distribution, toll roads, parking, etc).
In terms of U.S. comparisons, it's hard to find equivalent companies. In the construction sector, perhaps Sterling Construction (NASDAQ:STRL) or the Shaw Group (NYSE:SHAW) fit, with Sterling trading at a forward 2013 P/E of 14.8 times (it's presently producing losses), an EV/EBITDA of 3.7, and a price/book of 0.80. Shaw trades at a forward 2012 P/E of 11.4 (presently also producing losses), an EV/EBITDA of 12.6 times and a price/book of 2 times. Mota Engil compares favorably.
Although not in the most attractive sector, and perhaps even frightening due to its construction component and indebtedness, Mota Engil does seem to be trading at distressed valuations. It seems likely that the stock will behave favorably over the long term, as this economic valley is done with. Mota Engil insiders have also been buying stock heavily, providing support.
Portugal Telecom
Portugal Telecom is the major telecom provider in Portugal, having both an extensive wireline network as well as being the dominant wireless carrier through TMN. A former monopoly, it has seen its market liberalized and its shares privatized over the years. Portugal Telecom also holds a significant presence in Angola and in Brazil through its shareholdings in Oi.
Portugal Telecom is seeing impact on its business from the now much more competitive telecom market in Portugal. It's also seeing impact from the slow obsolescence of fixed-line telecom, as well as the entry of cable operators into the fixed-telecom space through triple-play offers. Finally, the internal demand dynamics have a negative impact both on residential and enterprise demand for telecom services. Offsetting all these pressures, we have the "utility-like" nature of telecom services, as well as the fact that Portugal Telecom is usually the dominating player in every telecom market, which gives it some scale advantages in this capex-intensive sector.
Taking into account its earnings report for 2011, these are the multiples that Portugal Telecom trades at today (all values are in Euros):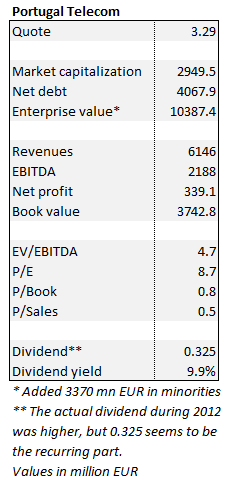 Integrated telecoms are not the most valued stocks, no matter where they trade. Still, in some levels, Portugal Telecom has already taken quite a beating, and the multiples show it. Right now the dividend yield is perhaps what stands out the most, at 9.9%.
In terms of U.S. stocks for comparison purposes, Verizon (NYSE:VZ) would be a good match, having both fixed-line and wireless components. Verizon trades with a TTM P/E of 20.3 times, an EV/EBITDA of 4.6 times and a price/book value of 3.4 times, while also yielding 4.5%. Broadly speaking, Portugal Telecom already seems quite a bit cheaper, except in terms of EV/EBITDA, where PT is very similar at 4.7 times.
It's tough to evaluate PT. It's already cheap, but perhaps it doesn't yet seem awfully distressed, given the competitive dynamics. If the market believes the sustainability of the dividend yield, the stock might start being supported where it stands today.
Portucel
Portucel is an integrated paper producer. Portucel also sells some paper pulp (which isn't integrated into paper production) and surplus electrical power from biomass. Portucel sells its paper and pulp production mostly into the European and U.S. markets, so isn't really affected by the internal demand dynamics in Portugal, neither for pricing nor for volumes.
The paper market is also less cyclical than the paper pulp market, so with Portucel's growing integration, its risk profile is getting better. It has also demonstrated an ability to reduce debt quite quickly. In both these regards Portucel is a much better stock than Altri (which I covered in part 1 of this series).
Semapa holds 78% of Portucel's equity.
Taking into account its earnings report for 2011, these are the multiples that Portucel trades at today (all values are in Euros):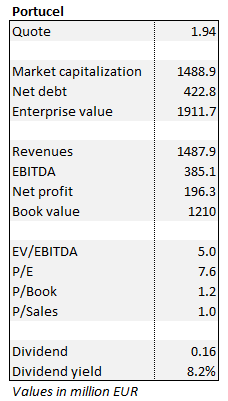 All in all, Portucel is trading at depressed levels, taking into account its financial performance and the risks it bears. This might have as much to do with the low float, as it was with the Portuguese stock market's weakness. Still, it might present a decent opportunity for investors with a long term investment time frame.
For comparison purposes, companies such as UPM-Kymmene Oyj (OTCQX:UPMKY) trade at more expensive multiples (8 EV/EBITDA, 0.6 price/book value). International Paper (NYSE:IP) has a lower dividend yield (3.3%), is more expensive on an EV/EBITDA basis (7.4) and also more expensive in terms of price/book value (2).
In short, Portucel stands as a potentially undervalued and well-managed company at today's levels.
REN
REN manages the Portuguese electricity transportation network on a concession basis (3/4ths of revenues). It also manages a natural gas distribution network (accounting for around ¼ of revenues).
Although REN is essentially exposed to the Portuguese internal market, it's in a regulated segment where not much impact is to be expected from the economic weakness and the austerity measures.
Taking into account its earnings report for 2011, these are the multiples that REN trades at today (all values are in Euros):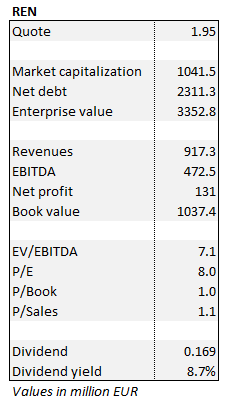 REN isn't very expensive. It isn't very cheap either. Although on a P/E basis it seems cheap, at 8 times 2011's earnings, and it does carry a 8.7% yield, the company also carries substantial debt, owing to its nature. This is also what keeps its equity from trading at very distressed levels, because the heavy debt load inflates EV/EBITDA up to 7.1 times.
As for U.S. stocks for comparison purposes, I haven't found any that is suitable, due to the lack of pure play electricity grid stocks in the U.S. markets.
Semapa
Originally Semapa was a cement producer. However, since it took a large equity position in Portucel (78%), it's now more of a paper producer (82% of sales) than a cement maker. Its cement making segment has exposure to Portugal's internal market weakness, but Portucel's activity is geared towards foreign markets, which lowers the exposure to the Portuguese economy significantly.
Taking into account its earnings report for 2011, these are the multiples that Semapa trades at today (all values are in Euros):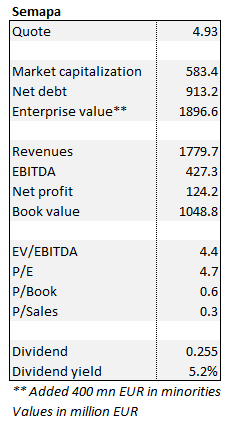 Basically, Semapa is a cheaper way to own Portucel. It would seem that its slightly lower valuation is a function both of the cement exposure, and the fear of leverage. In terms of similar U.S. stocks, it obviously also trades cheaper than International Paper, much like Portucel.
Conclusion up to this point
After going through 15 different Portuguese stocks, there are several investment opportunities already:
EDP, the leading Portuguese power company;
EDPR, though not as cheap as EDP, provides a unique pure play exposure to wind energy at reasonable valuations, though with some risks;
Mota Engil, a cheap construction company with a concession kicker, cheap valuation and a high yield. Some debt worries remain, though;
Portugal Telecom, the leading Portuguese telecom company. Could be a little cheaper and has some internal competition worries, but still, it's already quite cheap;
Portucel and Semapa. A paper producer with exposure to the worldwide paper market, at a cheap valuation and carrying a high dividend yield. Should be well insulated from any developments in the Portuguese internal market, can be gotten at a low leverage (Portucel) or with a bit more leverage and slightly lower valuation (Semapa);
Finally, for those more speculative minded, BCP, the leading Portuguese bank. BCP might be interesting if for political reasons the State decides not to dilute its shareholders too much in any given recapitalization program. BCP, however, highly exposed to the Portuguese economy and its indebtedness.
(to be continued)
Disclosure: I have no positions in any stocks mentioned, and no plans to initiate any positions within the next 72 hours.