In our consumer, service based economy, personal income is needed to provide the funds to generate spending and ensure demand is present to keep us employed and our economy functioning.
In this article, I'm going to take a close look at the trends in the composition that make up gross personal income to give us an idea of where the economy is headed.
What is it that makes the U.S. economy a consumer service based economy? Personal consumption expenditures make up about 71% of our gross domestic product.
Both personal income and personal consumption expenditures have grown as a share of GDP since the 1960s per the chart below that shows personal income as a percent of GDP (blue line) and personal consumption expenditure (red line) as a percent of GDP.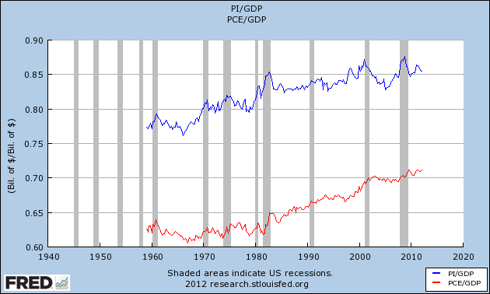 So in essence, the growth of our economy, in nominal dollars, is very much dependent on growth in consumer expenditures. Consumer expenditure growth is mostly dependent on personal income growth.
Wages and salaries make up the largest component of personal income, 51.2% as of May 2012 and personal current transfer receipts, which include social security, Medicaid and Medicare, unemployment benefits, disability benefits and food stamps, make up 17.7% of personal income as of May 2012.
Here is a chart of the percent of personal income of wages and salaries (blue line), government personal transfer receipts (red line) and both combined (green line):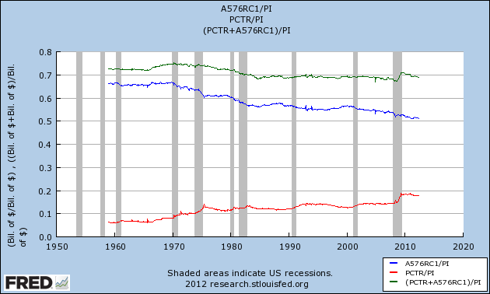 As you can tell by this chart, wages and salaries have become less of a percent of personal income while government personal transfer receipts have become a larger percent of personal income.
Combined, these 2 income sources make up 68.9% of personal income.
The remaining contributors of personal income include interest income, dividend income, rental income and proprietors income.
Combined, these 4 contributors equal 25.8% of personal income.
Here is a chart of these for contributors as a percent of total personal income:
Proprietors Income: Blue Line
Rental Income: Red Line
Interest Income: Green Line
Dividend Income: Red Line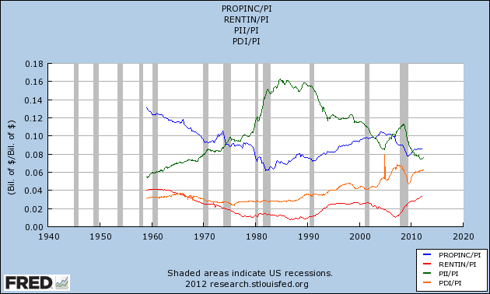 Let's begin by looking at a long term chart of the year over year change in total personal income.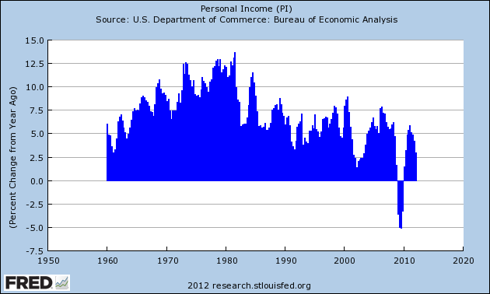 Here is the same chart going back just the last 5 years: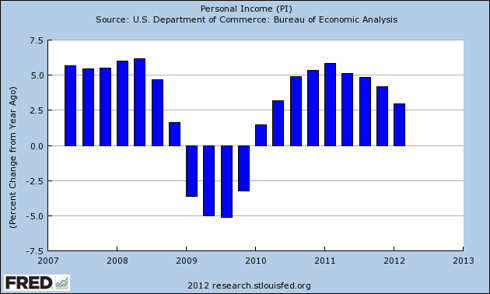 Personal income was both trending up and growing over 5% year over year in the 2nd quarter of 2008. The recession had officially started in December of 2007 recall. Within 12 months, personal income would be declining 5% year over year. This was largely due to an adjustment in our labor force where the percentage of our population that was employed in a job declined from 62.7% in December of 2007 when the recession officially began to 59.4% in June of 2009, when the recession officially ended. It continued to decline until December of 2009 upon reaching a ratio of 58.2%. So roughly 4.5% of the population lost their jobs in the last recession. As of June 2012, it stands at 58.6%, a slight improvement off the bottom.
Here is a long term chart of civilian employment to population ratio in the U.S.: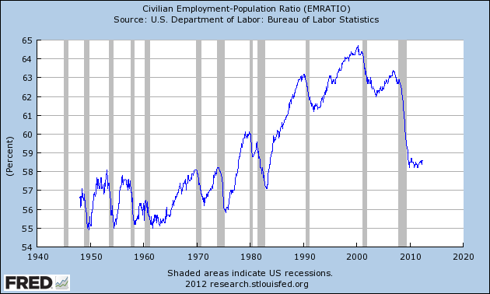 The U.S. population is growing at about 165k per month and given that about 59% of the population is employed, we need to add about 97k jobs a month just to keep up with population growth and maintain the current ratio.
The last 3 months, the U.S. added 80k in June, 77k in May and 68k in April, not keeping up with population growth, but it is adding jobs in the aggregate and that in itself would bring positive growth to personal income.
Below is a chart showing year over year change in the following:
Total Employees: Blue Line
Average hourly wage: Red Line
Total wage and salary disbursements: Green Line
Total Personal Income: Orange Line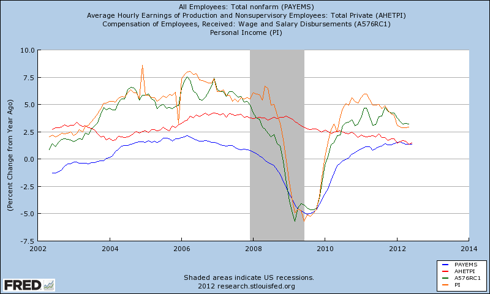 These year over year change rates have been rolling over and wage growth is only 1.60%.
What is critical to get aggregate wage and salary growth up is for more people to be employed and given the recent trend in job growth, the prospects are not looking so good.
Personal current transfer receipts are the second biggest contributor to personal income making up 17.7% of total personal income.
Here is a chart showing year over year percent change in personal current transfer receipts: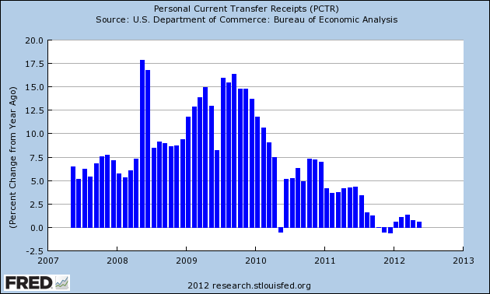 As of May 2012, personal current transfer receipts are growing only 0.6% year over year.
To break down the components of these transfer receipts, here is a pie chart of the various components of government social benefits:
Blue: Social Security 32.6%
Red: Medicare 24%
Green: Unemployment 3.6%
Orange: Other (food stamps, etc.) 18.4%
Purple: Medicaid
Grey: Veterans Benefits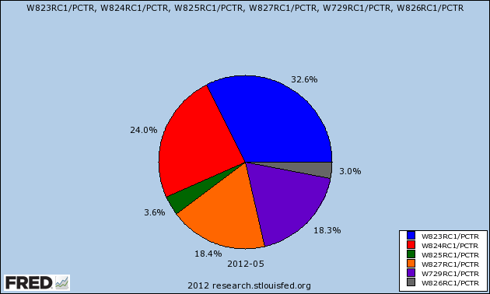 The growth in Government social benefits is slowing as can be seen by the chart above this pie chart. Taking the 4 biggest components of personal current transfer receipts, we get Social Security, Medicare, Medicaid and other.
Below is a chart showing year over year growth in these 4 components:
Medicare: Blue Bar
Medicaid: Red Bar
Social Security: Green Bar
Other: Orange Bar
Both Medicaid and other are showing year over year declines while Medicare is only slightly growing and social security is up over 5% year over year.
America has 61,574,000 individuals receiving some form of social security benefit payment.
The prospects for growing personal income at this juncture are not looking so good based on current trends. I suspect that by Q3 or Q4 of 2013, we could see year over year growth in personal income in negative territory. In that event, we could see a repeat of the 2008/2009 recession and stock market swoon. Thus, I'll be keeping a close eye on these trends, and you should too.
With respect to how to invest in this kind of scenario, at least for the next 12 months and assuming no major Fed policy change or major currency intervention, there will be nothing wrong with holding cash and waiting for better opportunities to come your way, despite it paying next to zero percent interest. Inflation is down as well growing 1.6% as of June.
For active money managers looking to achieve a rate of return for their clients, it might prove prudent to hold some inverse funds like Proshares Short S&P 500 (NYSEARCA:SH), or any of the other non leveraged short ETFs out there to take advantage of a stock market that does not seem to be expecting deflation let along another recession that would surely follow if personal income keeps trending down.
With regards to bonds and interest rates, in a deflationary environment with negative nominal personal income growth, the risk of default comes back into play. While there may well be a continued flight to safety into 10 year U.S. Treasury bonds and the like, high yield junk corporate bonds may well see a correction in price and rise in yields making them especially risky in my judgment. So avoid funds like iShares iboxx High Yield Corporate Bond Fund (NYSEARCA:HYG), SPDR Barclays High Yield Bond (NYSEARCA:JNK) or PowerShares High Yield Corporate Bond Portfolio (NYSEARCA:PHB).
Gold and silver, in a deflationary environment, may see selling pressure, however the reason to own gold and silver more than anything in my judgment, is because its insurance against political mismanagement of government finances. I'm very bullish on political mismanagement of government finances, thus I'm bullish on gold and silver. Preferably own the physical metals, but for paper investors, I like and own Central Fund of Canada (NYSEMKT:CEF) to get exposure to both gold and silver in one fund.
Above all, be nimble with your own household personal income.