This past week Liberty Mutual said it would buy the Seattle-based insurer Safeco (SAFC) for $6.2 billion, bumping Liberty Mutual up from 6th place to be the 5th largest property and casualty insurer in the US. With the addition of Safeco, Liberty Mutual expands its brand in the western US by adding Safeco's extensive network of agents.
As always, our question is how will this impact the online business for both Liberty Mutual and Safeco? Liberty Mutual has a strong agent network in the Northeast, but has also worked hard to build its presence online in the past couple of years and has become an important direct insurer. Safeco, by contrast, continues to do business primarily through its agents. It doesn't take a huge leap to see the opportunity for Liberty Mutual to extend its online brand into Safeco's footprint.
Looking at both companies over the past 12 months demonstrates Liberty Mutual's progress in driving traffic to Libertymutual.com against the relative stability in homepage visitors to Safeco.com. Liberty Mutual's homepage received over 330,000 unique visitors in March 2008 (up from just over 200,000 in March 2007), while Safeco received a little more than half that with over 170,000 unique visitors in March 2008. (Click chart to enlarge.)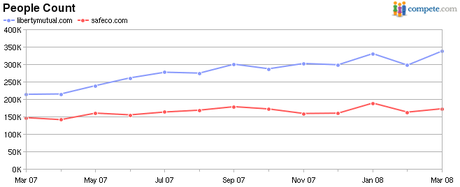 Where these differences meet the bottom line is in wildly different volumes of business generated online. Looking at LibertyMutual and Safeco's auto insurance business only, Compete data shows Liberty Mutual completing almost 50,000 auto quotes each month. Safeco only completes about 1,000 quotes online each month. If we imagine Liberty Mutual's business model overlaid with Safeco's existing online traffic, Safeco could be generating more than 25,000 auto quotes per month online – expanding Liberty Mutual's overall online quote volume about 50%.
The challenge for Liberty Mutual is in convincing Safeco's agents of the benefits that come with a more online-centric model while fighting off aggressive competitors in the West like the newly invigorated AIG/21st and GEICO [subsidiary of Berkshire Hathaway (BRK)]. We'll be watching closely!