Starbucks (NASDAQ:SBUX) just reported its 2012 Q3 results, and boy, did the stock get knocked down after hours. Shares are trading sharply lower at $46, which is 12% off its closing price. The earnings per share came in at 43 cents a share, 2 cents short of expectations. In spite of the miss and the weaker outlook, we believe this pullback is a good time to start a position in the stock, or at least put it on your watchlist in case you want to pull the trigger eventually. The article concludes with a few potential headwinds that could impact the stock adversely. Let's get into the positives first.
Valuation: Despite the miss, Starbucks had a 16% YOY growth in earnings per share, from 37 cents to 43 cents. What this leads to is an increase in the Trailing Twelve Month (TTM) EPS, which now stands at $1.8 (assuming equal float). At the current price level of $46, that gives SBUX a P/E of about 25, which is not too much of a premium for a market leader that is expected to grow at about 20%. The present valuation is very close to its lowest level in the past 5 years.
(click images to enlarge)

(Source: Ycharts.com)
Dividends and Cash on Hand: Starbucks would yield about 1.5% while trading at $46 per share. More than likely, the dividend will be raised in November, by a very good margin. The last two dividend increases were 30% each, and the upcoming increase could very well push the yield on today's cost to 2%. While this might not seem like a lot, you have to remember Starbucks is still a growth story. Even the slashed fiscal 2013 EPS of $2.02 to $2.14 still represents a double digit growth.
As indicated in a previous article, Starbucks' cash has been steadily growing, making the dividends seem safe at this point.

(Source: Ycharts.com)
Also, the table below extrapolates on Starbucks' dividend growth potential -- assuming a 10% dividend increase over the next 10 years. Granted, not many companies have maintained this level of increase for a decade, but given the way Starbucks has started (30% increase each of the past 2 years), this seems a reasonable assumption. You can see how the yield on original cost almost triples with the potential growing dividends.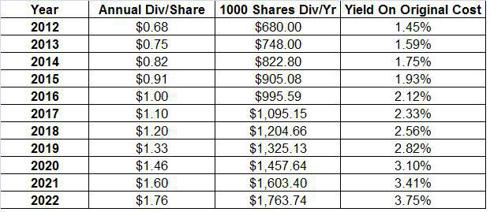 A Company With Direction: Starbucks has a very capable leader in CEO Howard Schultz. His vision for the company's growth is well-documented, like his belief that China could soon become the number one market for his company. What is surprising is that he is also becoming more visible in his social/political causes. When a CEO of a well known company openly says "Our (nation) system is broken", you immediately know he/she is a person with conviction and will do what is right for the country, and obviously, the company. With Schultz at the helm, investors can take comfort, ignoring the weakness due to macro-economic conditions.
Continuous Innovator: Companies that sit on their laurels get murdered by competitors. Starbucks, despite being the market leader, is anything but dormant. In addition to trying out new coffee/soft drink products like refresher drinks that compete directly with the likes of Red Bull, it is also expanding into the beer and wine category. Sure, no one knows if these will be as successful as the company's existing products, but Starbucks is introducing new products without burning a big hole in the balance sheet.
Personal Reasons: Almost everyone in our family loves Starbucks. While there are exceptions to the "Buy what you love rule," in our opinion, Starbucks is an example of a safe investment in what you like to consume. It's hard to ignore the continuous inflow of people at most stores. While grabbing a coffee at Starbucks recently, a friend commented, "My god, if this is the rush they have at 2:00 p.m. on a weekday at this location, wonder how good the rush will be at peak times in other, busier locations."
Potential Challenges
Like all high-profile companies, Starbucks isn't without its challenges.
Europe: This has to be a factor for every company operating there. Sure, it's great to have international exposure, but there are times, like the present, where companies get hurt more by their foreign sales than their domestic sales. According to Starbucks' CFO Troy Alstead, "Europe continues to be our most challenged part of the world by far." Same store sales did not drop in Europe, but that is far from ideal for a company like Starbucks, which is expected to grow everywhere.
U.S. Growth: Starbucks generates 75% of its revenues from stores in the United States. Though it is far from the saturation point, doubts linger about the potential that the company could open more stores, and the impact they would have on the bottom line. While Europe seems to be in a bigger mess, the U.S. is not exactly flourishing, either. Consumers may eventually feel the pinch in their pockets due to recession fears. The table below is sourced from Starbucks' website and it shows the store count throughout the world. Notice the humongous number in the Americas (U.S, Canada, and Latin America) already.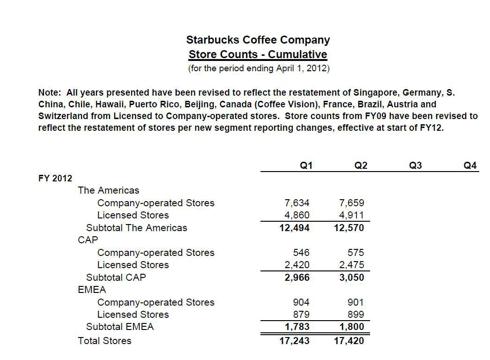 Competition: While Starbucks is undoubtedly the leader today, barriers to entry aren't too high in this business. Players like Green Mountain Coffee Roasters (NASDAQ:GMCR) had their days in the sun before heading south. While it does sound unlikely now, consumer taste preference can change on a whim. Remember these coffee taste tests results where McDonald's (NYSE:MCD) topped Starbucks ?
Conclusion: Now that we've looked at both the positives and negatives, we're tempted to get on the long side of this trade. Most of the factors on the negative side are of the macro type, and there is very little any company can do to avoid those. In our opinion, Starbucks offers a unique long term growth and dividend play, but we do not expect the short term ride to be smooth.
Disclosure: I am long MCD, and I may initiate a position in SBUX over the next 72 hours.