Sun Microsystems (JAVA) took a pounding on Wall Street on May 2. Weak financial results, announced May 1, stunned investors, and CEO Jonathan Schwartz's strategy to transform the company will surely come under fire (see conference call transcript). Is there hope for Sun? I sure think so.
Here are two reasons why:
Software as a Service: Sun is pushing hard into the SaaS market, and the company's recently acquired database — MySQL — is wildly popular for hosting SaaS applications.
Open Minds: Sun spent the 1990s writing closed operating systems for proprietary hardware. Sun's commitment to MySQL and other emerging options — such as Ubuntu Linux on the server — is a welcome about-face.
Still, Sun could get smaller before it gets larger. Imagine transforming from IBM's (NYSE:IBM) big-iron mentality in the 1980s to Microsoft's (NASDAQ:MSFT) software-centric success in the 1990s. Such a leap would require a massive shift in resources, priorities and sales strategies. And that's exactly the type of dramatic transformation Sun is trying to undergo right now.
But it won't be easy. Monetizing open source could prove difficult. And bets on niche technologies like Ubuntu Linux may not pay off anytime soon — if ever.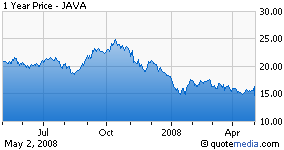 Short term, the picture at Sun is dark: The company just disclosed a $34 million loss for its most recent quarter, and CEO Schwartz warned that sales to small businesses and government agencies hurt results, according to the Associated Press.
That's especially troubling, since government is a key vertical that typically continues to spend on IT in a weak economy. Also, Sun isn't exactly a small business titan, so Schwartz blaming weakness on that market raises some question marks. The company plans to cut 1,500 to 2,500 jobs to align costs with revenue, according to AP.
Still, I'm a long-term believer in Sun's strategy -- but this is going to take considerable time. Big, proprietary iron isn't a big seller anymore. But Sun was smart to push deep into open source in 2007 and early 2008. Unfortunately, those efforts may not yield results for a few more years.
Disclosure: none