Sun Microsystems (JAVA) is a company that serves as a great example of what happened during the tech bubble. In the late 1990s, Sun's stock could do no wrong as it rapidly climbed from the $50 level on Jan 1, 1999 all the way to $250 level in late summer of 2000. The return in that short period was more than 500%. The stock was flying extremely high and surely overvalued, as were most tech companies at the time. When the bubble burst, Sun lost more than half of its newly acquired value by the end of the year 2000.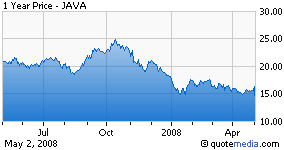 The stock's performance since then has been abysmal, and though the losses have been less severe than when the bubble burst, they have been just as painful. After the close Thursday, Sun reported earnings that were well below the estimates (see conference call transcript) and the stock lost over 20% during the day. It now sits at $12.64.
Sun Microsystems struggled in their third quarter which ended March 31, as the company swung to a $34 million loss. Analysts' estimates had Sun earning 18 cents per share, but instead the results were a loss of 4 cents per share. Sun took a $52 million dollar tax hit, compared to a $3 million dollar tax benefit in the quarter a year prior. Also, adding to the disappointing results were charges related to the February acquisition of free-software maker MySQL AB.
Furthermore, the company blamed sluggish sales to U.S. businesses that are holding off on IT expenditures until the economic outlook improves. They also foresee revenues to be relatively flat for the next quarter to round out the fiscal year. The financial difficulty necessitates that Sun will cut some 1500 to 2500 jobs, which would be a substantial portion of their work force.
With the performance of Sun Microsystems in the last few years, it appears that the company stands at a crossroads. The old way of doing business at Sun in not working, and management may need a shake-up. Sun has products— such as technology platform JAVA— that are widely used, but the business continues to struggle. The company is in need of a new direction; as the purchase of MySQL AB would suggest, perhaps that new direction is to a free-software or open source platform.
As far as Sun's valuation, we have it rated very highly as it is trading well below its historical norms. The stock has fallen steadily from to be worth nearly 5% of its previous highs. An example of how undervalued Sun appears is in the price-to-cash flow metric which is historically between 22.82 and 45.90, but at the current price it is at 6.98. The valuation metrics we use suggest that for Sun to be trading within the range that the market has been willing to pay would mean a price of between $42-$60. Anytime a stock is that undervalued versus historical norms it means that either the stock is headed for 0 or it will return to generally more normal valuations.
Thus, since we do not think that Sun is going out of business after 5 straight profitable quarters before this quarter's hiccup, we do think that the substantial underlying value for Sun makes it a potential take-over target.
Disclosure: none