The Bois d'Arc Energy, Inc. (NASDAQ:BDE) - Stone Energy Corporation (NYSE:SGY) deal is the latest in a long-line of energy-exploration mergers, and yet another which will be successfully completed in 120-days or less. These deals are arguably the most consistent in terms of mechanics a and are almost always dependent on the SEC proxy review in terms of timing.
As the timelines chart below shows quite clearly, exploration deals rarely draw FTC interest: in fact, we have yet to cover an exploration merger in the last decade that has encountered HSR delays. As with the other previous deals in this sector, HSR clearance is fully anticipated in 30 days or less here.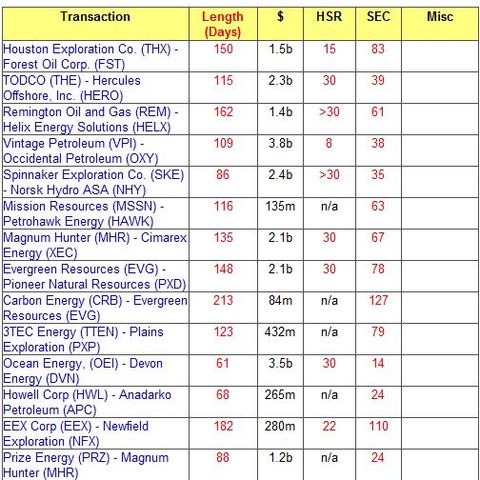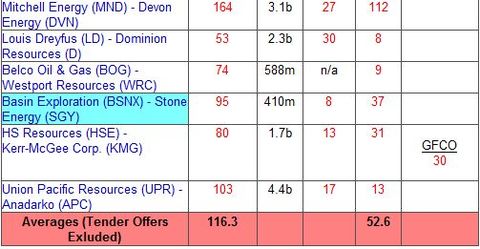 The key data to be observed is the SEC review timing for the last ten similar deals. While the SEC has consistently cleared the vast majority of merger proxies in 45-days or less for all industries, the exploration niche is prone to proxy reviews exceeding 60 days in many cases, and in one -- Carbon (Pending:CRB) / Evergreen (NYSE:EVG) --127 days.
As has been discussed several times in energy deals over the last several years, the SEC's choice to pull proxies for review in this industry is mostly random, but is often directly related to the experience of the staff assigned to any given case. For some reason (probably related to the Enron debacle), inexperienced staffers at the SEC are often assigned to energy deals, which naturally can result in slower proxy reviews. This is, of course, a generalization, but it is one that has applied fairly consistently to mergers in this sector.
That being said, it is reasonable to anticipate an SEC proxy review in this deal of at least 45 days, despite the fact that BDE's initial S-1 was declared effective only three years ago. BDE has needed to amend quarterly reports twice in the last year (Q2 2007) as well as its 2007 annual report, which was amended just three days ago. This, along with the aforementioned SEC habits in these cases, virtually assures a proxy waiver will not be granted for this transaction.
Therefore, assuming the companies file the initial proxy by the first week of June, the earliest a BDE shareholder meeting should be expected is the second or third week of August, and this assumes a proxy review of roughly 45 days. It is equally, perhaps more, likely that the proxy review will last closer to 60 days, pushing the BDE shareholder meeting and close into September of this year.
Disclosure: We have no positions of any kind, in any security. We are a completely neutral source of research and analysis.