Gentiva Healthcare (NASDAQ:GTIV) offers home health services in the United States to pediatric, adult and elderly patients. Nurses and paraprofessionals provide assorted therapies and infusions. Their CareCentrix business segment coordinates delivery of services and home medical equipment respiratory products, prosthetics and services for HMOs and health plans. Hospice care is also provided.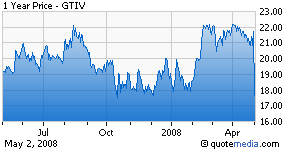 GTIV announced March quarter earnings last Thursday. They posted EPS of $0.27 versus $0.25 and the stock tanked, dropping $4.08 or -18.77% - to finish at $17.66. It seemed like an overreaction to me, as it was still GTIV's best Q1 in the past four years. It was the fifth consecutive quarter with year-over-year improvement and it brought trailing 12-month earnings to $1.17 share.
Gentiva shares rebounded a bit on Friday to finish at $18.35. The company's new guidance for 2008 is $1.32 - $1.40 up from 2007's $1.15. At the low end of that range, these shares now trade at 13.9x this year's estimate. At its peaks in 2004-2005-2006-2007, GTIV fetched about 18x, 22x, 26x and 20x those years' final earnings.
Even 15 times the $1.32 projection for 2008 would bring these shares back to $19.80. They have exceeded that target in each year since 2005. In fact, GTIV hit its all-time high of $23.02 as recently as February 19th of this year.
Here's my conservative stock and option combination play:
[Use any multiple of 100 shares – I've used 1000 shares for simplicity]

Your break-even price is figured as follows:
$18.35 less $2.85 /share [call premium] = $15.55 on your shares.
$17.50 [put strike price] less $1.60 /share [put premium] = $15.90 on the puts you sold.
Your break-even on the whole period is thus $15.55 + $15.90 / 2 = $15.73
Even if Gentiva shares dropped by $2.62 - or 14.3% - you would not be hurt.
At expiration date on November 21st :
If Gentiva shares are $17.50 or higher, your shares will be 'called' (sold) for $17.50 /share. Your 'put' options will expire worthless (a good thing for you- the seller). You will now hold NO stock and NO options. You will have $17,500 for your original outlay of $13,900.
That's a net profit of $3,600 / $13,900 or 25.89% in 6 ½ months.
You will have this result even if Gentiva shares fall by up to 4.6% to $17.50 from their current price of $18.35.
The absolute low price for GTIV in 2007 – 2008 was $17.03 and 2008 sales, earnings, cash flow and book value are all expected to be their best in five years.
Take advantage of the excellent option premiums available now due to last week's volatility.
Disclosure: none