Most investors have heard the mantra: Invest in best-of-breed companies. That strategy, however, typically results in investors sinking into larger market capitalization stocks and potentially missing smaller competitors that may be priced more attractively for their growth prospects. One investing angle that has proven very lucrative over time is identifying relatively undiscovered second-tier consumer product companies. Unlike their better-known competitors, many of these companies do not have name recognition, despite the fact that many of their products are well known by households in the United States.
Many second-tier companies are followed by few analysts and can have a solid string of earnings reports before being noticed by the broader market. Furthermore, second-tier companies often have first-tier brands within their portfolio. Ever heard of Chloraseptic, or Comet? They are two of the major brands owned by Prestige Brand Holdings (PBH), a New-Jersey based company.
One of the most appealing aspects of investing in companies like PBH rather than the major conglomerates such as Procter & Gamble (PG) or Clorox (CLX) is that they are often able to grow much more quickly through brand development and acquisitions. While conglomerates like Procter & Gamble have to make large acquisitions to make them meaningfully additive in terms of revenue and profits, smaller rivals like PBH have a number of acquisition targets that can materially impact their business. For growth investors, that ability to grow can lead to outsized returns over both the short and long run, as shown in the accompanying graphic that illustrates the 100% growth in the share price of PBH while PG and CLX both lagged with near zero returns.
It should be noted that the chart does not include dividends paid. For income oriented investors, consumer product brands such as PG and CLX provide a consistent dividend stream that can be counted on, as each pays a 3.5% dividend based on current share prices. PBH does not currently pay a dividend, which theoretically accounts for a small amount of the difference in price appreciation between the three companies.

The table below illustrates the significant differences among the 3 companies. Clearly, PBH is far smaller than the other competitors, at less than 1/100 of the size in terms of market capitalization. However, while CLX and PG are struggling to grow in a mature consumer products market segment, PBH has acquired brands and experienced organic growth for a total growth rate of 39%. However, despite this growth rate, and despite the 100% appreciation over the past 2 years, PBH still commands only a slight premium in terms of trailing price-earnings ratio than the other 2 competitors, with a P/E ratio of 22.05 compared to 21.45 and 19.63 .
Furthermore, when taking a longer run perspective, such as the 5 year PEG (price-to-earnings-growth) ratio, it is clear that investors have not priced in continued growth by PBH, as the company has a 5-year PEG ratio of roughly half of its competitors. From a price to sales perspective PBH is also cheaper, with a ratio of 1.84 to 2.86 for Clorox and 2.05 for Procter & Gamble.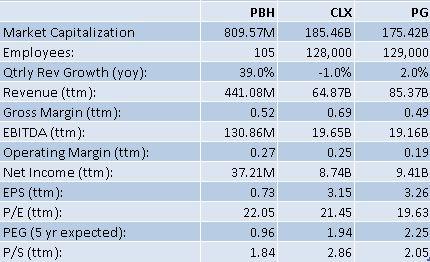 Prestige Brand Holdings thus offers significant promise as a relatively undiscovered company in a field dominated by large capitalization firms. It offers significantly higher growth prospects, and has tremendous potential as it continues to seek new brands to add to its portfolio. Its strategy is highlighted by its recent purchase of 7 consumer brands from GlaxoSmithKlein (NYSE:GSK). Prestige Brand Holdings continues to growth through both acquisitions and sales gains, and offers evidence that pursuing the small company can offer greater value than the industry leaders. Instead of the "best of breed" that financial pundits often espouse, next time consider investing in the "next of breed".
Disclosure: I have no positions in any stocks mentioned, and no plans to initiate any positions within the next 72 hours.