In anticipation of a big purchase later this year, I am liquidating part of my stock portfolio and as I mull over which stocks to sell, Canon (NYSE:CAJ) and Nokia (yes I am still holding on to it since I featured it in the October 2005 edition) stand out the most. Canon has had a nice run in recent weeks with the stock appreciating almost 30% since early February and 13.48% since we added it to our model portfolio at the end of 2007.
One of the reasons I mentioned while picking Canon was the extreme sell-off in the stock due to concerns about a stronger yen affecting profits in 2008. The yen continued appreciating against the dollar through mid-March but the stock has instead appreciated year-to-date as you can see from the chart below.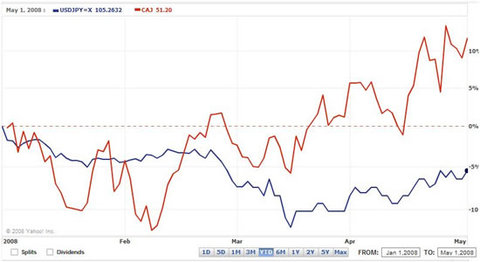 Canon is an excellent company and long-term investment but on account of my short-term need for liquidity and the recent appreciation in the stock price, I am going to take profits by selling the stock in my personal portfolio after this blog entry goes out to subscribers. I will also be selling it from the SINLetter model portfolio based on the closing price of the day.