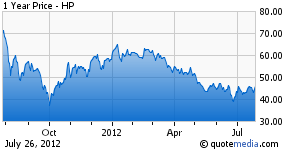 Helmerich & Payne (HP) continues the parade of smaller oil services firms reporting much better than expected earnings this morning. It joins Cameron International (CAM) and Precision Drilling Corporation (PDS) among others with well received reports in the last day or so. The sector is showing that the expected downturn from lower oil prices was much more dire than the actual reality. The shares also still look cheap.
Key highlights from earnings report:
EPS came in at $1.37 per share, easily beating estimates of $1.16 a share.
Revenue also rose 27 percent to $819.8 million, topping estimates of $780.4 million.
The company said lower rig expenses and an increase in drilling activity boosted margins at its U.S. land operations (86% of total revenues) in the third quarter.
Five reasons HP is a solid value at $46 a share:
The stock is selling near the bottom of its five year valuation based on P/E, P/B, P/CF and P/S.
Analysts expect over 20% revenue growth in FY2012 and near 10% growth in FY2013. The stock sports a five year projected PEG of under 1 (.71).
The company doubled operating cash flow from FY2010 to FY2011, and the stock is selling for 5 times operating cash flow.
HP has lost about a fifth of its value so far this year, compared with a less than 2 percent fall in the wider U.S. Dow Jones Oil equipment services index.
The company has newer rigs and higher utilization (over 90%) than its peers. S&P has a "Buy" rating and a $69 a share price target on the stock.
Disclosure: I am long PDS.