Intel (INTC) raised its dividend from 21 cents to 22.5 cents per share - representing an expected new annual payment of 90 cents per share. The next payment will be made on September 1 to shareholders of record on August 7.
This payment is 7% higher than for the previous quarter and a 42% increase over the payment just two years ago. Given this increase, the market yields for Intel will be changing when the new dividend takes effect.
Here's a chart showing various dividend levels for the stock going back to mid-2008.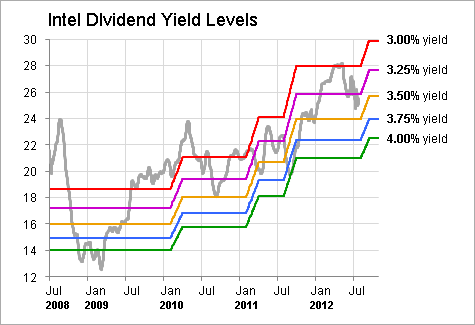 Right now, if you can buy Intel for $24 per share, you'd be getting a 3.5% yield, but by September that 3.5% level rises to $25.71 per share.
And while the stock hasn't given you many opportunities to get in for a 4% yield, that would be the yield if you could purchase shares for $22.50. Back into 2010 that 4% level was way down at $15.75 per share.
Reasonable payout ratio
The company's payout ratio rose to 70% in 2009 as earnings suffered during the financial crisis, but the ratio has returned to a more reasonable 35%, so it appears that Intel can well afford to increase its dividend.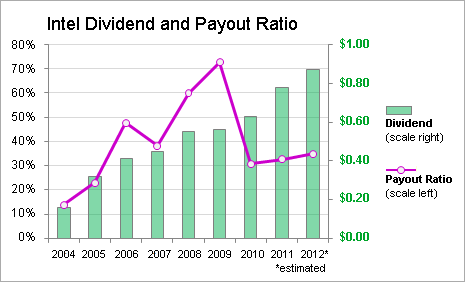 Do I hear $1?
It was only 5 years ago when Intel's annual dividend was less than 50 cents per share. Today it's pushing up against $1. I'm not making any formal predictions, but if all goes well, I expect we could see that $1 dividend next year.
Disclosure: I am long INTC.