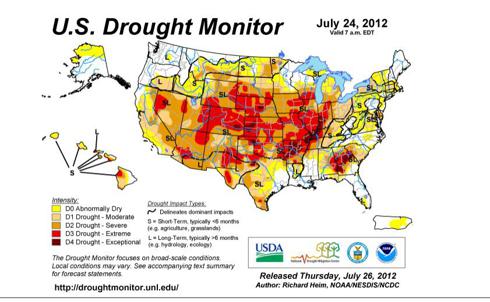 Source: USDA
Overview of this Summer's Drought
We began talking about the potential for one of the worst U.S. droughts since the "dust bowl" days of the mid-1930's, five-six weeks ago. This historical drought has created some of the most incredible grain volatility that I have ever witnessed. Soybean futures reached new highs last week, only to collapse on "misconstrued psychological panic", that the U.S. corn/soybean growing areas has and will continue to get great rains.
In addition, the demand side of the equation at these incredible high grain prices and worries over the U.S. ethanol mandate, and China's economy, also added to the Jekyl and Hyde madness in the grain market. The easy money was made the last 2-4 weeks before the media began pouncing on this story, and every little novice trader and his/her dog jumped on the bandwagon.
Nevertheless, barring any unexpected major change in the U.S weather pattern or some global economic worries or slackened demand for grains, soybeans still have the potential to explode over the next 1-4 weeks. I think the U.S. corn crop will be seeing yields under 130 bushels/acre and couple that with growing dryness in Ukraine and corn prices will likely not fall out of bed.
So is there any hope in August for widespread relief from this drought that now covers some 29 States? Also, besides grains and livestock being affected by this hot summer, what about U.S. water supplies?
Currently, I expect the drought to continue for at least 18-20 states, well into August ,and perhaps be centered on the nation's break-basket, the Plains and Texas. Places like Kansas to Texas will need rains come late September to prevent major planting problems for wheat, while the livestock industry continues to suffer for the second year in a row.
America's Water Supply Threatened by Drought
America's energy system depends on water. Did you know that roughly 48% of the nation's water withdrawals each day are just for cooling power plants? Also, the oil and gas industry consume tens of millions of gallons of water each day. They inject water into aging oil fields to improve production and attempt to release natural gas in shale formations though hydraulic fracturing. Amazingly enough, we have supposedly drawn more water the last number of years for the energy sector than for agriculture. Conventional coal plants use a ton of water, but can be made cleaner and water-leaner.
While the Midwest had a mini-drought last summer that also helped summer grain prices, it was really the 2008 Southeast drought that had more of an impact in shutting down power plants, due to limited water supplies. In Texas, where the drought has strengthened again and August promises to be another blistering hot month, some cities are forbidding the use of municipal water for hydraulic fracturing. In the Midwest, some power plants are competing for water that farmers need to salvage at least some of their crops.
You take these scenarios, combined with a multi-year La Nina-based drought in the West (snow pack has been way down) and we have major water worries in the country.
My points above have more to do with my feeling that we need much more water-related research, and conservation needs to be enforced. Power plants that use wind, natural gas and solar panels would of course reduce C02 emissions, help the environment, and limit the amount of water being used.
Natural Gas Prices and Coal
With respect to coal, most recently coal prices have remained depressed while natural gas demand prices have rallied some 30-40%, partly on this summer's heat and drought. While 30% of the recent fuel switch from coal to gas is permanent (coal plant retirements and EPA compliance), higher natural gas prices from more hot August weather has the potential to cut into natural gas generation demand.
I expect the August heat to be centered over the Midwest, Plains and Texas, so for some areas in the Southwest, it is cheaper to run coal units over gas when prices get much above $2.60 for gas. However, these demand statistics of potentially more coal use at cheaper prices often has a "lag effect" and may not show up for 2-3 months or more in the demand statistics.
The bottom line is given the additional summer heat I expect, natural gas prices are not going to break very far and it will be interesting to see longer term, how lower U.S. water supplies effect fracturing operations and government policies.
Some Water Firms That Could Benefit from the U.S. Drought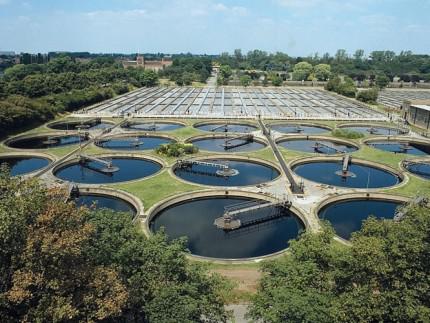 The world's population is growing, and with the U.S. drought and a global need for better water supplies, this sector (water) how outperformed the S&P consistently since 2001.
Source: Kapitall Wire
This Summer's Drought Can Add Value to an Already Strong Sector: Water Stocks.
Water treatment chemicals, valves, filtration, desalination, irrigation systems, bottled water, pumps and many others are among those groups whose stock prices have mostly rallied as of late, and could continue to do so due to this drought.
Some of the bigger names such as American Water Works (NYSE:AWK); Pall Corp (NYSE:PLL), which creates filtration and purification systems; NorthWest Pipe Co. (NASDAQ:NWPX); Flowserve Corp (NYSE:FLS), which seems precision engineered flow control equipment; and some great desalination stocks (just to name a few), which turns salt water into drinking water. I used to love Ionics, but they were taken over years ago. So, look into Consolidated Water Co Ltd. (NASDAQ:CWCO), Exterrran Holdings, Inc. (NASDAQ:ERII), and possibly Energy Recovery, Inc. (ERII).
Disclosure: I have no positions in any stocks mentioned, and no plans to initiate any positions within the next 72 hours.