Similar to many consumer discretionary exchange traded funds, the iShares Dow Jones U.S. Consumer Services Sector Index Fund (NYSEARCA:IYC) has the ability to play defense in a portfolio in an uncertain market. While the services sector can be recession resilient, it is more sensitive to consumer spending than the staples are.
Owning shares in corporations that produce items such as soap, fast food, mid-priced entertainment and other everyday services is a theme that numerous fund managers and ETF sponsors use to attract investors, especially in the current economic environment.
IYC holds household names such as McDonald's, Costco, CVS and Wal-Mart. CVS recently reported a 32% jump in pharmaceutical services, and posted a 20% growth in revenue. McDonald's also reported an 11% increase in company growth, reports Selena Maranjian for The Motley Fool.
An ETF like IYC could be a defensive choice in a volatile market. Most of the companies are U.S. large caps that are established, and the focus of top holdings is the retail-discount sub-sector. There is a yield of 1.03%, and a 0.47% expense ratio.
Keep in mind, the services sector employs about 90% of the U.S. economy, including areas such as retail, construction, hotel business and healthcare. Consumer spending drives about 70% of economic activity and this did not increase from April to May.
At a time when consumer confidence is wavering, the service sector added about 90,000 jobs last month, reports The Associated Press on The New York Times. The consumer services sector and ETF rely on consumer spending, which would be the main point of caution with an investment in IYC. Keep an eye on the long-term trendline, IYC is currently above the 200-day moving average.
iShares Dow Jones U.S. Consumer Services Sector Index Fund
Click to enlarge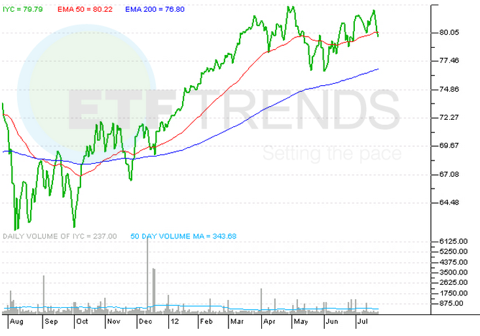 Alternative ETFs for the consumer sector:
SPDR S&P Retail (NYSEARCA:XRT)
First Trust Consumer Discretionary AlphaDEX (NYSEARCA:FXD)
Vanguard Consumer Discretionary (NYSEARCA:VCR)
Tisha Guerrero contributed to this article.
Disclosure: I have no positions in any stocks mentioned, and no plans to initiate any positions within the next 72 hours.