For better or worse, The Affordable Care Act will put a lot more people into the healthcare system here in the United States. That is why we saw a big bounce higher in many healthcare related stocks last month when the Supreme Court announced their decision.
On that day, we saw hospital stocks surge. We saw medical device makers surge. We saw drug stocks bound higher, and we saw many other ancillary companies move higher on the news. The managed care stocks, on the other hand, were perceived as the losers in the legislation.
The Healthcare sector continues to be one of the strongest sectors in the entire market. I have had good success this year with stocks like Alexion Pharmaceutical (NASDAQ:ALXN), Pharmacyclics (NASDAQ:PCYC), Biogen (NASDAQ:BIIB), Novo Nordisk (NYSE:NVO), Healthcare REIT (HCN), etc. In fact I have written articles recently on Alexion, Novo Nordisk, and Healthcare REIT.
I continue to have a heavy dosage in one of the best sectors in the market (healthcare) at the current time. By contrast, many sectors such as Basic Materials, Energy, Emerging Markets, and Cyclicals, to name a few, continue to struggle and in my opinion should be avoided.
Small-cap stocks have just had a so-so year, but there have been and I believe that there will continue to be many small-cap winners coming from the red-hot healthcare sector. The healthcare sector is defensive in nature and is not as correlated to the problems in Europe as other sectors are.
Let's take a look at a healthcare related stock that has delivered some very solid growth and performance over the years, and is still attractively valued today.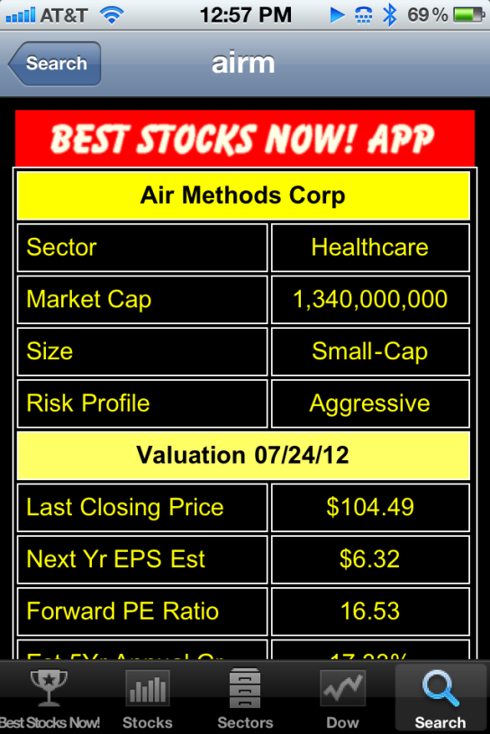 Data from Best Stocks Now App
Air Methods Corp. (NASDAQ:AIRM) provides emergency air transport services for individuals requiring intensive medical care in the U.S. Market capitalization is just over $1.3 billion and the stock could be a fit in a well-diversified, aggressive growth portfolio.
Clients of Gunderson Capital Management (aggressive portfolio) are currently long this stock. The stock has racked up some tremendous performance for its shareholders over the years:
The stock has delivered a remarkable average total return of 34% per year over the last ten years. It has delivered an average 24.8% of alpha over the last five years, and a whopping 42.5% average over the last three years! The stock is also up just over 40% in the last twelve months. When I compare the performance of Air Methods against just over 2,800 other stocks, it get a performance grade of "A."
It should be noted that the stock was down a whopping 67.8% in 2008, however. This volatility along with the stock being a small cap, make it a stock that is only suitable for aggressive growth investors.
I know what you are probably thinking-with the performance that this stock has delivered over the years, it must be too late to buy it. Why would I recommend a stock that is making new highs? The problem with this line of thinking is that the stock has been basically making new highs for the last ten years. Under this line of thought, you would have never bought the stock.
With all of this performance and a stock making new highs, is it too late to buy the stock? For that we need to turn to valuation. Performance is great, but in my book, valuation is equally as important!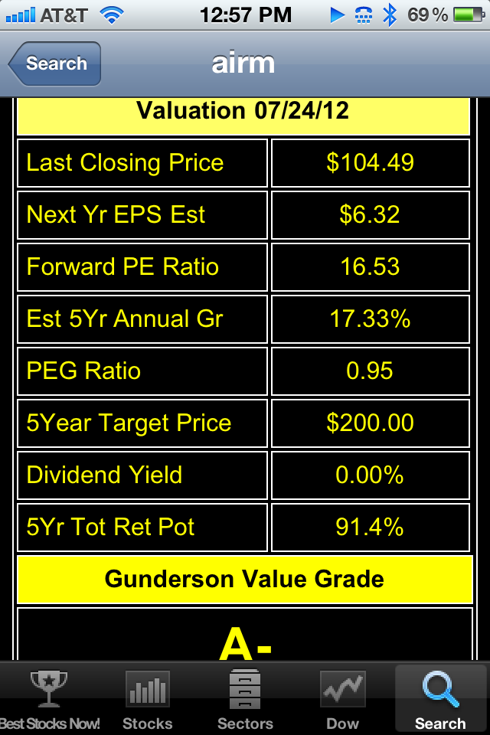 The stock is currently trading at 16.5 times forward earnings estimates. The consensus five year growth rate estimate is 17.3%. Therefore the stock is trading at a slight discount to its growth rate. These numbers give the stock a favorable PEG ratio of 0.95. While I don't require it with every stock I buy, I like stocks with PEG ratios under one.
Furthermore, when I reach back into my days as a stock analyst and apply my valuation formula, I come up with a five year price target of $200. This number is based on the current expectations of the company and by applying a reasonable multiple to future earnings. With this kind of upside potential, the stock earns a valuation grade of "A-."
I rank just over 2,830 stocks on a daily basis. My criteria are performance, valuation, and safety. I am only interested in about the top 200 or stocks that earn a grade of A- or better. Air Methods has been in my top 200 for a long time and is currently ranked number 12 overall.
Air Methods has had great performance, still offers good value, and by the way has a very nice chart.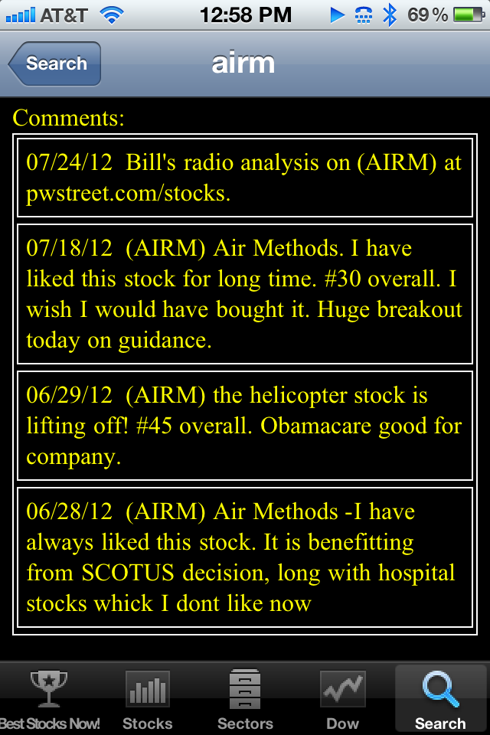 Disclosure: I am long AIRM.