I've covered Google (NASDAQ:GOOG) quite extensively on this site, and each time, the theme remains the same. While Google is growing in terms of revenues and earnings, shareholders are not reaping any benefits. Over the past couple of years, Google has remained range bound, roughly between $450 and $650. In the past year, the trade has been to buy Google in the $550 to $575 range, and sell/short it in the $625 to $650 range. Today, I'll briefly discuss why the song remains the same, and why Google is again approaching that sell/short territory.
Competitive Balance - It's Tough Out There
While we all know that Google remains an internet giant, it remains in a very competitive landscape. In China, Baidu (NASDAQ:BIDU) maintains an 80% share of PC searches. In terms of mobile searches, it depends on who you ask, but Baidu holds 1/3 to 1/2 of the overall market. As I discussed recently, Baidu's share will only continue to grow as Apple (NASDAQ:AAPL) and Baidu have teamed up on a search deal that will allow iPad and iPhone users running iOS 6 to use Baidu.
In the United States, Microsoft (NASDAQ:MSFT) announced last week that its Bing organic market share rose 120 basis points in the past year to 15.6%. That's a rise of more than 8%. Bing has gained 0.5% in market share over the past six months. Google also may face some competition from Yahoo (YHOO), which just named former Google Executive Marissa Mayer as its new CEO. Now that Yahoo has an actual leader at the helm, there is a possibility that things may turn around. Also, Apple has announced a new mapping solution for iOS 6, which means that Google Maps may be leaving the platform.
Then there are the tablet wars. Google announced a month ago that its Nexus tablet was coming to market. The tablet market is already extremely crowded, and Apple is the clear leader. In fact, Apple just sold 17 million iPads in the latest quarter, and that included the fact that it wasn't selling the device in China. We've also heard recently that both Amazon (NASDAQ:AMZN) and Research in Motion (RIMM) are bringing new Kindle and Playbook (respectively) models to the marketplace. Don't forget, Microsoft also is launching its tablet, the Surface. The tablet market is getting very crowded, and Google is entering late in the race.
Second Quarter Results
Last week, Google announced its fiscal second-quarter results. Overall, the results were mixed. Revenue, after subtracting out ad commissions paid to advertising partners, was just $8.36 billion, missing estimates by about $50 million. Earnings per share of $10.12 beat estimates by 8 cents. Usually, when Google beats on earnings, it does so by 5% to 10%, which wasn't the case here.
Google did see margins decline in the period. Now, Google completed its acquisition of Motorola Mobility during the quarter, so Google's overall results include both revenue and expenses from the new segment.
The following table below shows Google's second-quarter margins over the past four years. For the 2012 period in bold, I have subtracted out both the Motorola revenue, cost of revenue, and operating expenses that Google has listed in its recently filed 10-Q report. Thus, you can get a sense of how its results actually compare with prior-year periods.
| | | | | | |
| --- | --- | --- | --- | --- | --- |
| Q2 Margins | 2009 | 2010 | 2011 | 2012 | 2012* |
| Gross | 61.83% | 63.83% | 64.86% | 63.66% | 58.96% |
| Operating | 33.93% | 34.68% | 31.92% | 31.34% | 26.22% |
| Profit | 26.89% | 26.98% | 27.75% | See * | 22.80% |
*Includes revenue, cost of revenue, and operating expenses from newly acquired Motorola segment. Google did not provide details on "other income" and "income taxes" due to the Motorola acquisition, so there is no way to break down the true profit margins for the Google segment on its own.
Before even looking at the post-acquisition numbers, you can see that Google's margins came down. Google's cost of revenue rose 25.6% over the prior-year period, while revenue only rose 21.47% (revenue including traffic acquisition costs). That explains the 120 basis point decline in gross margins for the period. If you include the Motorola acquisition, gross margins fell another 4.7 percentage points.
In terms of operating expenses, Google saw R&D costs rise 16.86% over the prior-year period. Sales and marketing expenses rose 17.87%, and general and administrative expenses rose 25.93%. Overall, Google's operating expenses rose 19.21%. That led to an operating margin decline of 58 basis points, which on a percentage change basis (decline divided by prior-year's number) was roughly equal to the percentage change decline in gross margins.
Google reported other income of $254 million, $50 million more than the prior-year period. However, the effective tax rate rose from 18.8% to 19.44%. Overall, Google's net profit margins, including the Motorola acquisition, declined by nearly 5 full percentage points. Even if Google's margins will decline over time due to the Motorola segment, it still is a negative that they declined when excluding the acquisition.
Stock Performance - Lackluster
The following table shows Google's performance in recent time periods compared with some of the other names in the space. I've also included the Powershares QQQ Trust ETF (NASDAQ:QQQ), which replicates the performance of the NASDAQ 100 Index. Google is the third-largest holding in the ETF, behind Apple and Microsoft.
| | | | | | |
| --- | --- | --- | --- | --- | --- |
| Performance | GOOG | AAPL | BIDU | MSFT | QQQ |
| 6-month | 6.76% | 28.73% | -8.49% | -1.20% | 3.90% |
| 1-year | -1.78% | 44.28% | -26.91% | 6.11% | 6.16% |
| 2-year | 24.06% | 121.19% | 46.57% | 17.53% | 38.21% |
| 5-year | 19.27% | 318.89% | 524.51% | 4.61% | 30.65% |
As you can see, there is no one time period where Google is the best performer. In three of the four cases, Google is the second-worst performer. From 2009 to 2011, Google increased revenue by 60% and earnings per share and net income by 50%. However, the stock really hasn't reflected those gains.
Google increased revenue by 21% (excluding Motorola) in the second quarter, but the stock has lost almost 2% over the past year. You would have been better off holding cash. In fact, over the longer periods, Google has underperformed the NASDAQ as a whole. Google is no longer the market leader it used to be.
Several analysts have had $700-$800 price targets on Google for the past couple of years now. It still hasn't gotten there. At this point, I'm not holding too much hope.
Conclusion / Trade Ideas
As you can see from the chart at the bottom, the trade has generally been to buy under $575 and sell/short under $625. For now, I think that is the best way to go.
Google was at $618 earlier this week, before pulling back to $608 at Wednesday's close. Should the markets rally into the end of this month and Google get back above that $625 level, it is worth looking at for a short idea. With too much competition and decreasing margins, I'm just not confident that investors purchasing Google at these levels can make substantial profits.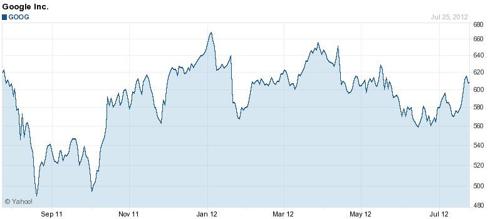 (Source: Yahoo Finance)
Disclosure: I have no positions in any stocks mentioned, but may initiate a long position in AAPL over the next 72 hours.