Within the natural gas market, the largest driver of demand is electric power generation. Many generators use natural gas as their input fuel to create electricity. Within recent years, this form of demand has been steadily increasing.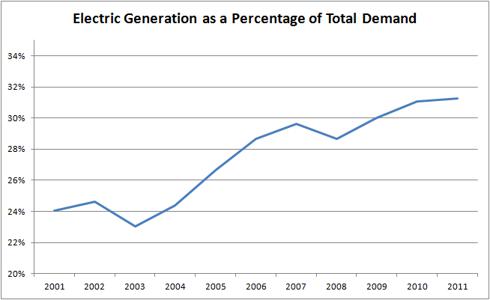 The above chart shows the demand for natural gas from electric generators as a percentage of total demand. Within the past 10 years, demand from generators has risen from 24% of the total to nearly one-third of total demand. This development has been one of the key elements driving price from the consumption standpoint. With this in mind, it makes sense to thoroughly study this element in the demand side.
The primary reason for this increase in demand is a concept known as coal to gas switching. The idea behind coal to gas switching is falling gas prices lead to coal plants changing their fuel source to gas. The main reason that coal plants have been switching to gas is surprisingly not because of the cost per energy unit of the input. Despite its low price, coal is actually cheaper than gas on an energy content basis.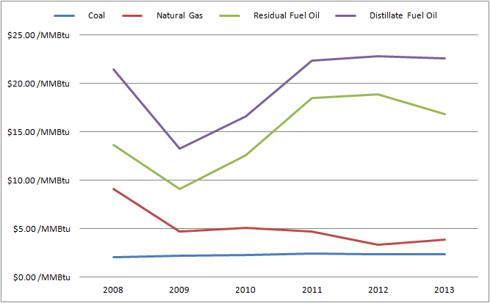 The above chart shows how natural gas prices have steadily declined over the past 10 years and are expected to slightly rise in the future. It is important to note that despite these declining prices, coal is still a cheaper fuel source. Even though coal is cheaper than gas, some plants find that gas is more economic due to the regulatory risk and expenses associated with harmful emissions. Coal is typically a "dirtier" fuel than natural gas and with these added emissions come added expenses. It is also very important to mention that the capital cost required to switch a plant from accepting coal to accepting gas can be very expensive. A power plant can cost hundreds of millions of dollars and any significant changes to the original structure can be millions more.
Despite these demand driven factors, I strongly believe that the future of natural gas (UNG) is downward. Even though natural gas usage is steadily increasing and coal to gas switching is fueling the need for more gas, supply is still rapidly growing. An element which is strongly bearish in the intermediate future for natural gas is the season we are in. We are in a very interesting time of the year in that we are currently producing more natural gas than we are consuming. The below chart describes this scenario perfectly.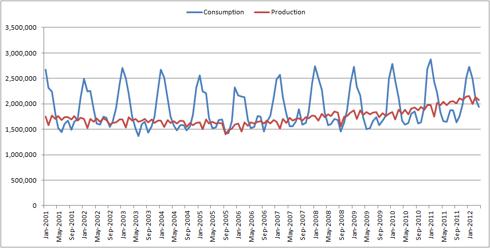 As can be seen in the above chart, our consumption has seasonally dipped beneath our production. This is highly significant in that any additional gas that is not able to be consumed must be sent into storage. In a previous article, I noted that we are currently at historic levels of storage for this time of the year. With such a large quantity of gas in the ground, producers are either going to shut down production or be forced to sell at lower prices. Within the industry, many producers have chosen to hedge their price risk for production and subsequently are not exposed to the current prices. Others however, are facing the current depressed prices and potentially finding it difficult to continue production. From a business standpoint, it makes the most sense to hedge production upon opening a new wellhead. With a locked-in price investors can be fairly sure of their rate of return on the investment associated with building the well.
As storage continues to be filled, we will more than likely see a continued drop in price. Many natural gas wells are not pure natural gas plays, but rather a combination of gas and other carbon-rich liquids. For these wells, the price of natural gas is not their entire concern and they are willing to sell at a loss on their production as long they are earning higher prices on their primary production. This type of situation strongly points to a continued descent in prices. I strongly believe that as we progress further into the season in which production outpaces consumption, we will see continued downward pressure on natural gas prices. In non-academic vernacular: look out below!
Disclosure: I have no positions in any stocks mentioned, and no plans to initiate any positions within the next 72 hours.