Once again, market participants have been suckered by the EU charade, and today's market ramp was courtesy of the following (from Bloomberg):
Draghi said to speak to Weidmann before Aug. 2 council meeting
Draghi said to favor giving ESM banking license in longer term
Draghi's proposal said to included bond buys, rate cut, new LTRO
Granted, most of today's gains came before the unsourced rumor, thanks to in-line GDP growth.
The Dow has once again crossed the 13,000 mark, which could bring more buyers in. For those who aren't familiar with David Einhorn's EU cycle chart:
Click to enlarge image.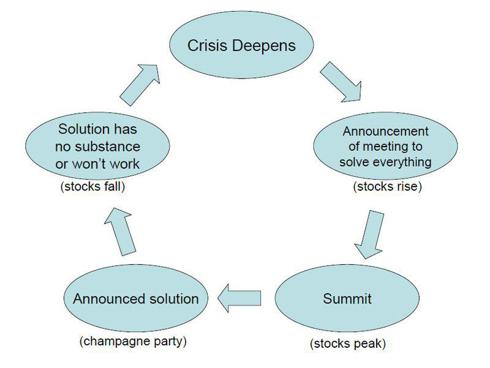 We are now at the midway between "summit" and "announced solution." We already had the summit, which essentially failed, but we are clinging to hopes that the ECB will perform LTRO, buy EU peripheral debt, or something of the sort.
Yesterday, I wrote that there were about 700 points on the Dow that have come as a direct result of EU speculation. Today, we're almost 1,000 points up from the lows as a result of pure QE/ECB/ESM hopes.
The ESM is essentially a wash unless the German court allows the ratification process to resume right after they vote on its constitutionality on Sept. 12. The market is pricing in hundreds of billions of peripheral bond buying from either the ECB or ESM, or a combination of the two.
Without direct purchases, the front-run trade will collapse and fundamentals will take over. Peripheral debt has finally gotten its catalyst in unsourced rumors, but the market is indicating meaningful, near-term default risk, given the 5.30% yield on the two-year and 3.17% yield on the six-month. Same goes for Italy, with 3.78% and 2.5% yields, respectively.
Conclusions
Day to day, anything can and, of course, will happen. There is strong buying pressure due to hopes for both QE and the LTRO/ESM/ECB bond buying rumors. With treasuries selling off heavily today, equities (NYSEARCA:SPY) are a bit less expensive relative to most risk assets.
Almost all risk assets, however, are far too expensive relative to near-term economic reality. At this part in the cycle, Germany typically strikes down most rumors and proposals, and I still don't see how the ECB would be comfortable meaningfully adding to its position of over 200 billion euros in peripheral debt.
Earnings have been weak, and I suspect this will continue until year-end. Forecasts calling for well over $100 in earnings per share on the S&P 500 now appear far too rosy; $104 in year-end earnings per share on the S&P 500 is likely the best-case scenario. There's a decent amount of growth expectations priced into stocks, with the trailing multiple above the historic mean at 15.93. Meanwhile, actual earnings growth is essentially flat when you exclude financials, and is only a marginal 2%-3% with them.
As for QE, it's almost certainly not arriving now. The S&P is nearing its multiyear highs, speculative activity in the grain markets is at record highs, and oil is above $90 a barrel. Forget Jon Hilsenrath; these aren't the kinds of conditions that the Fed will ease under.
When these unfounded rumors begin to be denied (a virtual certainty now that markets have stabilized), expect several large plunges to return the S&P to fair value somewhere around the June lows.
Disclosure: I am short SPY.