Brasil Telecom S.A. (BTM) has one of the best P/E ratios of any North American-traded stock. It has one of the top PEG rates. It pays a dividend of over 4%. And analysts give it a one-year target of $61.50 -- an upside of over 80% over its current stock price. I'd buy it just for those qualities.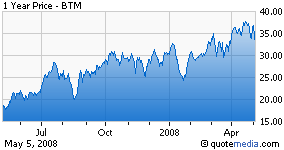 But wait there's more: This company is also completely independent of the U.S. economy. It earns its money in a currency that is unaffected by the fall of the U.S. dollar. And its home country is a net exporter of oil and biofuels that is energy independent -- and riding the commodities super cycle.
Brasil Telecom S.A. trades for around $32 dollars on the New York Stock exchange. The company is a subsidiary of Brasil Telecom Participacoes S.A. (NYSE:BRP)-- whose ADR also trades in New York for around 70 dollars. (Keep that in mind when you buy the stock. You want BTM, not BRP.)
BTM provides fixed-line telecommunications services in nine Brazilian states, including local and long distance calling services; dial-up and broadband Internet access services, and data center services to residential and corporate users. In addition, Brasil Telecom offers private telecommunication services through submarine fiber optics cables, with connection points in the United States, the Carribbean, and other South American countries.
Brazil's GDP growth may moderate to 4.8 percent this year, after increasing 5.4 percent in 2007. During the first two months of 2008, Brazilian industrial production increased 9.7 percent, after 8.7 percent in January. Growth this year comes from internal sources, such as domestic consumption, investment and public spending. Exports to the U.S. represent only 2.5 percent of GDP.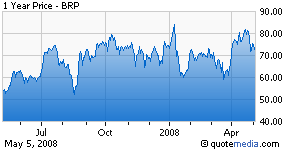 The stock price pf BTM's mother company, BRP, has been falling since Telecom Oi -- Tele Norte Leste Participacoes -- said it would pay $3.5 billion for it in a deal that would give the combined company 17 percent of Brazil's rapidly growing mobile phone market.
The company currently operates in 16 Brazilian states and may expand outside Brazil. It is expected to have 30 million customers in South America, Africa and Europe by 2013.
I don't know how BTM's stock price will be affected by the proposed takeover, but it seems quite buffered from the price fluctuations of its parent company. Buy Brasil Telecom S.A,'s ADR under the symbol BTM at prices below $35 with a 50% upside by November.
Disclosure: none