We are bullish on City Telecom (CTEL) as the company has shown strong growth in both revenues and earnings over the last few years, and is projected to show the same growth going forward. Moreover, its high dividend yield of 17.6% makes it a very attractive investment opportunity from an income perspective, and we believe that it has the operational strength to sustain its dividend payouts. The company's value added services like "Wi-Fi" and "getFaxeasy" will bring further growth to its revenues. Current valuations are cheap and not justified by the company's fundamentals. Expected growth in its earnings will likely push its stock up, which is currently trading close to its 52-week low of $3.64.
City Telecom HK Ltd., headquartered in Hong Kong, provides fixed telecommunication services to its customers, mainly in the city where it is based. CTEL's subsidiary, HKBN Ltd, provides broadband services of up to 1Gbps, as well as corporate services with its fiber network. The company has a market cap of $170 million, and its shares are currently trading at $4.37.
The company offers high speed internet services through its fiber network to homes, and provides fiber in order to build technologies and networking infrastructures. Moreover, through its "bbwatch" service, its customers can have access to their favorite TV shows through their computers. CTEL has two business segments, namely Fixed Telecommunications Network Services (FTNS) and International Telecommunications Services (IDD). Through its FTNS business, the company provides high speed internet, landline and TV services. Its IDD business provides calling cards for international calling, as well as call forwarding facilities to its customers, locally and in Canada. CTEL derives a majority of its revenues from its FTNS business.
| | | | |
| --- | --- | --- | --- |
| Revenues | 2009 | 2010 | 2011 |
| FTNS | $1.23b | $1.36b | $1.48b |
| IDD | $0.25b | $0.22b | $0.19b |
| Total | $1.48b | $1.58b | $1.68b |
The company's IDD business has been showing some deterioration recently, and in the financial year ended 2011, revenues declined by almost 10% from the previous year. This decline was largely brought about by lower rates given to customers, as well as lower minutes of usage. Moreover, other telecom companies in the region, in an attempt to gain a market share, provided free international dialing minutes, which led to a decline in sales. International calling through Skype also trended up in the region, further hurting the company's international telecom revenues. The table given above demonstrates the company's high exposure to its FTNS business, which has shown a consistent growth in terms of revenues generated. In the financial year ended 2011, its FTNS division increased revenues by almost 10%, as compared to the previous year. Improvements in Broadband, VoIP, and TV subscriptions led to this increase. The company added 64,000 new broadband customers in the year, and currently has over 600,000 subscribers. Similar improvements were seen in its VoIP and TV subscription base, which grew by 10% and 18%, respectively, in FY2011. Overall, 2011 was a good year for the company, as it added a total of 137,000 subscribers, an improvement of 12% from the previous year. In addition to CTEL's triple play services, which include TV, telephone and broadband services, the company has also added other services for its customers. One such service is Wi-Fi, which allows its customers to have access to the internet on their mobile phones, from any location. Another attractive value added service that the company is offering is getFaxeasy, which translates all the faxes received by its customers into electronic mails. Such value added services will most likely start contributing to its business going forward.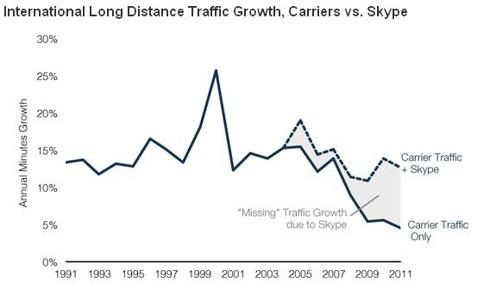 Source: telegeography.com
CTEL seems to have sufficient financial strength. As of the last year ended, the company generated cash flows from operations of almost $76 million, showing an improvement of over 22% from the previous year. Moreover, the figure has been on an upward trend over the last few years, indicating the company's cash generating ability. CTEL has very low levels of debt; with a debt-to-equity of just 1%. The telecom giant has historically posted high margins, and in the financial year ended 2011, it posted impressive gross margins of 87%. Its quarterly revenue growth is also very impressive at over 11%. The company posted EPS of $0.05 in FY2011, compared to $0.039 in the previous year, showing an improvement of almost 30%. Moreover, its earnings have grown at a staggering 81% over the last four years. The company's earnings are expected to grow by 20% over the next five years, higher than the industry.
In FY2011, the company repaid its debt of $16 million and paid dividends of $28 million. The stock currently offers an attractive dividend yield of 17.6%, well backed by its operating cash flow yield of 46%, indicating the company's ability to sustain its modest payout ratio of 68%. Moreover, with the earnings growth that the company has shown, as well as the YoY improvement in revenues, further dividend growth can be expected. CTEL has a stated policy of maintaining a payout ratio in the range of 60%-to-90%, and the recent increase in dividends is a result of that policy.
The stock is trading ($4.25) at almost five times its earnings, at a discount of 57% and 67% to the industry and its peer PCCW Ltd. (OTCPK:PCCWY) respectively.
In a previous analysis, we discussed Telefonica (NYSE:TEF) and France Telecom (FTE). Because of exposure to high growth markets in Latin America, we believe they have room for a lot of growth. Telefonica, despite the current uncertain economic environment, has performed well in the Latin American region where Brazil continues to be its growth engine. The stock offers a very high dividend yield of 11%, well supported by its operating cash flows. Moreover, the stock's cheap valuations not justified by its strong fundamentals. In a global context, we also analyzed France Telecom which provides voice and internet services to its customers worldwide. The telecom carrier has performed well despite the European crisis and intense competitive pressures. Spain and Egypt are showing tremendous growth in terms of net broadband subscriber additions, which is helping offset the slight deterioration in its operations in France. The stock is trading at cheap multiples compared to its peers and industry. Moreover, the stock offers a very high dividend yield of 13% which is attractive from an income perspective.
For detailed analysis on these two stock click on the following links: Telefonica, France Telecom.
Disclosure: I have no positions in any stocks mentioned, and no plans to initiate any positions within the next 72 hours.