This is part 4 of a multi-part series on the European periphery stock markets, starting with Portugal (part 1; part 2; part 3). The logic is that, as Baron Rothschild once said, "The time to buy is when there's blood in the streets". The series of articles seeks to look at the major quoted stocks in Portuguese, Spanish, Italian and eventually Greek and Irish stock exchanges, to see if the spilt blood has already produced any incredibly obvious investment opportunities.
In looking at the stocks, I'll try to gauge the sensitivity to internal demand, some factors important to their industries, the multiples they trade at and how the local stocks compare to U.S. listed alternatives in the same sectors. Obviously to trade some of these markets investors would need an account with a full-service broker.
I started with the Portuguese PSI20 Index. This index has the following 19 constituents (there should be 20, but due to an acquisition they'll remain 19 until September) and in this article I'll cover those bolded:
 
Altri
Banco Comercial Português
Banco Espírito Santo
Banco BPI
Brisa
Espírito Santo Financial Group
EDP
EDP Renováveis
Galp Energia
Jerónimo Martins
Mota Engil
Portugal Telecom
Portucel
REN
Semapa
Sonae SGPS (OTC:SOSSF)
Sonae Indústria
SonaeCom
Zon Multimedia
Sonae SGPS
Sonae SGPS runs a large food retailing business in Portugal (supermarkets and hypermarkets), as well as a specialized retail unit. It's also a major shareholder in a Mall operator (50% of Sonae Sierra) and in a telecom operator (53% shareholding in SonaeCom). Internally, Sonae competes with Jerónimo Martins, but its international exposure is much lower, which means Sonae has had a harder time growing or reducing its debt.
Given its exposure to the Portuguese internal demand dynamics, Sonae has been deeply punished as one would expect.
Taking into account its earnings report for 2011, these are the multiples that Sonae SGPS trades at today (all values are in Euros):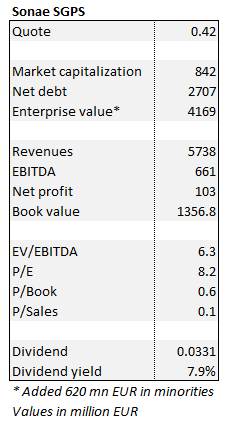 What results from Sonae's exposure to the Portuguese market, is a much more discounted equity than, for instance, Jerónimo Martins. However, Sonae's debt levels make it hard for the equity to really get "cheap", for although Sonae trades at a 8.2 P/E, 0.6 price/book value and with a 7.9% dividend yield, the debt still keeps the EV/EBITDA at a "not-so-cheap" 6.3. Sonae thus remains a bet on the recovery of the Portuguese economy, as its cheapness cannot justify buying it outright no matter what happens to the economy, and its debt represents a significant risk to the equity.
In terms of U.S. comparable stocks, I'd use the same as I did for Jerónimo Martins: Costco (COST), growing briskly and trading at a P/E of 26.2 times, EV/EBITDA of 10.5 times and price/book of 3.3 times. We might also compare Sonae to The Kroger Co. (KR). Kroger is growing faster than Sonae, with mixed multiples - P/E at a higher 20.4 times, EV/EBITDA cheaper at 4.9 times and price/book more expensive at 2.9 times. The real problem here is that Sonae can't keep up with Costco or Kroger in terms of growth right now. It might be able to do so once the Portuguese economy turns around, though, so as I said, it remains a bet on the Portuguese economy turning north.
Sonae Indústria
Sonae Indústria is an industrial company making laminated panels, particleboard and MDF. Its highly exposed to the residential construction business, and thus to all the residential bubbles which popped recently, even though its exposure to the Portuguese economy accounts for less than 10% of its revenues. The business is also highly cyclical and competitive.
Taking into account its earnings report for 2011, these are the multiples that Sonae Indústria trades at today (all values are in Euros):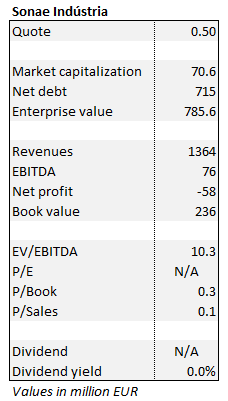 Basically, Sonae Indústria is in a truly distressed situation where its debt overwhelms its capability to pay it. The debt also makes it impossible for the equity to be cheap, since even if equity traded near zero, the debt would still represent 9.4 times EBITDA. As it stands, Sonae Indústria trades at an EV/EBITDA of 10.3 times.
Sonae Indústria can only be bought as a bet on a quick and large cyclical turnaround of the end markets it serves. Such quick and forceful turnaround is not yet evident today.
SonaeCom
SonaeCom is primarily a telecom company, the third largest mobile carrier in Portugal. It also has a small interest in IT consulting and newspaper publishing.
As a telecom company, it faces severe competition from Portugal Telecom and Vodafone. It's not easy being the third largest operator in a capex-intensive business where the smallest player has to contend with lower economies of scale.
SonaeCom is 53% owned by Sonae SGPS.
Taking into account its earnings report for 2011, these are the multiples that SonaeCom trades at today (all values are in Euros):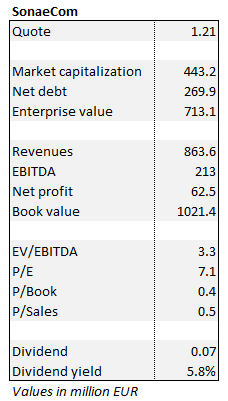 SonaeCom is deeply exposed to the Portuguese internal market, as well as to the competitive dynamics in the markets it acts in. This takes its toll, with revenues down 6.2% during 2011. Still, the company managed to increase its EBITDA which put it in a much more attractive position. Its valuation multiples compare favorably to Portugal Telecom's (PT), with SonaeCom being cheaper in an EV/EBITDA, P/E and Price/book value basis. Obviously, SonaeCom's competitive position and exposure to the Portuguese economy is a bit larger.
SonaeCom also compares favorably to Verizon (VZ). Verizon trades with a TTM P/E of 20.3 times, an EV/EBITDA of 4.6 times and a price/book value of 3.4 times, while also yielding 4.5%. Broadly speaking, SonaeCom is quite a bit cheaper on all counts.
Zon Multimedia
Zon multimedia is mostly a cable TV company, with some exposure to the telecom market through triple play offers as well as a virtual wireless carrier. It also owns a movie theater business as well as published multimedia products, though both areas are more or less residual.
Zon is exposed to the Portuguese internal demand dynamics, as well as fierce competition in the telecom business (which encompasses the capabilities of cable tv, due to triple play offers by other operators, including Portugal Telecom and SonaeCom).
Taking into account its earnings report for 2011, these are the multiples that Zon Multimedia trades at today (all values are in Euros):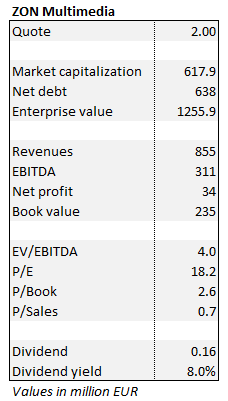 Looking into ZON's multiples, ZON already appears quite distressed at an EV/EBITDA of 4 and a 8% yield. The P/E still doesn't look inexpensive, though.
We could compare ZON to Comcast (CMCSA). Comcast trades at about the same P/E (19) and lower price/book value (1.8), but shows a significantly higher EV/EBITDA (6.3). Comcast also yields a lot less (2.1%). All in all, ZON is at a discount, but the discount isn't yet huge taking into account the heavy exposure to Portugal's economy and intense competition in the sector.
Conclusion
After going through the main 19 Portuguese stocks, we identified several investment opportunities:
 
EDP, the leading Portuguese power company;
EDPR, though not as cheap as EDP, provides a unique pure play exposure to wind energy at reasonable valuations, though with some risks;
Mota Engil, a cheap construction company with a concession kicker, cheap valuation and a high yield. Some debt worries remain, though;
Portugal Telecom, the leading Portuguese telecom company. Could be a little cheaper and has some internal competition worries, but still it's already quite cheap;
SonaeCom, another Portuguese telecom company - slightly worse positioned than Portugal telecom, but slightly cheaper as well;
Portucel and Semapa. A paper producer with exposure to the worldwide paper market, at a cheap valuation and carrying a high dividend yield. Should be well insulated from any developments in the Portuguese internal market, can be gotten at a low leverage (Portucel) or with a bit more leverage and slightly lower valuation (Semapa);
Finally, for those more speculative minded, BCP, the leading Portuguese bank. BCP might be interesting if for political reasons the State decides not to dilute its shareholders too much in any given recapitalization program. BCP, however, highly exposed to the Portuguese economy and its indebtedness.
One final consideration. The absolute best timing for buying into a situation like the one existing in Greece or Portugal would be to buy right after either country leaves the Euro and devalues. However, such event is far from certain when it comes to Portugal, so buying before any such event takes place might make sense.
Disclosure: I have no positions in any stocks mentioned, and no plans to initiate any positions within the next 72 hours.