Commodity Chart of the Day - Bonds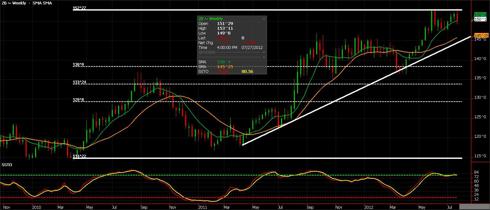 A new high was rejected on this week's action as prices may have set an interim top as of this post. Prices in September futures will close 3 handles off their highs under both the 9 day and 20 day MA on the daily charts. These have been key pivot points for several months.
It appears that on both the daily and weekly charts first significant support comes in just above 145'00. If stocks can hold their ground I would not rule out a move back to 142/143'00.
My suggestion is one of three trades either short 10-year notes futures, short 30-year bond futures and simultaneously selling out of the money puts 1:1 or the NOB spread; short 30-year bonds and long 10-year notes 1:1.
Risk Disclaimer: The opinions contained herein are for general information only and not tailored to any specific investor's needs or investment goals. Any opinions expressed in this article are as of the date indicated. Trading futures, options and Forex involves substantial risk of loss and is not suitable for all investors. Past performance is not necessarily indicative of future results.
Disclosure: I have no positions in any stocks mentioned, and no plans to initiate any positions within the next 72 hours.