Like other precious metals, palladium has been weakening, but palladium spot prices and the related exchange traded fund could turn around as the fundamentals move in their favor.
The supply and demand fundamentals point to a bullish palladium market, with a widening supply deficit starting and rising industrial demand, reports Rosalyn Retkwa for Institutional Investor.
So far this year, hedge funds have been shorting palladium due to the "risk on" environment and its industrial applications. Wiktor Bielski, global head of commodities research at VTB Capital, pointed out that industrial metals are trading like risk assets.
"I have to say that anybody playing the short side has done very well," Bielski said in the article. However, "you can't fight the fundamentals forever. The risk/reward is clearly skewed more to the upside."
Russia stated that this will be the last year it will be exporting palladium from its Cold War stockpiles - Russia has been the second-largest producer of palladium, behind South Africa, accounting for over 46% of global annual production.
Johnson Matthey, a London-based precious metals refiner, calculates that Russia will export 250,000 ounces of palladium this year, down from 750,000 ounces in 2011. Additionally, Norilsk Nickel's guidance projected 2.6 million to 2.65 million ounces of palladium mined this year, compared to 2.81 million ounces in 2011.
ETF Securities analyst Simona Gambarini also noted that production shutdowns and labor strikes in South Africa contributed to the 30% drop in PGM mine production for the first four months of this year compared to 2011.
Bielski estimates that global palladium supplies will fall short of demand by 500,000 to 600,000 ounces this year and by 800,000 next year, in a total market of 7.5 million ounces.
Palladium futures are currently trading around $570 per ounce, compared to the $827 price in the same month last year. The ETFS Physical Palladium Shares (PALL) is down 13.8% year-to-date.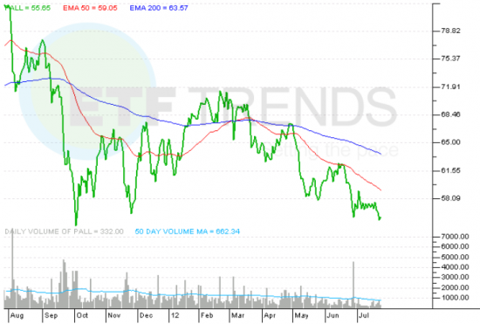 Max Chen contributed to this article.
Disclosure: I have no positions in any stocks mentioned, and no plans to initiate any positions within the next 72 hours.