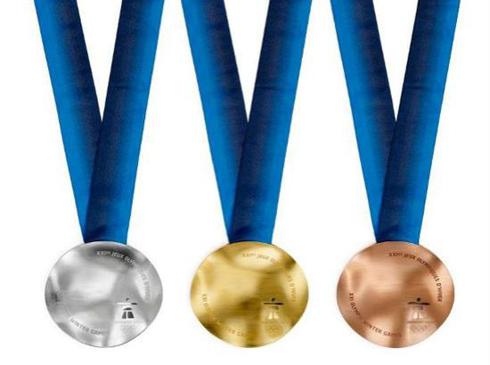 In an earnings season that, thus far, has been anything but inspiring, the market rises.
All cogent thoughts of a banking system collapse in Europe, all thoughts of decreasing consumer confidence and all thoughts of political crisis in the Middle East have been put into a state of suspension.
What can account for the suspension of rational thought processes? What can make sane people bid up stocks 200 points going into a weekend?
With visions of Walter Huston in "The Treasure of Sierra Madre," it can be one thing only—Gold.
It's the lure of gold medals as a reflection of nationalistic pride and all of the side human interest stories that have garnered our attention.
Remembering (or not remembering) the murder of Israeli athletes at the 1972 games in Munich, or marveling at the piety of observant Moslems contending with the challenges of fasting during Ramadan? They all conspire to divert our collective attention. How can you possibly pay attention to the cliff dive of Apple (NASDAQ:AAPL) when there's a story about an Afghan female athlete struggling to run faster than anyone else when adorned in something just a bit short of a burqha?
Apple, Facebook (NASDAQ:FB), Microsoft (NASDAQ:MSFT), Starbucks (NASDAQ:SBUX). You can go down the list of disappointments. What is surprising is that, thus far, no one has pulled out the hackneyed "Dead Cat Bounce," following three fairly bad consecutive days in the market, beginning with last Friday (July 20, 2012). I don't even think I heard anyone utter "short covering."
In general, the Grinch in me comes out when stocks go up more than they should. That's at least one characteristic that I share with short sellers. Despite the fact that I like to see 20%-40% of my positions get assigned at each cycle, as long as I am the one writing the script, I'd like to see them assigned just above their strikes and then have them open below those very same strikes the following Monday or Tuesday morning.
After all, you have to spend all of that cash someplace and its much easier to put in right back from where it came than having to come up with new ideas and new risks.
Speaking of risks, I know that there are those that just love the earnings season. The chance to scientifically guess in which direction stocks will move upon releasing earnings and guidance. The stories of the 3000% gains when a deep out of the money call or put is purchased is the stuff of dreams, just not mine.
For me, looking at all of the charts prior to earnings is hopeless. I may as well be on LSD, arbitrarily pick out some points and wait for the points to scream out at me, demanding that a line be drawn. The more I watch Cater Braxton Worth, the Chief Market Technician for Oppenheim and Co (NYSE:OPY), on CNBC, the more clear it is to me that he is licking frogs. It's only the impeccable blue blazer and perfectly folded pocket square that make it marginally acceptable.
The risks of holding stocks during the four earnings seasons each year are pretty clear, but what else are you going to do? Are you going to divest of everything or protect your positions? I don't know the answer to that question, but I do know that it's not the former.
I was feeling pretty smug about the way the week was going until Friday, fully expecting a reasonably calm, nondescript kind of trading day. Instead, with strike level caps on many shares, all you can do is watch. Luckily, that doesn't happen terribly often, but when it does, you remember the lost opportunities, until you realize that you likely wouldn't have sold your shares at their week ending tops, anyway.
Starbucks was on last week's recommendation list, but subscribers never received a Trading Alert. I wavered over and over again and almost sent out the alert when Starbucks briefly dipped below $50. Then seeing it rally strongly hours before earnings made me feel like an idiot for having missed the opportunity. Clearly, it was the smart money propelling shares up 4% in advance of earnings. The little guy, the individual investor, doesn't have that kind of clout.
But that drop by Starbucks exemplifies the risks better than most anything. Okay, maybe Apple does as well.
So this week, the outlook all hinges on Danny Boyle's Olympics opening ceremony. Will it be well received? Will it out awe the 2008 Beijing ceremony? Any disappointment or missed cue could bring the market back to reality. As may next week's jobs numbers, but that's too deep into the week to have any impact on thoughts for Monday's trading moves.
Just in case, I have some strong Starbucks brewed to keep me alert as Monday rolls along, ready to buy shares or sell calls.
As always, recommendations come in three flavors, none of which are Hazelnut; Traditional, Momentum and Double Dip Dividend. The difference this week is that I don't have very many prospects that are appealing after this run up. (See the details).
Despite all the hope of adding Starbucks to the portfolio, the numbers just don't warrant it at the moment, as the premiums, on either the call or put side are just inadequate to justify any action. Too bad, because shares also go ex-dividend on August 6, but that gives plenty of time for things to settle back into place.
So instead, as much as I hate to get caught beating a dead horse, Dow Chemical (DOW) just keeps looking better and better. Of course that's no consolation to those that followed previous alerts with cost bases of either $30.12 or $32.23 in the past month. Neither premiums nor dividends have made up for those paper losses—yet.
But shares are perfectly poised for the "Having a Child to Save a Life" strategy, whereby you buy additional shares at a cheaper price, not to cost average down, but rather with the explicit intention of sacrificing those lesser priced shares to assignment, just to grab premium to offset paper losses of its older brethren.
When the market advances a few hundred points in a flash, it's hard to find what may be bargains when all of that money is in your hands. One such bargain may be ConocoPhillips (NYSE:COP).
Choosing momentum plays is always a little troubling, because at the heart of every covered option writer is someone who wants to minimize risk. It's hard to categorize momentum stocks as being ones to minimize risk. At some point, the vast majority become emblematic of broken companies, with some very sad people holding onto hope. I've been there. I know.
But I am once again intrigued by Green Mountain Coffee Roasters (NASDAQ:GMCR). The last time that was recommended turned out to be a couple of days holding back in May 2012, when covered calls were written at the $25 level and thankfully, they were assigned.
Green Mountain hasn't been acting like a momentum stock for the past 2 months or so. Its option premiums don't reflect much in the way of hope or anticipation, but people drink coffee. Even movie portrayals of hoboes riding depression era trains have coffee as a constant. What I wonder is whether the bad news at Starbucks and Dunkin' Donuts (NASDAQ:DNKN) is good news for GMCR. They were rightfully castigated for dumping inventory with discounters, but could those sales be an infusion of revenue from increasingly cost-conscious, one step ahead of hobo life, consumers? The fact that every single person offering an opinion was willing to bet the farm for the chance to be short shares of this troubled company.
All of that makes for a pretty tenuous hypothesis, to be sure. If it doesn't change its earnings report date, which it has been known to do, earnings are released August 1, 2012. As a one-time momentum stock, GMCR was a favorite for those playing the earnings game with long straddles, given its outsized moves in the direction of your best guess. I suppose there's still at least one 10-digit downward move left in it, but there may be some opportunity ahead for the strong of heart and weak of mind. Remember, with friends like Howard Schulz, Green Mountain doesn't need any more ambushes, nor can it withstand any.
This week's Double Dip Dividends is also a bit tenuous, but the coming week is one of slim pickings.
Walter Energy (NYSE:WLT) was a one time high flier and if purchased will mark the first time that I've decided to make the commitment. It is near its three-year lows, so that can be a bit frightening. Top it off with the fact that it reports earnings the day before it goes ex-dividend on August 2, 2012, and you have the makings for uncertainty. More uncertainty than usual. Of course, moving up nearly 7% today doesn't help matters. Too bad, since it may be the most intriguing trade of the week, especially if selling deep on the money call.
Maybe a nice cup of coffee will help my settle these nerves.
Traditional Stocks: Dow Chemical
Momentum Stocks: Green Mountain Coffee Roasters
Double-Dip Dividend: Walter Energy (August 2)
Remember, these are just guidelines for the coming week. I hope that the market takes a breather and perhaps interprets some inconsequential data or event as being terribly important and dour.
Subscribers will get Trading Alerts if these appear to be reasonable actions as trading begins next week. If you're on your own, please adjust accordingly with market movement and you'll have the makings of a healthy income stream for the week with reduced risk.
Disclosure: I am long FB, GMCR, DOW.
Additional disclosure: I may initiate positions in WLT, SBUX and COP