By Carla Fried
You're probably well aware that corporate earnings growth is in serious downshift mode. S&P Capital IQ estimates that the pace of operating earnings growth for the S&P 500 stock index will clock in at 5.2% this year—less than one-third the growth rate for 2011.
And that's going to make for some interesting times ahead in the market. Some of the sectors with the softest earnings growth prospects also happen to be trading at above-average market multiples.
Exhibit A: The utilities sector. A popular refuge every time there's a global flight-to-quality anxiety attack, the staid dividend-heavy utilities sector is where skittish investors flock. Just look at the past year: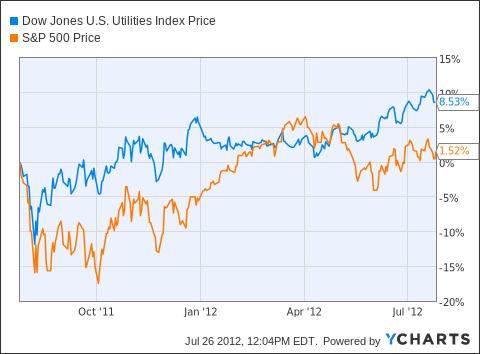 But all the investor love has pushed utility stock prices up at a faster pace than earnings growth. The P/E ratio for the utility sector in the S&P 500 is now expected to end 2012 at 15.5, well above the 13 average P/E ratio for the entire S&P 500. Meanwhile per-share operating earnings are expected to fall 4.5% this year and grow 0.5% in 2013, about a third of the pace expected from the overall index.
Decelerating earnings and an above-average P/E are not exactly ideal. If you're looking for the opposite scenario, look no further than the technology sector.
S&P Capital IQ expects the info tech sector within the S&P 500 to post average operating earnings growth of 11.5% this year, meanwhile the sector's P/E ratio of 12 is below the broad index.
You don't have to be a market Einstein to see that tech is a pretty nice value play these days. One more metric that is a good gauge is the PEG ratio. It measures the relationship of a stock's (or sector's) P/E ratio relative to its earnings growth rate. A PEG below 1.00 is considered pretty darn sweet. The telecom sector within the S&P 500 currently trades at a PEG ratio of 2.6. Utilities are at 3.6.
Tech? Well, the S&P 500's tech sector currently has a PEG ratio of just 0.70. That's the lowest PEG ratio among the 10 broad sectors that comprise the S&P 500.
If all that got you thinking about adding a bit of a tech tilt to your portfolio, two ETFs with a tech-specific bent are the Vanguard Information Technology ETF (NYSEARCA:VGT) and the Technology Select Sector SPDR ETF (NYSEARCA:XLK).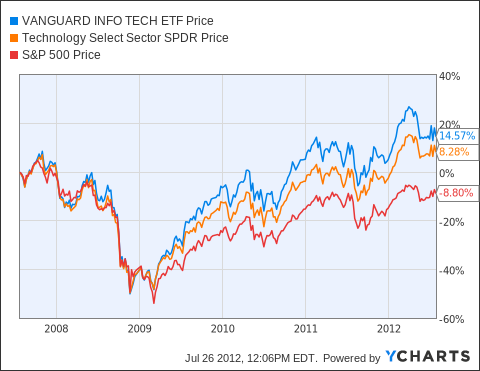 S&P IQ ETF expert Todd Rosenbluth points out an intriguing difference between the two portfolios. While both share the usual suspects in the top 10 holdings—Apple (NASDAQ:AAPL), Google (NASDAQ:GOOG), Intel (NASDAQ:INTC), and Microsoft (NASDAQ:MSFT)—the SPDR Tech ETF veers off with a 14% stake in big telecoms such as AT&T (NYSE:T) and Verizon (VZ). The Vanguard tech ETF does not traffic in the telecom sector. If you want a purer tech play, the Vanguard ETF seems a better fit. But if you like the idea of bowling with some bumpers, then maybe that chunk of telecom stocks in the SPDR Technology ETF is worth a look-see.
Carla Fried is an editor for the YCharts Pro Investor Service which includes professional stock charts, stock ratings and portfolio strategies.
Disclosure: I have no positions in any stocks mentioned, and no plans to initiate any positions within the next 72 hours.