Once again, QE3 is now "imminent." Thanks to endless pumping from Jon Hilsenrath that the Fed has grown impatient with the economy and is now "ready" to execute full-on, balance sheet expanding QE.
There has been a ton of speculation that Hilsenrath is now the Fed's official mouthpiece, and it seems fair. As has been the case on many down days for stocks, Hilsenrath's article went live about five minutes before last Wednesday's closing bell, causing a late-day rip that carried into Thursday and Friday's market action. A bit blatant, if you ask me.
While stocks have obviously responded vigorously to this "now-confirmed" QE, I prefer to short the gold complex ahead of highly anticipated FOMC meetings like the one starting this coming Tuesday. The short-gold, "No QE" trade works better for two reasons:
Gold (NYSEARCA:GLD) prices are a more direct function of central bank liquidity measures than stock values are. Gold prices don't have earnings, dividends, valuations, or other variables that have to be repriced like stocks do.
Stocks have remained far more resilient than gold prices. While I don't expect this trend to continue, short-term traders should rarely buy losers and sell winners. Gold and the miners (NYSEARCA:GDX) have sold-off heavily in the aftermath of the last several FOMC reports, and has underperformed equities by about 2% in the last month.
Why QE3 Will Not Be Announced This Week
It's rather amazing that the market hasn't figured this out yet, but with stocks only a couple of percentage points away from multi-year highs, crude oil prices above $90 per barrel, treasury yields at record lows, and speculative fervor in the grains markets at heightened levels, it is extremely unlikely that the Fed engages in firing what could possibly be its last bazooka.
Rather, incremental liquidity injections in the order of several hundred billion will likely be saved for a potential credit crunch resulting from a major EU event. As usual, QE will be "left on the table," and the Fed will be "ready to act."
Gold prices have been range-bound since June, trading between $1,550 and $1,630. Prices have drifted towards the upper bound on hopes of QE, and dropped to the lower bound on the subsequent disappointment.
Click to enlarge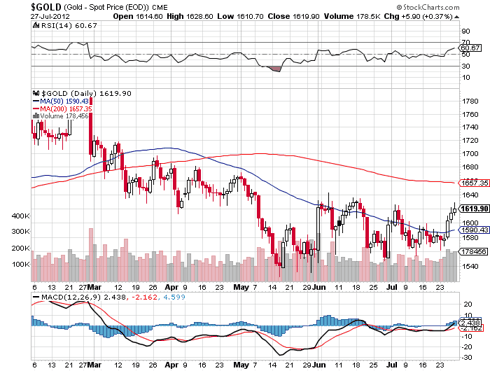 Conclusions
The reality is rather simple; the Fed has waited for equity declines of nearly 20% before acting, and with the SPDR S&P 500 Trust ETF (NYSEARCA:SPY) only 2% off its highs, along with the activity in the commodity complex and already record-low yields, using its potential final QE bullet makes no sense.
Although gold isn't nearly as ebullient as stocks, the trade is a more direct fade of QE hopes, and gold has been a serial underperformer as of late. The miners have rallied about 10% on QE hopes, and given their severe underperformance relative to gold itself (almost 30% over the past year), the GDX index will likely fall harder than the physical commodity.
Either short GLD or short GDX will suffice. I recommend closing out the position shortly after the (lack of) announcement, as prices have had a tendency to bounce a little by market close.
Disclosure: I have no positions in any stocks mentioned, but may initiate a short position in GLD over the next 72 hours.