The bad news first: Fannie Mae (FNM) has taken a large write down, cut its dividend and is raising capital (shareholder dilution) (full conference call transcript). In addition to falling home prices, rising fees has caused an unrealized loss in value of the existing fee business. Defaults are up, especially in the Florida and California Alt-A business.
On the positive side: Guarantee fees are continuing to rise, portfolio spreads are widening, and all businesses are covering their cost of funds. Fannie's capital surplus requirement has been lowered.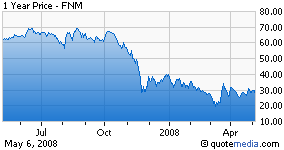 Fannie had made a point of placating politicians by: Raising $6B in new capital, refinancing their own mortgages that are up to 20% underwater, creating a $10B first time buyer program, aggressively pricing jumbo conforming, and creating a rent-to-own program for REOs. The borrowers must have good credit on their existing loans to refinance. Initially, the mini-jumbos will be priced equal to standard conforming loans. Fannie will eat the market price difference.
Fannie is following statements by Ambac (ABK) and MBIA (NYSE:MBI). Fannie audits every defaulted loan for representations and warrantees. Fraudulent loans must be repurchased by the servicers. Again, Florida and California are at the heart of the troubles. Florida is a recourse state, and Fannie will aggressively pursue borrowers for deficiencies. California does not provide recourse for quick foreclosures, but lenders have recourse in the longer drawn out bankruptcy procedures. Fannie did not state its California policy in today's conference call.
Disclosure: Author is long ABK, FNM and MBI.