"That's part of the policy: To keep switching gears." Ridley Scott
Markets surged on Thursday and Friday as speculation grows of an official eurozone-wide quantitative easing bond buying program, sending the Dow Jones Industrial Average (NYSEARCA:DIA) back above 13,000. Meanwhile, data shows that for the week before last, net inflows into equity funds actually increased a minor amount -- an interesting development as money begins to realize that stocks have become a better income play than fixed income. Our ATAC (Accelerated Time And Capital) models used for managing client accounts, which had positioned us into bonds for the two weeks prior improved dramatically towards the end of the week, pushing us fully into stocks once again. The Summer Surprise thesis (the continuation of reflation and end to the end of the world trade) remains very much intact.
Central bank paranoia over a 2008 repeat remains strong, which is precisely why the intermarket crisis pricing can easily unwind. What people seem to continuously underestimate is the role of incentives in dealing with the crisis. As I said on CNBC Thursday, if Spain (NYSEARCA:EWP) goes, the Euro (NYSEARCA:FXE) goes, and the European Central Bank goes. Out of pure and simple self-preservation, any kind of immense strain in financial markets will likely be aggressively countered. Either reflation happens organically, or it will be forced upon us (from an expectations standpoint).
There is something else which I believe is important to stress. Following the Summer Crash of 2011, Fall Melt-Up, and Winter Resolution seasonal calls, I made the case for a Spring Switch out of bonds and into stocks. In late March, the idea was that money would begin to re-allocate away from fixed income and into equities. As April progressed, I argued a "mini-correction" was likely (May decline) and that stock market resilience due to the bear paradox would only further the case of the Spring Switch getting flipped. The "great re-allocation" did not happen in the spring, but it seems entirely possible now to think that Draghi is about to turn the lights on.
Take a look below at the price ratio of the iShares Barclays TIPS Bond Fund (NYSEARCA:TIP) relative to the iShares Barclays 7-10 Year Treasury Bond Fund ETF (NYSEARCA:IEF). As a reminder, a rising price ratio means the numerator/TIP is outperforming (up more/down less) the denominator/IEF.
(click image to enlarge)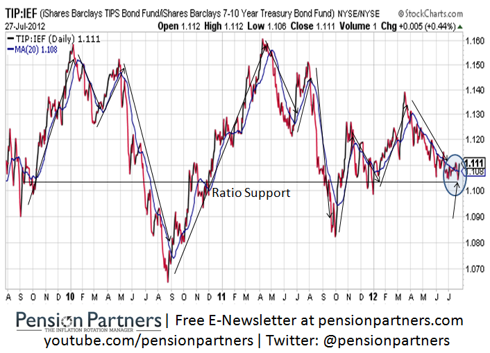 The idea of this ratio is to provide one way of tracking inflation expectations. When TIP outperforms IEF (the trend is up), it means market participants in the bond market are positioning for and expecting inflation to rise. When falling, that means concerns are growing over deflation. Notice first that the ratio does tend to trend, and that when the ratio is turning higher, it generally coincides with a bullish environment for risk assets. Notice on the far right of the chart that the ratio is holding on to a rough support line, and that a mini-V formation may be happening. Any kind of central bank action could be a catalyst for the ratio to move higher, which in turn, could continue to make money comfortable in stocks again.
So while the Spring Switch out of bonds and into stocks did not happen in the spring, it looks like SuperBen and the League of Extraordinary Bankers are going to try to force it. This reminds investors that they will do everything possible to prevent a 2008 repeat and remove event risk. As I have been saying for some time now, remove the perception of event risk, and rally on.
Disclosure: Pension Partners, LLC, and/or its clients may hold positions in securities mentioned in this article at time of writing. I have no positions in any stocks mentioned, and no plans to initiate any positions within the next 72 hours.