On July 26, Facebook (NASDAQ:FB) reported its first earnings as a publicly-traded company. While the company had some good news for investors, it fell short of expectations and ultimately sent the stock down in after hours trading.
The major drawback was that while revenue actually exceeded analysts' expectations, growth remained nearly unaffected. The social media giant reported a net loss of $157 million, 8 cents a share, while the same quarter last year reported net income at $240 million, 11 cents a share.
On an adjusted basis the company reported per share profit of 12 cents, at $295 million. Revenue was at $1.18 billion, from $885 million the same quarter last year. Generally, analysts predicted Facebook would grab $1.15 billion in revenue, which would account for a 28% increase, the previous outcome was nearly double.
The company obviously derived most of its revenues from mobile advertising, with the major question being, how much came from mobiles? The company currently receives half of its users through its mobile platforms.
Stock Still Sinking
Since the company went public nearly two months ago, Facebook shares have lost a third of their opening value from the starting share price of $38.
On July 26, the company traded poorly, tumbling 8% to $26.84 during regular trading hours. On the same day, Facebook tumbled an additional 10% in after hours trading to $24 a share.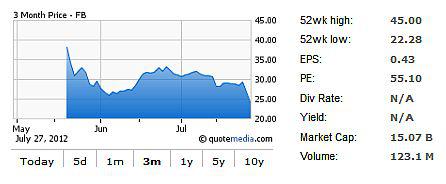 The company generates most of its revenues from its online advertisements, with the remainder coming from Zynga and Facebook bucks.
Zynga's (NASDAQ:ZNGA) poor results sent its stock down a third in value to $3.18 a share; the bad news was unexpected. A variety of factors contributed including: Changes to Facebook's gaming platform that discouraged regular users and promoted new game use, the Ville was delayed, Mafia War 2 received poor reviews, and Draw Something is losing appeal.
Zynga reported revenue of $332 million, below expectations of $343 million, with company losses at $22.8 million, 3 cents a share. The problem came from a slashed outlook on payments from Facebook that are currently expected to be $1.15 billion, down from $1.47 billion.
Analysis
With all the hype from Facebook's IPO, I would think the stock would eventually have gotten off to a good start. However it looks as though we may be in uncertain territory for an indefinite amount of time, with users near a billion though, I find it hard to believe that the company can do much to increase its user base, short of providing more people with computers, or encouraging population growth.
More so, the company needs to extend its current reach in the extended use arena, which is where I believe Zynga could offer some help, as mobile revenues need to climb for both companies. There is no shortage of advertisers, meaning the company has plenty of bids on ads, but may fail to engage users to participate in ad campaigns. Citigroup analyst Mark Mahaney is worried about 'Facebook fatigue', and users losing interest in the platform. With competing services on mobile platforms that include, Twitter, Path, Foursqaure, Yelp (NYSE:YELP), Linkedin (LNKD), Instagram, users do not necessarily use Facebook to pass time or for extended periods of time.
Facebook is not sharing its toys and has profited well from keeping 30 cents on the dollar of Zynga's profits, which has actually been very good for both companies. But in an effort to raise revenues, Facebook has discouraged regulars from using Zynga games, despite having seven of the top 10 Facebook games. Facebook has also decided to advertise within Zynga.com games, this is untraditional as the company typically stays within the Facebook domain. While Zynga still generates profit for Facebook using Facebook Bucks, Facebook has opted to annoy users with ads in games, and making changes to the platform and punishing older, tested games. The end result is a great tool that is no longer as open as the previous one and that is not willing to share its success.
Currently Zynga seems to be building a fort outside Facebook that includes its own gaming platform.
Users are also pushing back at another potential revenue channel, 'Sponsored Posts,' which show 'likes' from friends endorsing a paid listing. The feature prompted another class action lawsuit the company now seems used to.
With dipping shares that still remain unstable and still at a third of their opening value two months ago, I'm not sure if Facebook can begin to talk strong like a major company. The company could take as long as a year to get its act together- which is not a bad thing, but not to expect much in return. Dividends, splits, and becoming part of mutual plan portfolios still sound far away: Sell.
Disclosure: I have no positions in any stocks mentioned, and no plans to initiate any positions within the next 72 hours.