By Nawazish Mirza
Despite the cutthroat competition in the telecom sector and continuing drop in profit margins for AT&T (NYSE:T), we recommend a buy rating for the AT&T shares. Our thesis is primarily based on a substantial change in consumer preferences, representing a long-term switch from landline to wireless telephony. Owing to an increase in demand for wireless traffic, we expect AT&T to stake out a large share of the ever-expanding market for wireless services, resulting in unprecedented revenue growth.
AT&T generated $126.7 billion in revenue during the 2011 fiscal year and $31 billion for the first quarter 2012, largely driven by wireless and wireline data services. In its latest quarter, AT&T's revenue went up 0.3% to $31.6 billion. The decelaration in revenue growth is an outlier because consumers are postponing their iPhone purchases in anticipation of iPhone 5. AT&T's Wireless and wireline data services contributed approximately 76% of total revenue in the previous quarter, marking 7.5% year-over-year growth. AT&T shares have been boosted lately with a P/E ratio of 50, which is higher than its close competitors Verizon Communications (NYSE:VZ) and Sprint (NYSE:S). However, we are long-term bullish about these telecom stocks.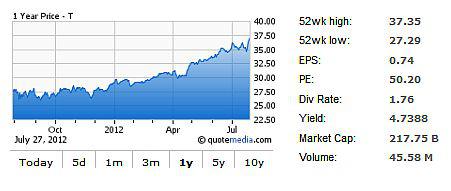 The telecom industry in the United States and around the globe is highly sensitive, and innovation and customer retention form the basis for success. The rapidly changing dynamics require telecom players to demonstrate strong financial flexibility for medium to long-term performance. The competition structure for the overall industry is likely to intensify because of lower-cost, comparable alternatives to cable, wireless and VOIP providers that are emerging as competitors for core business segments of AT&T.
Further, the telecom sector is faced with the constraint of radio spectrum availability, and unless Federal Communications Commission (FCC) approves additional spectrum, the telecom sector will have to compete mainly on price and service quality. The overall weak economic conditions add insult to injury as AT&T and other telecom firms target consumers with limited discretionary income. In this operating environment, adequate coverage and diversity in voice/data packages are key considerations for investing in telecom, perhaps as vital as profit and cash flow figures.
Historically, AT&T has dominated other service providers like Verizon in net subscriber additions. However, regarding gross additions, Verizon dominated the scene by adding about 500,000 subscribers in the first quarter 2012, compared to 187,000 subscribers for AT&T. The postpaid churn rate in the first quarter 2012 declined to 1.1%, the lowest in the past seven quarters. This could erode margins.
Another caveat to consider is the subsidies given to the smartphones, which could further lower margins. On average, more than 75% of postpaid sales by AT&T is comprised of smartphones, with Apple's (NASDAQ:AAPL) iPhone dominating the mix. Critically, AT&T shells out more than $500 in subsidies for each handset. AT&T needs to decrease this unsustainable subsidy in order to improve operating margins.
To avoid deterioration in service quality and increase in churn rate, AT&T is expected to invest in acquisition of available spectrum. We believe this investment is inevitable to sustain its current position, and we rate this as a critical factor for determining the future course of share price. However, the underlying growth trend in the telecom industry is extremely bullish. In Facebook's (NASDAQ:FB) earnings call Mark Zuckerberg revealed that he expects the number of smartphones reach 4-5 billion globally within 5 years.
AT&T is trading at $37.14, close to its 52-week high of $37.35. The company generated free cash flow of $5.1 billion in its most recent quarter and spent $2.5 billion on stock buybacks. Its board also approved an additional repurchase of 300 million shares on Friday. This amounts to more than $11 billion. The company still has 156.5 million shares left in its previous authorization. AT&T is buying back its own shares because regulators didn't let it buy other telecom stocks which are very attractive investment opportunities. We expect AT&T's earnings per share reach $2.65 in 2013, giving it a forward P/E of 14.
We are also bullish about the other giant in this space, Verizon. The company added nearly 900 thousand subscribers vs. 320 thousand for AT&T in the second quarter. We expect Verizon to earn around $3 per share in 2013, giving it a forward P/E of 15. This is slightly higher than what we expect for AT&T and that's the reason why AT&T is our favorite telecom stock. We also like T better because of its slightly higher dividend yield and its recent moves to boost share buybacks. Billionaires Ken Griffin and Ray Dalio's bullish positions in the stock adds comfort to our assessment.
Disclosure: I have no positions in any stocks mentioned, and no plans to initiate any positions within the next 72 hours.