Leading cleaning and sanitation products maker, Ecolab Inc. (NYSE:ECL) is scheduled to reveal its second-quarter 2012 results before the opening gong on Tuesday, July 31.
For the quarter, analysts polled by Zacks are currently looking for earnings per share of 72 cents, representing an estimated year-over-year growth of 12.50%. The corresponding Zacks Consensus Estimate for revenues is $3,022 million.
The Minnesota-based company expects adjusted earnings between 69 cents and 72 cents a share for the quarter. The forecast assumes a dilution of roughly 10 cents a share, primarily associated with merger and integration costs mainly related to the Nalco Holding merger and restructuring of operations in Europe.
With respect to earnings surprises, Ecolab has reported in line with the Zacks Consensus Estimates in the last three quarters and beat the estimate on one occasion. Ecolab has produced an average positive earnings surprise of 4.17% over the last four quarters, implying that it has beaten the Zacks Consensus Estimate by that measure.
First Quarter Flashback
Ecolab's first quarter earnings per share of 50 cents beat the Zacks Consensus Estimate by 2 cents. Profits attributable to Ecolab fell 47% year over year to $50 million (or 17 cents per share) as growth in sales was eclipsed by charges associated with the company's European restructuring and acquisitions.
Revenues grew 9% in comparison to the year-ago pro forma fixed currency sales. Growth was triggered by Global Energy and Latin American franchises along with Food & Beverage, U.S. Institutional and Global Water segments.
Hefty restructuring charges resulted in a decline in margins. The company repurchased $1.4 million shares in the quarter under its share buyback program.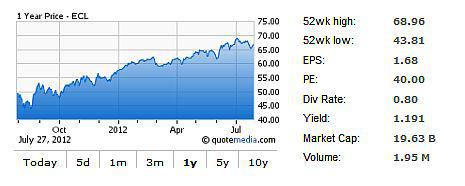 Estimate Revisions Trend
Agreement
Estimates for the second quarter exhibit relative lack of activity with no movements in either direction over the last 7 days. Only one out of 13 analysts covering the stock in this quarter revised his/her estimate (in the upward direction) in the last 30 days. None of the analysts changes their estimates in either direction for fiscal 2012.
Magnitude
Given the lack of revision, estimates for the second quarter and full year 2012 have been stationary over the last 7 and 30 days. The current Zacks Consensus Estimate for 2012 is $3.01 per share, representing estimated year-over-year growth of 18.5%.
Our View
Ecolab's strong international presence has been driving growth and we believe that the trend will continue in the June quarter, buoyed by emerging markets. Asia-Pacific and Latin America represent the key growth engines for the company's overseas operations.
Moreover, the company is investing in marketing initiatives to gain customer confidence overseas. Recently, the company partnered China's State Food and Drug Administration Institute for Executive Development ("SFDAIED") to impart training on food safety to the local food service industry.
In addition, Ecolab extended its support to the Alliance for Water Stewardship ("AWS") through its agreement with World Wildlife Fund ("WWF"). Ecolab has got an excellent opportunity, via this global commitment, to market its expertise in water management.
Along with 14 other companies, Ecolab also collaborated with the World Health Organization ("WHO") to raise the standard of hand hygiene in hospitals around the world by lowering health care associated infections ("HAIs").
Ecolab expects profit in the second quarter to be boosted by higher sales volume, pricing, margin leverage, new products as well as synergies from acquisitions and European restructuring.
Management remains optimistic regarding improvement in end-market demand, its ability to attract new customers and opportunities for greater customer penetration through new product development. Ecolab is also active on the acquisition front and continues to explore opportunities to expand into emerging markets.
While we derive comfort from Ecolab's strong international exposure and recovery across its end-markets, we remain wary about aggressive competition and impact of foreign exchange movements on overseas sales. The company's U.S. Cleaning & Sanitizing and International divisions face stiff competition from Clorox (NYSE:CLX) and Church & Dwight (NYSE:CHD).
We are also aware of the dilutive impact of the hefty restructuring expenses on the company's bottom line. Our Neutral recommendation on the stock is supported by a short-term Zacks #3 Rank (Hold).