Facebook's (FB) Q2 2012 earnings report was likely the most anticipated earnings release in years. Investors across the markets waited to hear what the company had to say about the state of business, especially its mobile prospects. Facebook posted a GAAP loss of 8 cents per share due to payroll tax expenses related to its IPO. On a non-GAAP basis, the company posted EPS of 12 cents, matching Wall Street estimates. Revenue of $1.184 billion actually beat estimates by $30 million. And yet, the stock plunged anyways, falling nearly 12% as of this writing on the back of what we thought was not a bad earnings release. Could it have been better? Yes, but given how far Facebook has fallen, including the trading session leading up to its earnings, it seems that expectations had come down to where the stock could rally a bit on the back of an okay earnings release.
For purposes of disclosure, we hold a small position in Facebook, but plan on buying shares in light of this post-earnings selloff. In our view, it is unwarranted. Facebook's conference call yielded several positives regarding its mobile advertising business that we think the market is ignoring. For long-term investors such as ourselves, this presents a great buying opportunity. We dissect Facebook's earnings and conference call below.
The Earnings: Were They Great? Depends on Who You Ask
Facebook's revenue grew 32.29% in Q2 2012 from Q2 2011's $895 million. That rate may be a deceleration from the kind of growth seen in previous quarters, but it is still impressive. Revenue grew 36% when adjusting for currency fluctuations. Conversely, the company's gross margin (revenue less cost of revenue) fell to 69% from 76.536%. And Facebook's non-GAAP operating margin fell to 43% from 53% a year ago as the company ramped up spending to support its growth initiatives. Facebook reported a great improvement in operating cash flow. In Q2 2012, operating cash flow rose over 87% to $242 million. That, combined with its IPO, allowed the company to end Q2 with $10.188 billion in cash & investments, and no debt. From a financial standpoint, Facebook is well positioned to compete in the advertising markets, invest in growth initiatives, and acquire the companies it needs to remain competitive.
Facebook's earnings report yielded little in the way of surprises. The company didn't blow the doors off of earnings, but it didn't miss Wall Street estimates. However, the earnings release itself was not the main event of the company's Q2 earnings. The conference call was far more important, in our view, and much more interesting.
The Conference Call: Hearing from "The Zuck"
Critics of Facebook derisively call CEO Mark Zuckerberg "The Zuck" due to his age and managerial attitude. In our view, however, this label should be seen as a badge of honor, not a negative. On its own, there is nothing wrong with being a young CEO. It is something that has to be evaluated on a case-by-case basis. And part of what has made Facebook so successful is that Zuckerberg was allowed to lead the company based on his own vision, and not be thrown off course by short-sighted investors. We view Facebook as a long-term investment, and recommend it only as a long-term investment. That is how Zuckerberg views the company, and that is how outside investors should view the company.
In our preview of Facebook's earnings, we wrote that one of the things the company must do is to have Zuckerberg speak on the conference call, if only to make some opening comments about the company's strategic vision. However, they did one better. Zuckerberg stayed through the entire conference call, answering analyst questions. The conference call yielded a variety of insights into Facebook, and in our view, was a positive. We will now delve into the conference call, breaking it down into 3 key areas: usage & revenue, core advertising, and mobile advertising (the most important area).
Usage & Revenue: Among the concerns raised in the weeks leading up to Facebook's IPO, as well as on the call is a possible stagnation and/or decline in Facebook usage. It seems that everyone is already on Facebook. However, that is not the case. Monthly active users grew to 955 million, a 29% increase from last year. That figure beat the consensus estimate of 950.1 million users, per Bloomberg data. Daily active users rose 32% to 552 million. The second question on the call was about usage metrics, and whether or not the company is seeing anything that is concerning. CEO Mark Zuckerberg said that the company is seeing nothing that would imply a slowdown in usage, saying that, "I think what we're seeing is pretty steady growth in engagement in all these cohorts, including the younger ones. So really, nothing out of line with the overall metrics there." Furthermore, Zuckerberg noted that mobile users are 20% more likely to use Facebook on any given day. Because of the convenience of mobile, usage is higher on that platform, which we think bodes well for Facebook, because users in emerging markets are far more likely to use Facebook only on a mobile device, such as their smartphone. Wells Fargo asked Zuckerberg about his view of "owning the entire experience," which is code for Facebook building its own phone (there have been recent rumors suggesting that Facebook and HTC will release a "Facebook phone"). Zuckerberg responded that in his view, it doesn't make sense for Facebook to build its own phone. As Zuckerberg points out, Facebook is the most used program on every mobile platform, and the company wants to expand deeper into those systems and create a developer environment where applications can be created on top of the Facebook platform.
While it is true that Facbeook's user growth in the United States and Canada (Canada's market characteristics are so similar to the United States that Facebook lumps them together) has slowed, the same cannot be said of the company's international markets. American and Canadian user growth in Q2 2012 was 11.11% (year-over-year), but growth outside those markets was 41.14%.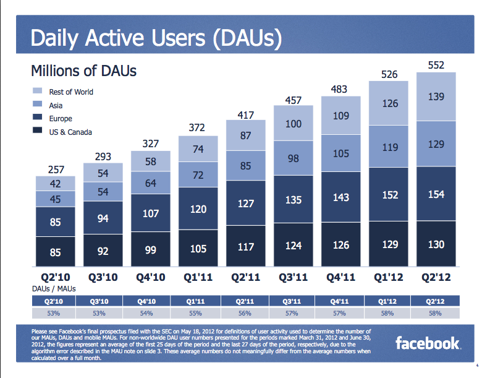 As international smarpthone penetration continues to increase, Facebook will see continued user growth in our view. But user growth is not the only metric that investors need to analyze. ARPU is also essential. And on that front, Facebook is steadily improving.
Facebook's advertising initiatives are paying off, with ARPU (average revenue per user) growing in every region on both a year-over-year and sequential basis. We break down ARPU growth below.
Facebook ARPU Growth, Q2 2012
| | | | | | |
| --- | --- | --- | --- | --- | --- |
| | Q2 2012 | Q1 2012 | Q2 2011 | Year-over-Year Change | Sequential Change |
| U.S. & Canada | $3.20 | $2.90 | $2.84 | +12.68% | +10.34% |
| Europe | $1.43 | $1.40 | $1.33 | +7.52% | +2.14% |
| Asia | $0.55 | $0.53 | $0.50 | +10% | +3.77% |
| Rest of World | $0.44 | $0.37 | $0.38 | +18.92% | +15.79% |
Facebook is making progress in monetizing its users, even as the company shifts to a more mobile world. It is true that at the moment, ARPU growth is decelerating. In Q1 2012, ARPU growth in the U.S. and Canada stood at 16.47% year-over-year, compared to the 12.68% growth in the last quarter. But ARPU is still growing, giving Facebook time to accelerate its new advertising initiatives, in both its core web market and its mobile applications. The conference call highlighted success on both fronts, and we now delve into those.
Core Desktop Advertising: Strengthening the Market
As COO Sheryl Sandberg noted, Facebook's ad revenue grew 28% in Q2 2012. Nearly all of this revenue was core desktop ad revenue, as Facebook rolled out is new mobile advertising solutions in June. Facebook is working hard to boost its overall advertising business. The company recently launched the Facebook Ad Exchange, which brings the industry standard practice of bidding on ads to Facebook. The program is in an early test phase, but Facebook says that advertiser interest is strong, and this market is estimated to be worth $2 billion in just the United States. Facebook's ad rates are rising. According to CFO David Ebersman, ad rates rose by 9% across the entire company. The primary driver of that was a 20% rise in American CPM,
Facebook is also working to receive a greater share of ad dollars from the companies that do business with it. On the call, COO Sandberg noted that almost all the companies that are part of the Ad Age Global 100 advertise on Facebook. However, most companies only allocate a small part of their advertising budgets to Facebook, despite the clear benefits of Facebook advertising. A study done by Nielsen (NLSN) and Facebook shows that Facebook ad campaigns led to 31% higher brand awareness, and the effectiveness of Facebook ads when it comes to brand awareness, as well as ad recall has been confirmed by independent research. Independent analysis of 60 different advertising campaigns showed that 70% of the delivered a 3x or greater return on investment, and that 49% delivered a return of 5x or better. COO Sandberg highlighted several successful campaigns on the call, including ones from Electronic Arts (EA) and Barclays (BCS). In addition, Facebook is working on bringing its advertising tools further into the small business market. While the company had little to say in the way of specifics on this, Sandberg did say that Facebook will spend the rest of 2012 expanding its small business offerings and driving revenue growth from it. We expect more color regarding this in the next several quarters.
Sponsored stories, on both the desktop and mobile, launched in June, and already have a $1 million daily revenue run rate. Facebook is pleased with how Sponsored Stories have worked. Given the importance of the News Feed in the Facebook user experience, it is essential that Sponsored Stories find a balance between engagement and user quality. So far, it seems that Facebook has found that balance. COO Sandberg has said that there is strong advertiser interest in Sponsored Stories, and that the company's daily monitoring of both user engagement and sentiment has shown nothing that would be of concern to Facebook. Desktop advertising is currently Facebook's main business. But in the years ahead, mobile will emerge as the main driver of growth as Facebook. Mobile is seen as both Facebook's biggest opportunity and its biggest risk, and we now turn to the third, and most important aspect of this earnings release.
Mobile Advertising: Leaping to #2 in a Matter of Weeks
Facebook's mobile advertising initiatives truly began in June, with the rollout of Sponsored Stories for the company's mobile applications. Sponsored Stories help solve one of the problems that many companies have when it comes to mobile advertising: the issue of seamlessness. With Sponsored Stories, ads appear in a user's News Feed, which is the same on both the desktop web site and mobile applications. What a user sees on the desktop is the same as what they see on their smartphone.
Facebook's mobile ads are now generating $500,000 of revenue each day, or a $183 million annualized revenue run rate. That means that Facebook is now has the 2nd largest mobile ad business in the world, behind only Google (GOOG). In just a few weeks, Facebook has managed to supplant Pandora (P) as the #2 in mobile advertising. As Facebook rolls out Sponsored Stories further, its mobile revenue will likely accelerate. Facebook is profitable (aside from payroll-tax related expenses this quarter), it is cash flow positive, and it has the financial capacity to invest in its mobile business to increase user monetization. Critics of Facebook may argue that the company cannot succeed in mobile advertising, because the concept itself is flawed. However, this is not a conclusion supported by evidence.
According to AdParlor, one of the leading Facebook advertising companies, Facebook's mobile ads are in fact very successful. The click-through-rates for mobile ads are at least 11 times higher than those for traditional ads.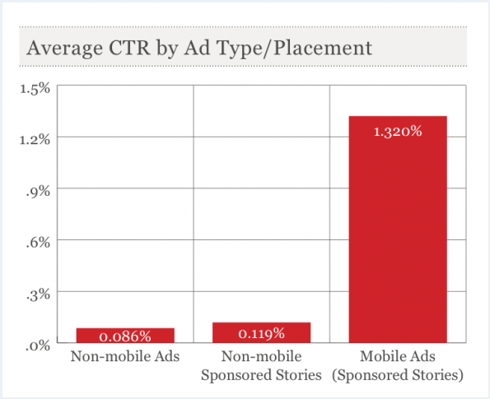 Facebook's mobile ads may have a lower CPC (cost per click) than its traditional ads, but the market size for mobile advertising is greater than that of the desktop. Facebook users are increasingly mobile, and that is a reality that must be accepted. Lower ad rates will be mitigated by more ads.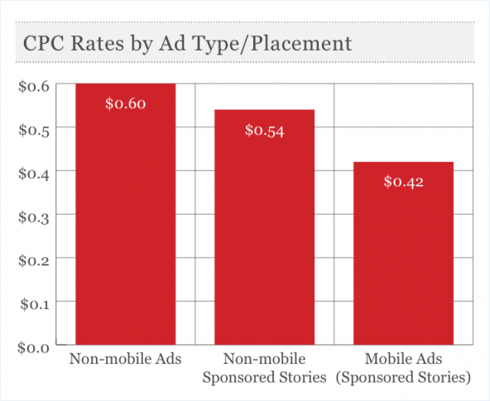 In our view, investors are underestimating Facebook's mobile advertising potential. The company has built the #2 mobile advertising business in just a few weeks, and this is just the start. In the quarters to come, Facebook should see an acceleration in its mobile business. Unlike many companies in the mobile advertising sector, Facebook has the financial capacity to invest aggressively, and early results show that those investments are paying off. Worries over the monetization of mobile users have persisted for months. And early data about the mobile ad business is encouraging and serves to show that Facebook can, and will be successful in the world of mobile advertising.
Why the Selloff? A Lack of Guidance (and Vagueness), Even if That's Not Unique
Facebook stock plunged nearly 12% on Friday after reporting its Q2 results, after rising 5% initially on the back of its earnings release. Frankly, there was nothing in Facebook's earnings release that should have surprised investors. Ad impressions grew slower than users. The company's mobile advertising business provides a small portion of the company's overall revenue (for now). Furthermore, Facebook did not miss. It posted a slight beat on revenues and met expectations for the bottom-line.
In our view, the selloff was sparked by two factors: a lack of guidance, and vagueness regarding future operating expenses. Facebook did not issue guidance for either Q3 or the rest of 2012. It is likely that investors were expecting guidance. However, a lack of guidance is not a unique trait. Google also provides no forecasts as a part of its earnings releases. We view this as a one-time issue. Now that investors have been "trained" not to expect guidance, it should no longer be an issue. Do we think that Facebook should have provided guidance? Yes we do. The company needs to do all it can to repair the confidence of its investors, and providing guidance so that investors can have a frame of reference when formulating their expectations for Q3 and 2012 would have been helpful. That being said, this should not be an issue in future quarters. The second factor sparking the selloff was Facebook's vagueness regarding operating expenses. CFO David Ebersman said that the growth in the company's operating expenses will accelerate in the second half of 2012. While Ebersman did say that Facebook will support "attractive" operating margins in the long run, those margins will likely be pressured in the near-term as Facebook invests in marketing and R&D to grow the business.
CFO Ebersman also could have answered analyst questions regarding the company's future quarters a bit better. Barclays asked Ebersman about the fact that most analysts have modeled Q2 as the lowest quarter in 2012 in terms of revenue growth. Ebersman essentially said that it is difficult to accurately forecast this because the company's new advertising initiatives are still in early stages. While that may be a valid point, we feel that the company's CFO could have framed his answer a bit better. Given the current environment that Facebook is in, this vagueness likely exacerbated the selloff that the stock saw on the back of its Q2 earnings release.
Analyst Reactions and Valuations
Facebook's analysts made many adjustments to their models and estimates after the company's Q2 earnings release. We break down their changes below.
Overall reaction to Q2 was mixed, with analysts seeing both positives and negatives in Facebook's earnings release. Even those analysts who are neutral have price targets that are meaningfully above the stock's current price. Barclays has the lowest price target here, and even its $31 price target implies upside of 30.8% from current levels. We turn now to Facebook's valuations.
We will present the valuations for Facebook using a variety of metrics, alongside the valuations of Google and LinkedIn (LNKD), the two companies we think can be most closely compared with Facebook. Earnings per share estimates will be derived from Reuters data. For the record, outstanding share counts for Google and LinkedIn will be taken from their latest 10-Q filings (Google's is here, LinkedIn's is here). Facebook has 2.74 billion shares outstanding.
Valuation Profiles
| | | | |
| --- | --- | --- | --- |
| | Facebook | Google | LinkedIn |
| 2012 P/E (EPS) | 46.471x ($0.51) | 14.927x ($42.54) | 156.7x ($0.66) |
| 2013 P/E | 36.462x ($0.65) | 12.853x ($49.40) | 86.91x ($1.19) |
| Price/Operating Cash Flow (Annualized) | 67.715x ($0.35) | 6.534x ($97.18) | 42.385x ($2.44) |
| Price/Book | 4.887x ($4.85) | 3.208x ($197.90) | 17.094x ($6.05) |
| Price/Net Cash | 6.388x ($3.71) | 5.471x ($116.06) | 18.5x ($5.59) |
| Operating Margin | 43% | 26.224% | 1.363% |
| Revenue Growth Rate (Year-over-Year) | 32.291% | 21.471%* | 100.63% |
*This growth rate excludes the effect of the Motorola acquisition, as it is not directly comparable to Q2 2011. Google's revenue growth rate would be 35.320% when Motorola is included.
We often hear the argument that Google is a much better investment than Facebook, for it is growing at the same rate and has a lower valuation. However, the data reveals a different story. Facebook is estimated to grow EPS in 2013 by 27.451%. Google, on the other hand, is set to grow EPS by 16.126%. And in the current quarter, Facebook grew revenue by over 32%. In contrast, Google grew its core advertising revenue by over 21%. Are we saying that Google is a poor investment? No, and as Google investors we think there is ample opportunity for that company. But we also believe that there is ample opportunity for Facebook. And Facebook's narrow focus on advertising has allowed the company to achieve operating margins that are much higher than those of Google. We think that in the long run, investors who invest in both Google and Facebook will be rewarded. What about LinkedIn? We have been grappling with whether or not to invest in LinkedIn for some time. After all, earnings are set to grow by over 100% in 2013. But even then, the company will trade at over 86 times earnings, and the company is much more expensive than either Google or Facebook based on almost any metric. We will have to examine LinkedIn in more detail before we make a decision about the company. Is Facebook more expensive than Google? Yes it is. But it is also growing faster, and as the company's mobile advertising solutions roll out to more and more countries, we expect that growth will accelerate. In any case, we also think that Google is undervalued at under 15 times 2012 EPS estimates and under 13 times 2013 EPS estimates, and we would be buyers at current prices, for we think that the market is underestimating the opportunities that lie ahead for Google.
A Word on Lockups and Time Horizons
Given that Facebook stock has fallen so far, is now the right time to buy? The answer is that it depends. It depends on how you view Facebook's pending lockup expirations. The first lockup expiration is set for AUgust 15, with 268 million shares set to be eligible for selling. The second major lockup expiration is on November 13, when 1.24 billion shares will be eligible to be sold.
The conventional wisdom is that lockups will send shares plunging. Yet this is not a conclusion supported by the data. Research done by Susquehanna on the IPO's of 9 different internet/social companies shows that there is no impact on stock prices either one month before or after the expiration of a lockup. Furthermore, Susquehanna notes that there will be several factors that may mitigate the impact of lockup expirations on Facebook's stock price. Mark Zuckerberg owns 18% of the company (in terms of shares, not voting power), and it is unlikely that he will sell a meaningful amount of his shares. Furthermore, Facebook offered more shares upfront than previous internet/social companies. 18% of Facebook was sold in the IPO, compared to 11% for the average of the companies included in Susquehanna's research. That being said, an uncertain tax environment may push insiders to sell their shares earlier than they otherwise would, thus putting pressure on Facebook shares. And the possibility of tax-loss harvesting towards the end of 2012 may also pressure the stock. Investors should take those factors into consideration when deciding if/when to make an investment in Facebook.
We would also like to comment on the issue of time horizon. We are not recommending Facebook as a short-term play. Facebook needs to be seen as a long-term investment. Investors need to have patience when it comes to Facebook and understand that while the company's best days do indeed lie ahead of it, they will not arrive tomorrow, not in 2012, and not in 2013. This is a multi-year story, and investors who are not comfortable with such a time horizon would probable be better of passing on Facebook. Every investor has a different time horizon, and each is valid. There is no "wrong" way to approach this issue. We are comfortable with the fact that Facebook is a multi-year story, and we are recommending the shares only to those investors that see the stock in such a time horizon.
Conclusions
Could the Facebook IPO have gone differently? Yes it could have. Should it have? Yes it should have. But how Facebook went public is in the past now. At its current stock price, we think that investors are discounting Facebook's future potential. The company has built the #2 mobile advertising business in just a few weeks, and this is just the start. Facebook is investing for the future, but we see no reason to think that the future will not be bright. Facebook may not be a stock for every investor, but then again, no stock is. We will be looking to increase our position in Facebook in the next several trading days, for we think that the opportunities for Facebook are just beginning. This is a company that needs to be invested in on a long-term time horizon, but we are confident that in the long-term, an investment in Facebook will be a profitable one.