There is more good news for Sirius XM Satellite Radio (NASDAQ:SIRI) this week. Truecar has released its forecast for new car sales in July, and they are on track to be the best since 2007. Considering that two out of every three new cars are now equipped with a satellite radio, the higher the number of new cars sold, the higher the new subscription additions will be for Sirius:
Auto industry research firm truecar.com released its sales and incentives forecast for July today, and the company expects the sales forecast to translate to a seasonally adjusted annual rate of new car sales of 14.1 million in the US during 2012. That's equal to the June estimate, but down from an April high of 14.6 million units. The sales rate in July of last year was 12.2 million units.
The total sales estimate for July 2012 is 1.17 million new cars sold. And the biggest winner is projected to be Honda (NYSE:HMC). Experts expect it to be up a whopping 44.7% over July 2011. However Ford (NYSE:F) and General Motors (NYSE:GM) are expected to be flat. Looking at the chart below, you can see that Sirius outperformed these auto stocks whether they were up or down. However, it has a very similar pattern, which shows there is a definite relationship between Sirius and the car makers:
As I reported in an article last week, exceptional new car sales can send Sirius subs soaring. The majority of this new sub income then falls straight to the bottom line. According to an article in Barrons:
Analysts have pointed out that improving car sales numbers bode well for Sirius. The seasonally adjusted annual rate of U.S. car sales rose to about 14.1 million in June. If sales stay around that level, Sirius could add even more subscribers, noted Lazard Capital analyst Barton Crockett.

"If car sales stay above a 14 million SAAR and self pay churn is closer to the low end of guidance we believe sub adds could be close to 2M for the year," Crockett wrote.
If the sub number does hit 2 million for 2012, which I think it will, Sirius XM's earnings will jump accordingly. The actual car numbers for July will be released right before the Sirius XM conference call on August 7. These numbers should send the stock even higher toward its year-end projected target of $2.60. That number will probably be upgraded higher after the earnings are announced. This is every Sirius "Perma Bull's" dream scenario. Exceptional car sales combined with a fabulous earnings report right when the shorts need to cover. Around the internet there are postings and comments from investors anticipating a "Super Short Squeeze". What can the Sirius Bears come up with that would stop this from happening?
Seeking Alpha writer Spencer Osborne thinks that these numbers are too low. But he and most analysts agree that the SAAR will end up above 14 million. According to his article and estimates by Edmonds, he thinks July sales could be as high as 1,215,000:
Based on my analysis, I see July delivering auto sales at right between 1,200,000 and 1,215,000. This is 35,000-50,000 units higher than Edmunds. While it is still shy of June, it is a very respectable number and will virtually guarantee a SAAR of above 14 million.
All of this is great for Sirius. However there are some macro things going on that should be considered with these new car numbers. At first glance it appears that the economy is turning around and consumers finally have enough confidence to buy a new car. That may be part of it. But we also have to consider that many of these cars are being purchased out of pure necessity. Consider that the cars on the road are getting older and older each year. The latest results show the average age to be around 11 years old: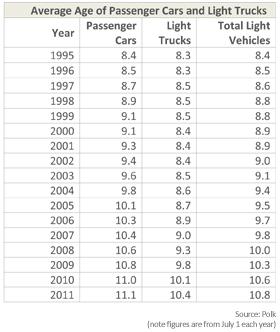 And consider this is the average age, not the oldest. That means that there are a lot of cars on the road that are even older than 11 years old. So many of the new cars sold are because old cars broke down, and had to be replaced. This is an expense that someone who has to have a car to get to work, must endure, whether they can afford it or not. Considering the age of these cars, the owners have probably not had a car payment in many years.
So when the old car suddenly breaks down and has to be traded in for a new one which comes with a $380 - $460 per month (on average) payment, there are going to be other things in a consumer's budget that will have to be replaced by that car payment. I think most people put their cell phone and computer right up there with a car and food. But things like expensive vacations and new clothes and furniture may be put on hold. With a new car loaded with a Sirius XM radio, the summer vacation will more likely be a road trip instead of a cruise, or a trip to Europe.
Although the car industry (especially the Japanese Big 3), and Sirius XM are headed north, retail may be hurt. Even computers and phones, although necessary, may not get upgraded every other year now. This might explain one of the reasons companies like Apple (NASDAQ:AAPL), Dillard's (NYSE:DDS), and Macy's (NYSE:M) are down or flat, since the end of the first quarter when analysts began to realize the full impact of the car sales for 2012. So even though there are gains in one part of the economy, there may be costs in other areas.
This trend should continue for quite some time considering that there are over 240 million cars on the road. That means that millions of them are over 11 years old. Even at 14 million new cars a year, it will take years to replace those older cars. And by then, the cars being sold today will be old cars. So, we can be pretty sure that the new car sales will continue to escalate in spite of the loss of discretionary income, and the costs to other sectors.
Now it remains to be seen whether people are buying cars out of necessity or because the economy really is turning around. Either way this is good news for Sirius. It does well with or without good car sales. But it excels when those car sales are good. The exceptional new car sales in the first two quarters of 2012 alone yielded 1 million new subs for Sirius. The original sub guidance for the entire year of 2012 was only 1.3 million total (which has been upgraded twice). And judging by the July new car sales forecast, the rest of 2012 should be equally amazing.