The Street is being overly optimistic about upcoming earning results at both Cameco Corp. (NYSE:CCJ) and Thompson Creek Metals Company Inc. (TC), says Blackmont Capital's George Topping.
The analyst said he estimates cash flow at both companies will fall short of consensus as a result of operating problems suffered in 2007.
In a note to clients, regarding uranium miner Cameco he said:
Reported Q4/07 cash flow per share was much lower than expected on the Street (36¢ to 71¢) due mainly to the increased costs to cleanup and improve the Port Hope facility. The plant will remain shutdown until Q3/08; therefore, we expect Port Hope will continue to drag down overall results for the next couple of quarters.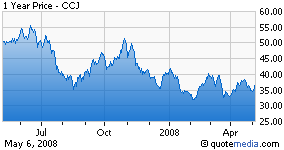 He also noted that Cameco is dealing with a continuing decline of spot uranium prices and the Cigar Lake mine development which continues to have its challenges. On the bright side, Mr. Topping told clients Cameco should be less impacted in a downward market as compared to other less hedged uranium producers once its extensive hedge book takes effect.
His cash flow estimate for the first quarter is C$0.46 per share versus the consensus estimate of C$0.59 per share. Mr. Topping has a "buy" rating and C$55.85 per share price target.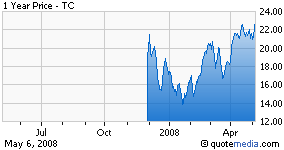 For molybdenum producer Thompson Creek, Mr. Topping said first quarter cash flow will be dragged down by its recent Endako mine problems.
He said:
For 2008, we expect that the lower grade issue at Thompson Creek mine will be resolved as mining moves into the higher grade area. However, for the Endako mine, we believe the disruption caused by the pit wall failure in November 2007 will have a knock-on effect in Q1/08 as mining equipment in relocated, especially during the normally more difficult winter months.
The analyst said the Endako mine will probably produce around 2 million pounds of moly in the first quarter, ramping up to 2.5 million pounds by the fourth quarter.
He estimated cash flow per share of C$0.54 in the first quarter versus consensus of C$0.64. He maintained his "buy" recommendation and C$25.25 price target.