After Sun Microsystems' (JAVA) dissappointing results in this past quarter (see conference call transcript), investors have decided to unforgivingly get rid of their positions in panic. This has sent the stock tumbling down 25% in the past week. Does anyone remember all of the doubters of Cisco (NASDAQ:CSCO) and John Chambers after their dismal results a quarter ago? CSCO ended up bouncing 15% from its lows and may be poised for a breakout if it delivers on its earnings today, May 7th.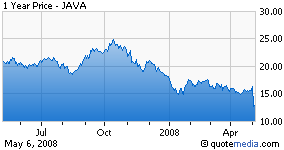 On Friday, May 2nd, one day after its earnings release, JAVA tumbled nearly 20% to a multiyear low of roughly $13 on incredible volume. The decline was a classic capitulation bottom, the likes of which CSCO experienced on Feb 7th of this year. The panic sell off in JAVA spells an incredible opportunity to trade the stock for a significant bounce, as all of the bad news is more than priced in at this point and the company will likely face reduced expectations for quarters to come.
I expect the stock to rebound back to the mid to high teens as investors start to grasp that the long secular growth in the stock is far from over and that the last quarterly results were an anomaly rather than ominous signs of a decline in earnings.
I would suggest getting long JAVA at current levels with a $12 stop and trading it for a bounce. I expect the stock to rebound to $15 by the end of the month as shorts cover their positions to lock in profits and some funds with exposure to tech decide to have faith in the company's excellent track record and make a long term investment.
Disclosure: Author has a long position in JAVA